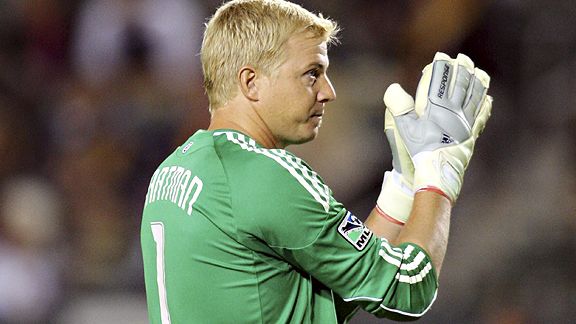 Victor Decolongon/Getty Images
Goalkeeper Kevin Hartman of FC Dallas applauds the fans after the Western Conference Finals of the MLS playoffs against the Galaxy at Home Depot Center.
TORONTO -- Kevin Hartman thought it might be time to go on to something else when the Kansas City Wizards told him as kickoff neared for the new season late last winter that his services no longer were required.
The veteran goalkeeper had few options: The other Major League Soccer clubs' goalkeeping hierarchies were in place, and most weren't looking to make a chance, no matter the former UCLA star's pedigree.
Schellas Hyndman , who had what he believed a title contender after a 21-month rebuild of FC Dallas' roster, was intrigued. And Hartman thought he had more to give.
Theirs turned out to be the perfect partnership, and it's led to Sunday night's MLS Cup in Toronto (ESPN and Galavision, 5:30 p.m. PT), where the Hoops or Colorado Rapids will claim their first league title in what could be the most dynamic of the league's 15 championship games.
Hartman could be -- should be -- the difference.
The Palos Verdes product, who played at Palos Verdes and Peninsula high schools and started his college career at Cal State Dominguez Hills, was the final, and perhaps most important, piece of Hyndman's remake. He rewarded the coach with often spectacular play that sparked a league single-season record 19-game unbeaten streak, saw FC Dallas lose just four times -- tying an MLS mark -- and took the club into its first MLS Cup final, the last of the surviving remaining original clubs to do so.
"It's not just about the player, it's about the character," Hyndman said before last weekend's victory over the Galaxy in the Western Conference final. "I made quite a few phone calls. Whenever we're looking at a player, I try to make three phone calls to people that I think will give me an absolutely honest answer. And I made three phone calls on Kevin, and all three said: You know what, get him if you can. ...
"The thing I didn't expect was what a tremendous leader he is, what a positive human being he is. … The character's been tremendous, and his play has been superb."
Hartman, who played in four MLS Cup finals, winning two, during 10 seasons with the Galaxy, arrived in Dallas as the No. 2 keeper, behind Argentine veteran Dario Sala. His work in training, especially, lofted him to the top spot by May 5, and the Hoops lost just once in their next 23 matches.
"I think it's obvious that [MLS MVP] David Ferreira is our MVP, but in my eyes, I think a lot of the guys, we realize that Kevin Hartman is definitely just as much of an MVP for our team," FC Dallas captain Daniel Hernandez said on the eve of the Cup clash. "He's a game-changer for us."
Hartman has organized a good but hardly great defense that provided the foundation for Ferreira and the speedy attackers surrounding him to do their jobs. "El Gato," the nickname Hartman acquired while with the Galaxy in honor of his cat-like reflexes, set an MLS mark with a 0.62 goals-against average, and his candidacy for MLS goalkeeper of the year was derailed by a sprained knee ligament that forced him to the sidelines for the final six weeks of the regular season.
He returned to the field for the postseason and has been the top player in these playoffs. His jaw-dropping saves lifted the Hoops in victories over the league's top two teams -- Real Salt Lake and then the Galaxy -- en route to the title game.
"I've seen some keepers make amazing saves and come up big, but to be this consistent throughout the year, it's amazing," said back line leader Ugo Ihemelu, who won the 2005 MLS Cup championship with Hartman when he was a Galaxy rookie. "The first 15 to 30 minutes against L.A., he was huge for us. He kept us in that game."
Said Hernandez: "L.A. was putting a lot of pressure on us, and I think that's been his story all year. At the beginning of games, we might not be at our best, and, basically, he makes the saves to keep us in games. If it wasn't for that, we might not be in the position we're in right now."
Hartman says this likely has been his best season, and the argument can be made that his last two performances -- in the 1-1 draw at Real Salt Lake that completed a 3-2 aggregate victory and in the 3-0 triumph at L.A. -- were his best of the campaign.
"I think he really embraced the opportunity to continue to play [this season]," Hyndman said. "He was prepared. All the qualities that we all know about Kevin through all the years that he's played in the league. I mean, it's at its best right now. He's playing with an extremely high level of confidence."
Hartman is enjoying the MLS Cup experience with a veteran's knowledge that playing for titles isn't so simple, that hard work isn't always rewarded, that every opportunity to play for a trophy should be cherished.
He was in the nets when the Galaxy lost to D.C. United in 1999 and San Jose in 2001 and for victories over New England in 2002 and 2005. This one is different.
"I think when you're younger, sometimes things come your way, and I was fortunate to [start in] an MLS Cup within two or three years of coming into the league," he said Saturday. "Not many people have had the opportunity to go to five MLS Cups, and that's certainly something I relish, doing it away from L.A. and proving that I can be successful in more than one place, away from home.
"I enjoyed the opportunity to play in Los Angeles as long as I did. To be able to go away and find success, and I guess this year has been pretty exciting for me just to go from maybe being done with soccer and moving on with my career to all of a sudden having the opportunity to be back [in a championship game].
"It's almost like a storybook."