CARSON, Calif. -- Anything less than the MLS Cup championship isn't going to be enough for the Los Angeles Galaxy this season, and that's a sentiment they embrace.
After reaching Major League Soccer's title game in 2009 and falling one game short last year after winning the regular-season championship, the Galaxy have retooled their attack and upgraded their overall talent and depth.
If that isn't enough, they might just put their faith in fate. Consider:
It's the final year of David Beckham's contract in L.A., and what better way to cap his controversial but lucrative five-year tenure than with the trophy that most matters.

L.A. already had the league's biggest star (Beckham) and best player (Landon Donovan). Now it has the deadliest striker (Juan Pablo Angel), too.

The championship game, it appears, will be played at Home Depot Center. Nothing like a home game (and a home crowd) for the biggest bash of the year.
We won't know until November whether all that can prod them past fellow title contenders Real Salt Lake and New York Red Bulls or hold off some unexpected run, like those RSL and the Colorado Rapids took to titles the last two seasons. But the Galaxy, who open MLS's 16th season Tuesday night at Seattle, like their chances.
"[We have] the best balance that I've ever seen, certainly on this team and maybe in any team I've seen in MLS, from [players] 1 to 25," said Donovan, L.A.'s captain. "We're going to have a lot of players who aren't playing every week that would start on most teams. We're going to have a lot of guys who won't make the 18[-player game roster] that might start on certain teams. … That makes us very good."
Added newcomer Frankie Hejduk: "Our team's just awesome, to be honest. I can't wait."
Head coach/general manager Bruce Arena and his staff transformed the roster during the offseason, getting younger, quicker, deeper and, up top, much more multifaceted.
The big acquisition, required when top scorer Edson Buddle (18 goals, second in MVP balloting) bolted for German second-division side FC Ingolstadt, is Angel. The Colombian striker netted 61 goals in four seasons with the Red Bulls after scoring regularly at home (with Atletico Nacional), in Argentina (with River Plate) and in England (with Aston Villa), and he'll be expected to find the net consistently in L.A.
Arena also traded for former UCLA star Chad Barrett, who scored seven goals in an injury-slowed campaign last year with Toronto FC, and Adam Cristman, a big forward who also has endured injuries.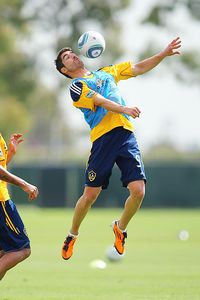 Victor Decolongon/Getty Images
New Galaxy striker Juan Pablo Angel netted 61 goals in four seasons with the Red Bulls.
It's a decent haul, meant to correct one of the Galaxy's greatest weaknesses last year, when Buddle was the only forward who consistently finished. A strong second option ought to lead to more chances for Angel, who can score with his head and both feet, put away garbage goals and create strikes of alarming quality.
"Juan Pablo's resume speaks for itself," said Donovan, who went from scorer (32 goals in 2008-09) to primary provider (league-best 16 assists last year) while playing primarily on the left flank. "He's a guy who's always tuned-in in a game, so I've seen him score so many types of goals."
Donovan, who said he's feeling stronger than he has in years after an offseason break, will remain the pivotal figure in L.A.'s attack. Beckham, set for his first full season with the Galaxy, remains the best crosser in the game; his connection with Angel could be epic.
L.A. returns its starting defense intact, led by MLS goalkeeper of the year Donovan Ricketts and MLS Best XI center back Omar Gonzalez, and more responsibility is going to central midfielders Juninho, who took a huge step forward in preseason, and Chris Birchall, who owns the holding spot after Dema Kovalenko's retirement. Hejduk, a UCLA alum with 15 pro seasons and two World Cups, adds depth to the backline, and an assortment of new youngsters -- including Uruguayan playmaker Paolo Cardozo, 21, and Argentine forward Miguel Lopez, 22 -- are ready to contribute.
Cardozo, who was taken with the 16th selection in January's draft, is the most intriguing addition. He's a product of Argentine giant River Plate's youth system who opted for the MLS draft when his contract expired with Argentine club Quilmes, where Lopez was a teammate.
He might be too good to keep out of the starting 11. The question: What position should he play?
"Paolo from a technical standpoint is maybe our most gifted player," Donovan said. "We have to find a way to use him so that he can be effective."
Arena has been tinkering with that.
"I think he has to find his way in terms of this team, the position he can play, the responsibility he has to take now at this level," the coach said. "He has to learn how to play on both sides of the ball, but he's a talented kid. … He has to learn how to defend a little better in this league. We'll be patient with him and try to find the best place on the field for him."
If Cardozo can thrive in MLS' style of play, far more physical and athletic than in South America, he could provide a dimension the Galaxy hasn't possessed since Mauricio Cienfuegos was running the midfield in the early years of the league. If he can't, L.A. still looks to be a better side than last year, which it will need to be as it pursues three trophies -- MLS Cup, Supporters' Shield, U.S. Open Cup -- and a berth in next year's CONCACAF Champions League knockout stage.
Whether the Galaxy will say so or not, MLS Cup is the most coveted.
"The mentality of the group is that we had two great years, and we've taken this franchise back to where we think it should be [after a three-year playoff absence], and we're proud of that," defender Todd Dunivant said. "But, obviously, we didn't get where we wanted to be, and that was disappointing. So the challenge this year would be to have another good start and, obviously, finish the thing off."
The finishing is often the hardest part. The best reflection of success in MLS is the Supporters' Shield, which goes to the top regular-season team. L.A. won it last year, for the third time, with an 18-7-5 mark.
The MLS Cup playoffs are like NCAA conference basketball tournaments: The best side doesn't always win. In the league's first 15 seasons, only five Supporters' Shield winners have captured the league championship.
"Anything can happen," Donovan said. "There's no team that's miles better than any other team. … It's every team is even in this league, for the most part, so as disappointing as last year was, we're equally as proud of what we did during the regular season, which anybody will tell you is the much harder feat.
"The last three years, we've had the same expectations, and we've fallen a little short each of the times, so we'll go at it again and try to do it again."