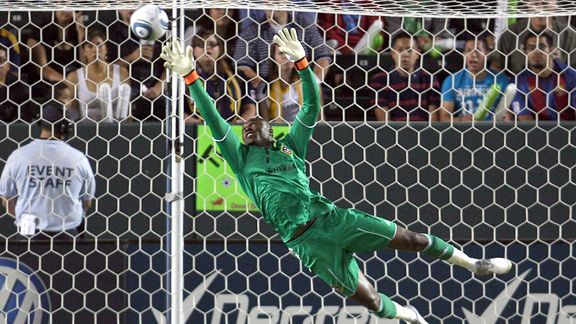 Victor Decolongon/Getty Images
Galaxy goalkeeper Donovan Ricketts was named Major League Soccer's best goalkeeper.
The consensus, it had seemed, was that Major League Soccer's best goalkeeper this season was FC Dallas' Kevin Hartman or Real Salt Lake's Nick Rimando, SoCal products who starred at UCLA before going on to big things in the pros.
Don't mention that to the L.A. Galaxy. Nor the voters for MLS's awards. The Galaxy's Jamaican netminder, Donovan Ricketts, was the surprise winner when the league on Wednesday announced its Goalkeeper of the Year.
"It's a good feeling, you know?" said the soft-spoken Ricketts, who's normally dismissive of individual honors. "The goalkeepers in this league are very high-quality goalkeepers. So to be Goalkeeper of the Year is a very high honor."
Asked where this ranks among his individual honors, Ricketts said: "Well, maybe No. 1, because it's the first time I've been Goalkeeper of the Year in anything. So, No. 1. No. 1 out one. ... I think it's No. 1 for the time being, but it's going to be replaced by the MLS Cup [championship]."
Ricketts certainly has been the best goalkeeper over his first two seasons in MLS -- he was a finalist for the honor when Chivas USA's Zach Thornton won last year -- and as such the recognition is most deserved. But the idea that his 2010 campaign was better than those proffered by Hartman (Rancho Palos Verdes/Peninsula HS), an MVP contender until he missed a month late in the season with a knee injury, and Rimando (Montclair/Montclair HS), whose spectacular play was pivotal as RSL set an MLS record for fewest goals conceded, is difficult to reconcile.
"I think all three of those goalkeepers had outstanding years ... and all three of those guys were certainly worthy of winning the honor," Galaxy coach Bruce Arena said. "We're real happy it fell to Donovan."
ALL ABOUT STATS?: Ricketts, 33, acknowledged he was surprised by the honor but knew nothing of the buzz surrounding Hartman's and Rimando's candidacies. "I haven't been hearing the conversation," he said. "I've been focusing on the playoffs. ... But, to be honest, I think I had a better season statistically, so in this league it's about statistics."
Well, yes and mostly no. Ricketts had the most minutes in the nets, playing all of 29 of the 30 regular-season games -- as did Kansas City's Jimmy Nielsen. Rimando led the league in shutouts, with 14, two off Tony Meola's 2000 mark with K.C., and Hartman (0.62) and Rimando (0.67) finished 1-2 in goals-against average, both obliterating Houston netminder Pat Onstad's record (0.82) set in 2007.
Ricketts was third in GAA (0.90) and tied for second in shutouts (11).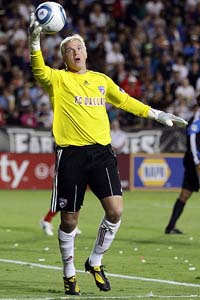 Ezra Shaw/Getty Images
An injury kept Kevin Hartman from playing a full schedule this season.
Hartman, a former Galaxy star acquired from Kansas City just before the season began, became FC Dallas' No. 1 goalkeeper in May, and his performance keyed the Hoops' 19-game unbeaten streak. A sprained right medial collateral ligament suffered Sept. 16 in a bizarre post-goal celebration by New York's Thierry Henry forced him out for the final six games -- he returned to the field in Saturday's playoff-opening victory over RSL.
Hartman played in only 20 games, which probably cost him votes. Rimando played in 27 games.
"That's part of it, as well," Arena said, "the durability of the goalkeepers."
TEAM AWARD: Ricketts' teammates were very happy he'd won; all of them said he deserved it, especially because "he's been, arguably, the best goalie the last two years," defender A.J. DeLaGarza said. All agreed Ricketts wasn't the only player honored.
"Anytime a guy gets an award like that, it reflects on the whole team, and we're proud of that," backline leader Gregg Berhalter said. "And we're especially proud of him and what he's done this year."
Said defender Todd Dunivant: "All the awards the guys get, everyone's really happy for it, because we feel like it is a team thing ... and they're just a reflection of the team."
Said defender Omar Gonzalez: "I think it also has to do with the team being in first place the whole year. I mean, we're just solid. We hit a little lull [in the middle of the season], but Donovan kept us in a bunch of games."
GREAT PERFORMANCE: Ricketts was superb in the Galaxy's 1-0 victory Sunday at Seattle in their playoff opener, making several big saves despite hurting his left shoulder while diving to Qwest Field's artificial turf early in the game. Ricketts said he "tweaked something" in his shoulder, but that there was no way he was going to leave the game -- especially after injury forced him to depart last year's MLS Cup title game on the same field.
"No, no, no -- I know that field is mine ...," he said. "Unlucky field, but I was going to [play] 90 minutes or more."
Ricketts took it easy in training Wednesday, the first session this week for Galaxy first-teamers. He said he made sure he "didn't fall on my left side."
"He's going to be fine," Galaxy goalkeeper coach Ian Feuer said. "He just tweaked it, and I think he needs a little bit of rest. ... I'm sure he'll be back to full training tomorrow."
Ricketts is a superb shot-stopper with great instincts, and if his decision-making sometimes betrays him, his kicking game might be the best among MLS keepers.
"[That is] important, especially when you go into a venue like Qwest," Arena said. "The surface and all. Territory's important, and he can get us deep in the other end of the field [with his clearances]. And give us position, put the other team under pressure. He just doesn't float the ball up in the air -- his kicking game, it can be precise at times. So that certainly helps us."
OTHER AWARDS: Andy Najar, D.C. United's electric 17-year-old winger, won the Rookie of the Year Award, and Philadelphia's Sebastien Le Toux (individual) and the San Jose Earthquakes (team) won the Fair Play Awards.
The North American Soccer Reporters announced its Player of the Year (FC Dallas' David Ferreira) and Coach of the Year (New York's Hans Backe).
MLS Defender of the Year -- the finalists are Gonzalez and Real Salt Lake's Nat Borchers and Jamison Olave -- will be announced Friday.