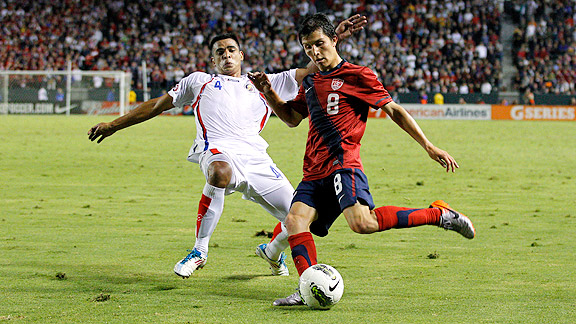 Ric Tapia/Icon SMI
Costa Rica's Michael Umana (4) and Jose Torres of the U.S. match up during the friendly at the Home Depot Center in Carson on Friday night.CARSON -- It's a work in progress, a process that will take time and much effort, so if the U.S. national team wasn't everything its supporters hoped for in Friday night's friendly against Costa Rica at Home Depot Center, it was enough.
That was Jurgen Klinsmann's take, more or less, following a 1-0 loss to the Ticos, who absorbed heavy pressure -- especially in the first half-hour -- and found chances through counterattacks, with Rodney Wallace finishing one of them in the 65th minute.
The U.S. didn't get a shot on goal in the first half and lacked killer instinct in front of the net. If the Yanks deserved more from this outing, they didn't do enough to get it.
"Bad result," said Klinsmann, who suffered his first loss as U.S. coach. "Never like to lose a game, but very good performance. I was pleased with the performance. I was pleased with the way all the players tried to implement all the work that we did on the training field throughout the week. ... From a performance point of view, it was very, very positive, what we saw."
What were the positives? Here are three:
1. CONNECTIONS: The U.S. moved the ball well and interchanged successfully in midfield, especially, more so at game's start than in the second half. Playing out of what amounted to a 4-1-4-1 formation -- with Landon Donovan and Jose Francisco Torres above Maurice Edu in a midfield triangle and Robbie Rogers and Brek Shea on the flanks -- the U.S. created pretty patterns between midfield and the Ticos' box.
Torres was quite good early on, connecting with Shea, Donovan and striker Jozy Altidore to create several opportunities -- Donovan fired just wide of the right post with the best, in the sixth minute -- and Shea and Rogers had their moments. There were a lot of good things in the U.S. attack, they just didn't add up to a goal.
"This will also take time," Klinsmann said. "Because if you play high pressure, the three up top there [Rogers and Shea on the flanks and Altidore at striker], they definitely need to kind of develop an instinct for each other -- or with Juan Agudelo [rather than Altidore] -- to kind of cover those spaces better. But I thought especially the first 30 minutes they did that extremely well."
2. DEFENSIVE FOUNDATION: Tim Howard made a couple of big saves -- a beauty on Michael Barrantes, reaching out as he went the other way, that led to the rebound Wallace finished -- his center backs fared pretty well, and Edu was masterful as holding midfielder, maybe the best of the U.S. performances.
Mexico-based Michael Orozco Fiscal, from Orange, got plenty of instruction at center back, with captain Carlos Bocanegra in his ear from start to finish. Orozco didn't win all his battles, but he stood his ground and came away with a better understanding of what it will take at this level.
"Every game you learn a lot, a lot of things," Klinsmann said. "The players go away today with a lot of good information. [Ticos forward Alvaro] Saborio is a handful, and I think Michael Orozco learned a lot today. He needs those games in order to learn."
3. MORE LESSONS: Klinsmann's scheme requires more energy, a higher tempo, a greater pace than most of the U.S. players are used to, and that led to mistakes and we saw players have lapses in concentration and get tired at certain points during the match. They also struggled at times against Costa Rica's fierce physical play, which led to 27 fouls.
That's all fine, said Klinsmann, who made just two substitutions, bringing on Agudelo for Altidore in the 63rd minute -- Agudelo was more dangerous -- and Sacha Kljestan for fellow Huntington Beach product Rogers two minutes later.
"I want them to go through those kind of down periods in games," Klinsmann said. "We saw here and there players getting tired or a couple minutes where they were struggling. But they need to learn to go through those minutes. They need to fight their way through it. And you saw they got a second breath, a third breath ... and they did excellent.
Home Depot Center (Carson)
United States 0, Costa Rica 1
CR -- Rodney Wallace 65
United States: Tim Howard; Timothy Chandler, Michael Orozco Fiscal, Carlos Bocanegra, Edgar Castillo; Maurice Edu; Robbie Rogers (Sacha Kljestan, 66), Jose Francisco Torres, Landon Donovan, Brek Shea; Jozy Altidore (Juan Agudelo, 63). Unused subs: Clarence Goodson, Bill Hamid, Jeff Larentowicz, Tim Ream, Jonathan Spector.
Costa Rica: Keylor Navas; Carlos Johnson (Jose Salvatierra, 82), Michael Umaña, Jhonny Acosta, Roy Miller; Josue Martinez (Daniel Colindres, 46), Randall Azofeifa, Michael Barrantes (Jose Mena, 87), Alvaro Sanchez (Kareem McLean, 79); Randall Brenes (Rodney Wallace, 61), Alvaro Saborio.
Yellow cards: Martinez 29, Donovan 58, Miller 73, Shea 77, Acosta 92+.
Referee: Jose Molina. Att.: 15,798.