Welcome to ESPN Los Angeles' blog covering the "beautiful game" -- football, futbol or soccer, whatever you prefer -- across Southern California and beyond.
Yes, it's about the Los Angeles Galaxy and Chivas USA, the region's Major League Soccer clubs, but that's just a part of what we're aiming to do here. The Southland has a fertile culture in the sport -- we play, we watch, we debate the game at every level -- and we'll be looking at all aspects of the sport in and around Los Angeles.
We understand soccer aficionados' interests are about far more than what's happening down the street. If L.A. has a favorite club, it might be Club Deportivo Guadalajara (the original Chivas) but there are almost as many who swear by Club America, its archrival in Mexico City.
[+] Enlarge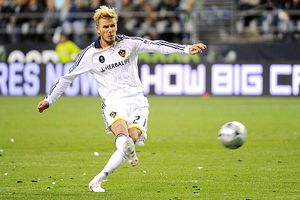 Harry How/Getty Images
David Beckham is a global icon and one of the most recognizable athletes in the world.
Mexican futbol is important in this region, but so is the English Premier League, and so are Barcelona and Real Madrid, and so are Boca Juniors and River Plate, and so are Rangers and Celtic, and so are Red Star and Partizan.
We care about the U.S. national team, especially in a World Cup year. But head into Huntington Park or Santa Ana, and you'll see the Mexican flag flying this summer. There will be as many Serbs in San Pedro cheering on their team in South Africa as there will be Croats praying for their defeat. Head to Alpine Village in Torrance for Germany's games and you might think you're in Munich.
Every team and every country has a fan in L.A., and that's part of what makes our soccer heritage so rich.
We're the deepest pool of talent in America, male and female, and there are outstanding clubs everywhere we turn, from the ethnic leagues in the San Fernando Valley and Inland Empire to the youth powerhouses of south Orange County, to the semipros in the PDL and elsewhere.
We're aiming to reflect the diversity and richness of the soccer culture in these parts, in this blog and in all of the coverage of the sport on the ESPN Los Angeles Web site.
Please join us. We want to know your thoughts and passions. Your contributions will help make Football Futbol Soccer a success.