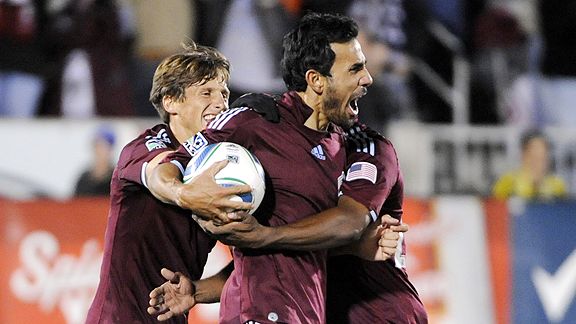 AP Photo/Jack Dempsey
Pablo Mastroeni and his Colorado teammates celebrate the game's only goal against the Crew.
IN BRIEF: Colorado's first-half dominance paid off with a nifty goal, and the Rapids held off Columbus' late charge to open Major League Soccer's postseason with a 1-0 victory.
BEST PLAYER: It was never a secret that the key player in this series would be speedy Rapids forward Omar Cummings, and he repeatedly tore apart the Crew's backline to run onto balls out of the midfield, most from strike partner Conor Casey and from Brian Mullan. He found space primarily on the right wing, slicing between big UC Santa Barbara alum Andy Iro and rookie left back Shaun Francis, then firing across the face of the goal or delivering dangerous balls for, primarily, Casey. He set up one goal and was unfortunate not to produce more.
BEST GOAL: There was just one, in the 23rd minute, and it told the story of the game. Two quick passes out of midfield, the second a defense-splitting pass from Mullan to Cummings on the right flank, and the Jamaican forward sent in a low cross toward the goalmouth. Casey dragged Crew defender Chad Marshall (Riverside/Rubidoux HS) to the near post, then got a back-heel touch to the ball, helping it to the far post for Pablo Mastroeni, who raced in ahead of Robbie Rogers (Palos Verdes and Huntington Beach/Mater Dei HS) for the last touch.
DOMINANCE: Colorado outshot Columbus, 10-1, in the first half, but a one-goal advantage isn't much to take to Crew Stadium for the second leg. Not finishing more chances could prove very costly.
BIGGEST STOP: Iro nearly evened things when he was left criminally open on Eddie Gaven's corner kick in the 84th minute. Rapids goalkeeper Matt Pickens' reaction save repelled Iro's header.
WHAT'S UP WITH THIS?: Colorado's the most popular upset special in the playoffs, and not just in this series. Cummings/Casey is the best, most exciting forward tandem in the league, and the additions of Mullan and Jeff Larentowicz have solidified a good midfield. So why were there only 11,872 on hand for what likely will be the Rapids' only postseason home game?
WORTH NOTING: Columbus was without sizzling forward Emilio Renteria, who will undergo arthroscopic surgery Friday on a torn right meniscus, after losing defender Danny O'Rourke and goalkeeper Will Hesmer for the rest of the term. ... Pickens was clearly limited, doing all he could to avoid kicking with his right leg.
THE OTHER SERIES: Top Eastern seed New York will be without Thierry Henry (knee), Tony Tchani and Salou Ibrahim (both hamstrings) for its playoff opener Saturday in San Jose. ... Real Salt Lake takes a 14-game league unbeaten streak into Saturday's showdown at FC Dallas. The Hoops finished with successive losses after their record 19-game unbeaten tear, which ended Oct. 16 at RSL.
QUOTE OF THE DAY: "If you can't win a playoff game at home, then you don't deserve to go to the next round, so we have to take care of business at home." -- Columbus (and former UCLA) defender Frankie Hejduk.
THE RESULTS
at Commerce City, Colo.
Colorado Rapids 1 (Mastroeni 23), Columbus Crew 0
Second leg: Nov. 6 at Columbus, 1 p.m., TeleFutura (KFTR/Channel 46)
Saturday's first legs
Real Salt Lake at FC Dallas, 2 p.m., Fox Soccer Channel and Fox Deportes
New York at San Jose, 7 p.m., TeleFutura (KFTR/Channel 46)
Sunday's first leg
L.A. Galaxy at Seattle, 5 p.m., ESPN2 and ESPN Deportes
All times Pacific