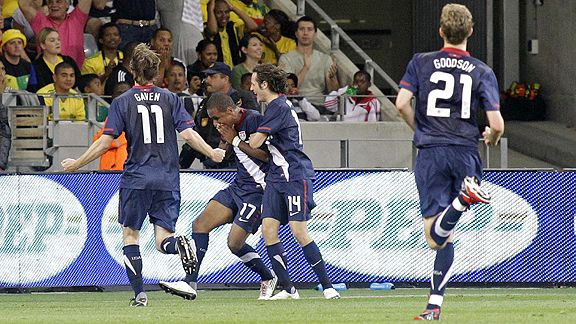 AP Photo/Schalk van Zuydam
U.S. players celebrate after Juan Agudelo's goal lift them to a 1-0 victory over South Africa.
The best thing about the U.S. national team's trek to South Africa wasn't Wednesday's 1-0 triumph in the Nelson Mandela Challenge at Cape Town -- although that certainly was nice and was rewarded with a sweet trophy -- nor any of the philanthropic activities, and not even Thursday's scheduled sit down with Mandela himself.
It was the way in which a young U.S. side asserted itself, and what that might mean going forward.
Four players 20 or younger debuted in the triumph over Bafana Bafana, and all fared well as the Yanks, missing nearly all of their first-choice players, had the better of play against an experienced side playing at home in front of 52,000 vuvuzela-blowing fanatics.
Big props especially to Colombia-born forward Juan Agudelo, who six days shy of his 18th birthday became the youngest player ever to score for the U.S., and Norway-born and -bred midfielder Mikkel Diskerud, who combined with Agudelo on the goal and repeatedly made mature, important defensive decisions.
There's been a real buzz surrounding Agudelo, who moved to New York when he was 8, emerged from the New York Red Bulls' academy, played at last year's FIFA U-17 World Cup, joined the U.S. U-20 team earlier this year and was superb starting up front for the Red Bulls in its MLS playoff games this season.
Diskerud, 20, who plays for Stabaek in Norway, could play for the U.S. or Norway and went back and forth between the countries, playing for youth national teams of both sides. His first choice, it turns out, was his mother's native land, and for that we are thankful.
Two more foreign-born youngsters -- Togo-born birthday boy Gale Agbossoumonde, who plays in Portugal, and Canada-born forward Teal Bunbury, a Kansas City Wizards standout whose dad was a Canadian national team star -- made their debuts, too. Agbossoumonde, whose family moved to Syracuse, N.Y., when he was 8, turned 19 Wednesday. Bunbury, 20, was eligible for the U.S. because he lived with his mother in Minnesota for a decade.
Now, one more: D.C. United sensation Andy Najar, just 17. The Honduran-born winger, MLS's Rookie of the Year this year, is the most electric player in American soccer. He doesn't have his citizenship yet -- he moved to Virginia at 13 -- but he turned down an invitation last week from Honduras' national team, and his father says he wants to suit up for the Red, White & Blue. God bless him.
Najar's nod takes some of the sting off of losing Seattle Sounders winger Steve Zakuani, who chose his native Democratic Republic of Congo over England (he grew up in London) and the U.S. (he was schooled at Akron, calls this land home). Turns out he wanted to play for America but wasn't willing to make the lengthy citizenship wait.
Isn't that what Henry Kissinger (a longtime U.S. Soccer supporter) is for: expediting papers for promising players?
What does it all mean? Nothing. What a player does at 17 or 19 or 20 isn't a gauge for what he'll be in his prime. For every Landon Donovan, there are dozens of Nii Lampteys.
What could it mean? Who knows? We'll have to wait and see, but it could be a lot of fun watching what develops.