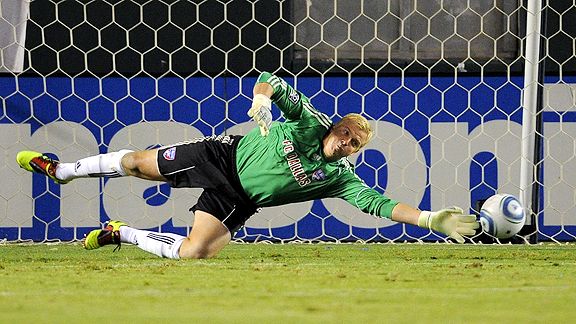 AP Photo/Mark J. Terrill
Former Galaxy goalkeeper Kevin Hartman, now the starter in Dallas, is a major reason why L.A. lost Sunday at home.
CARSON, Calif. -- It's fair to say that had Kevin Hartman not been so spectacular Sunday night, the Galaxy would be packing right now for an MLS Cup trek to Toronto.
The Palos Verdes product made four huge first-half saves -- on Mike Magee, Juninho, David Beckham and Landon Donovan -- and had half of them found the net, the Western Conference final would have turned out very differently.
But Hartman is just one of several reasons FC Dallas dumped the Galaxy, 3-0, at the Home Depot Center to snare a spot in its first MLS Cup final, next Sunday against the Colorado Rapids in Toronto.
Here's what made the difference:
1. BE SHARP
The Galaxy wasn't all that bad. They limited Dallas to eight shots, just five on target, created some outstanding chances in the first half-hour or so, and battled hard from start to finish.
But they couldn't match the Hoops.
"We have no excuses ..." Galaxy coach Bruce Arena said to open his postgame news conference. "We were outplayed. We were beat on most matchups on the field, and we were outcoached. Dallas deserved the victory."
The Hoops utilized space better than L.A. did, using a quick transition and its speed on the flanks -- with both Marvin Chavez and Brek Shea making big imprints -- to stretch the Galaxy, especially after David Ferreira's 26th-minute opener against the run of play.
From that point on, it was FC Dallas' game.
"I think when you look across the field, we didn't really have a player that didn't have a good game," Dallas coach Schellas Hyndman said. "I think it took every player having a good game for us to get this result. … I don't think it was so much that L.A. had a bad game. We just had an exceptional game."
2. MAKE THE CHANCES COUNT
Beckham said he knew L.A. was going to pay for wasting its chances early on, and after Ferreira scored -- a superb finish from an odd play that caught L.A.'s backline, primarily Omar Gonzalez, flat-footed -- the Galaxy was never the same.
"Obviously, [Ferreira's goal] hit us hard, I think," Beckham said. "Because I know when we kept on getting the chances and one didn't go in, it was going to happen that they was going to go up, and, you know, we stepped off the pedal for a moment, and they got their first goal, and, obviously, it seemed to knock us hard.
"We should have just kept on playing our football, you know, the way we've played all season. But I think we panicked a little bit, and we couldn't get back in the game."
3. TIGHT DEFENSE
FC Dallas, Gonzalez noted, "just beat us at our own game." He couldn't be more correct.
The Hoops nearly duplicated the kind of effort and tactics the Galaxy used to dominate Seattle in the first round of the playoffs: close down space in midfield, offer no clear paths into the box, collapse on attackers when they have the ball, don't be afraid to be physical.
Center backs George John and Ugo Ihemelu abused Galaxy striker Edson Buddle all game, constantly manhandling him, wrapping him up to keep him from balls in the air, pulling and shoving when he tried to break free to make runs -- and referee Jair Marrufo let them get away with it.
"Buddle was fouled an awful lot," Arena said. "He got kicked in the head and got cut in the box. He was clotheslined on one play. I think he got frustrated, certainly.
"I don't know what to say. That's how it is all year. That's it: I think Edson Buddle was the most-fouled player in the league this year and very rarely got a call in his favor. Did it make a difference in the game tonight? No, I don't think so."
Donovan compared Buddle to Shaquille O'Neal, that "he's so strong and physical that he gets fouled on almost every play, and the refs don't call it. … It's unfortunate, but that's just what he deals with."
Said Buddle: "I think they got the ref's attention early in the game where they were worried about me throwing elbows" -- and, indeed, Buddle got into a spat with FC Dallas captain Daniel Hernandez in the 33rd minute after throwing an elbow while trying to free himself from John's grasp -- "and maybe that didn't work to my advantage, where the ref didn't call some of the fouls on them. I think he let some things go both ways. It was a physical match, and you expect that with a game like this, with a lot at stake."
Buddle said he believed the attention he got freed space for teammates, and it certainly worked that way early on. Magee had his best game in months, linking things as Buddle opened space by pulling defenders away.
"That left my teammates with a a lot of opportunities to get shots, and on a different night, those shots go in, you know? Hartman played a great game. You've got to give credit to Hartman tonight."
4. MAJESTIC HARTMAN
Hartman (Peninsula HS/UCLA), at 36, is playing the best soccer of his life. Has he been better than he was Sunday? Maybe not. Or maybe.
"You know what? It's been like that all year," Hernandez said. "Kevin has come up big for us. He makes big plays for you. … It could have easily been 1-0, 2-0 in favor of the Galaxy. Everybody saw that. But he makes great plays and keeps us in games, and, honestly, that's been the difference for us all year."
The Galaxy was just as impressed.
"[Hartman] played out of his mind," Donovan said. "In soccer, and I guess in hockey, too, a goalie can be a great equalizer, and he certainly was tonight."
Said Arena: "[Hartman's save] on Landon, I think, was unbelievable. And the odd play with Beckham's free kick [sailing over John's head and nearly bouncing into the upper-right corner], when he saved that one. Those little plays, they make the difference. We had a chance to have the first goal in the game and didn't get it, so I guess you've got to give Hartman a lot of credit. He made the plays to keep his team in the game, and, ultimately, it won them the game."
Hartman's favorite save?
"I thought Landon hit a pretty nice shot to my back post, and I was able to get a hand on it and turn it around," he said. "I think before that, Juninho hit one that was all over the pace, and I was able to punch it over my goal."
Both were special. And that was the difference.