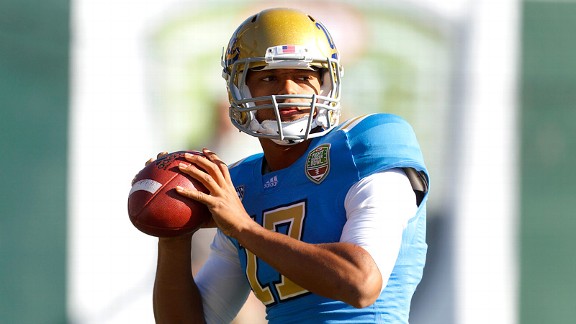 Jason O. Watson/US Preswire
Brett Hundley was one of the top quarterback recruits in the nation two years ago.
With UCLA training camp set to begin Aug. 4 at Cal State San Bernardino, it's time to take a preseason look at the roster and break down the Bruins position by position.
We start with the position of greatest interest: Quarterbacks.
DEPTH CHART AT THE END OF SPRING PRACTICE:
None. The post-spring depth chart was listed in alphabetical order because the coaching staff had not decided on a quarterback.
PROJECTED DEPTH CHART ON OPENING DAY:
Brett Hundley (Fr., 6-3, 223)
Richard Brehaut (Sr., 6-2, 230) OR
Kevin Prince (Sr., 6-2, 225)
Jerry Neuheisel (Fr., 6-1, 195)
Devin Fuller (Fr., 6-0, 195)
Mike Fafaul (Fr., 6-2, 200)
T.J. Millweard (Fr., 6-3, 220)
2011 STARTER
Prince (10 games) 126-224 (56.2 percent), 1,828 yards, 12 TDs, 8 INTs
Brehaut (4 games) 67-121 (55.4 percent), 948 yards, 6 TDs, 1 INT
THE SKINNY:
The UCLA quarterback situation has been unsettled for the better part of the last decade, and this year is no different.
UCLA quarterbacks combined to complete a mere 55.78 percent of their passes last season and a paltry 50.9 the year before. Those figures ranked No. 93 and No. 115 in the nation and will have to improve to make UCLA a more potent offense.
Prince is the incumbent who can't seem to stay healthy. Brehaut is the backup whose light finally seemed to turn on last season. Hundley is the redshirt freshman who was one of the top quarterback recruits in the nation two years ago. Those three battled throughout the spring, but none emerged with the job.
Coach Jim Mora and offensive coordinator Noel Mazzone have set a deadline of Aug. 16 to name a starter, though the announcement could come earlier, Mora said, if it becomes clear who the guy would be. They are putting in a new, uptempo spread offense that will look far different than the Pistol of the past two seasons and want to be sure they pick the right guy to run it.
Mora, asked this week where he stood in the decision-making process said "I have a feeling, but still need to be convinced." He also talked about trying to project players and how a guy with upside will eventually pass a guy who is playing at a steady level. Put two and two together and it was a thinly veiled suggestion that Hundley is the leader and as long as he doesn't fall on his face the first two weeks of camp, the freshman will win the job.
Hundley has never played in a college game and it's a scary proposition for a coach to hand the reins to an unproven, inexperienced quarterback -- especially with a difficult matchup against Nebraska looming in Week 2 -- but he was the jewel of UCLA's 2011 recruiting class and at some point, you have to see what the kid can do.
He shined at times during the spring and his athleticism, especially in creating plays with his legs, really stood out. He's still learning the nuances of reading defenses and pass protections, but that should develop in time. Hundley is a natural leader, so he should have no problem taking command of the huddle.
Prince and Brehaut bring experience and leadership, traits that will be invaluable throughout the season and should help ease the mind of Mora. It's difficult to say which senior will win the backup job. Prince has beaten out Brehaut in each of the last two seasons, but Brehaut seemed to pass Prince before breaking his leg last season.
Neuheisel participated in spring football and was very impressive, especially in the accuracy department. He trails the others in terms of arm strength and size, however, and probably needs a year of seasoning before he's ready to compete to start.
Fafaul, a walk-on, really opened some eyes with his spring performance, though it's a stretch to think he'd crack the lineup when you look at the guys ahead of him. Millweard also enrolled early for spring practice, but appeared a bit overwhelmed by the college game and is almost certainly headed for a redshirt season.
Fuller is the wildcard. He is the highest-ranked recruit in UCLA's incoming freshman class and is a phenomenal athlete. It's not likely he would be able to win the job with only a month of practice at the Division I level, however, so don't figure on him being a factor early in the year.