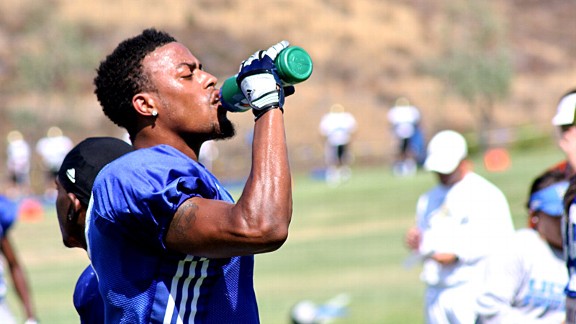 Peter Yoon / For ESPNLosAngeles.com
Receiver Jerry Johnson takes a water break during camp, when temperatures soared to 106.
SAN BERNARDINO -- After two days of relatively mild conditions, the Inland Empire temperatures soared Tuesday during UCLA's training camp and so, too, did the number of players affected by the heat.
Five Bruins players were taken off the field during practice because of reactions to the heat at Cal State San Bernardino, where the temperature reached 106 degrees -- about 10 degrees hotter than the first two days.
Add in the fact that UCLA was in shoulder pads for the first time and it's no wonder linebacker Patrick Larimore and offensive linemen Tre Hale and Simon Goines were carted back to the UCLA locker room for treatment while offensive linemen Brett Downey and Greg Capella received treatment at the practice field.
In addition, safety Tevin McDonald sat out of practice because he was suffering from dehydration issues -- the same thing that kept Eric Kendricks and Cassius Marsh out of practice Sunday.
"You have to anticipate when you get in this environment some of those bigger guys are going to have some problems," coach Jim Mora said. "And we're doing the right thing in terms of taking the helmets off and getting them cooled down and getting them water and being precautionary with anybody that is on the edge."
Mora originally said that the heat-related issues wouldn't mean any changes in practice start times, but he later changed his mind and announced that Tuesday's practice would start at 4 p.m., an hour and 15 minutes later than previously scheduled.
As you might expect, the offensive line was particularly vulnerable to the heat and by the end of practice only 11 linemen were working with the unit. Still, offensive line coach Adrian Klemm had his guys doing up-downs and other conditioning drills in the middle of the field even as the defensive linemen sought a shady area under some trees for their drills.
"I look at it like if my guys can take it and want to get better and do whatever it takes to get mentally tough and physically tough then we'll go through it," Klemm said. "If I see guys kind of struggling and not performing to their abilities because of the conditions, then I'll change things. I personally think it's tough, but it's not unbearable."
Klemm, who coached at Southern Methodist before coming to UCLA, said his teams there practiced in similar conditions every day. He said his goal was to get his unit to a point where they don't even notice the temperatures.
"We're not making a big deal about it," he said. "We're going hard trying to build some mental toughness. No one is complaining about it. People are just going and working hard. We're being smart."
Mora has tried to ensure the team has plenty of water -- the training staff carrying water to the players is working just as hard as the team -- and breaks have been plentiful. Toward the end of practice Tuesday, he had everyone remove their helmets and shoulder pads and ran drills in shirts and shorts.
"You just have to be able to work your way through it and work your way around it and be very proactive in treating the guys who have symptoms," Mora said. "I told the team 'I know you guys are all tough, but if you are starting to feel it, let me know so we can get you cooled down before we have any big-time issues.'"
That's easier said than done, though.
"You don't really want to pull yourself out and admit you're defeated," offensive lineman Jeff Baca said. "Nobody wants to admit they are defeated like that, but sometimes it's not your fault. Your body reacts differently in different conditions."