Cornerback Aaron Hester does a lot of talking on the gridiron, constantly bickering with UCLA's receivers. He did some talking off the field Tuesday, touching on a wide range of topics, from how it feels to be back playing football to what he does on his downtime and why he wears No. 21. Here's a transcript of our conversation:
---
Blair Angulo: How have you handled being back on the field?
Aaron Hester: I'm just happy to be back playing football, first of all. Everything else has fallen into place. The cream rises to the top, so I've just been working hard trying to make all the plays I can.
Angulo: What was your mindset last season after suffering the leg injury in the opener and not seeing the field the rest of the year?
Hester: It was tough. It gets lonely being hurt – on the crutches and everything – it's hard to get around limping and in pain. I took it as a lesson learned, it's part of the game. The leg has held up now after doing my proper rehab, so I'm ready.
Angulo: There's a difference between knowing you're going to be out the rest of the season and climbing your way back to full health. You suited up a few times but never saw the field. How tough was it to be teased like that?
Hester: I think that was the toughest part because I thought I was going to come back and at least be able to get a little taste. But it just didn't happen – that was the roughest part for me. I just took it all in, so when the season comes around I'm going to unleashed all those things I was feeling.
Angulo: Missing time means missing experience, have you been able to recover and make up for that lost time?
Hester: I've been getting my study habits right and watching a lot of film, breaking it down with Rahim [Moore], Sheldon [Price] and Tony [Dye]. As a unit we can just play as one and try to be the best secondary in the country.
Angulo: You lose Alterraun Verner. How do you make up for that if you want to be the best secondary?
Hester: Hard work. Vern' was an excellent player – his intelligence and his instincts will be missed. But Sheldon and I have to work on becoming two shutdown corners. We're young, we're both sophomores this year, so I know we're going to get tested. It will come, but we'll just have to pass the test.
---
Angulo: What do you do when you're not playing football?
Hester: I like relaxing and watching TV.
Angulo: What do you watch?
Hester: NFL Total-Access. I've got to keep some football in there.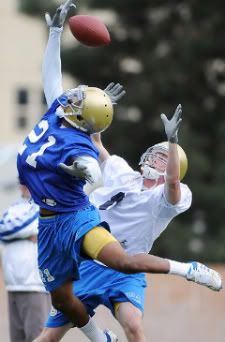 Tiffany Cheng/Daily Bruin
Cornerback Aaron Hester (21) can't stay away from football -- even when he's watching television.
Angulo: I know a lot of your teammates are into video games. Do you get involved in all that?
Hester: The only games I play are NCAA Football or Madden. I have the Call of Duty game, but I can't really get that down pat yet. I let Datone [Jones] have it and he plays it every night.
---
Angulo: Have a favorite course you've taken while at UCLA?
Hester: A screenwriting class.
Angulo: Film and Television, the fundamentals of screenwriting?
Hester: Yeah, man. It felt cool writing the script. Now I see how people make movies and all that.
---
Angulo: Any pregame meals or rituals?
Hester: I pray before every game. I don't really have a pregame meal, as long as I get something in me that can hold me for four hours. As far as pregame rituals, I have to talk to my dad. He gets my mind right.
Angulo: Any reason why you wear No. 21?
Hester: Actually, I was No. 9 before, but I chose 21 because Sean Taylor was my favorite player. When he passed I wanted to change my number. I also like Nnamdi Asomugha from the Raiders, I think we play alike – we're both tall, physical and fast. That's the person I try to mirror my game after.