Get your hard hats ready, folks.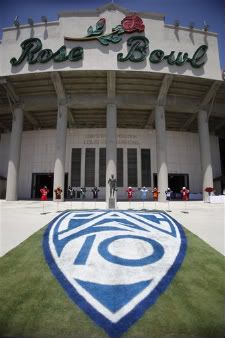 Associated Press
The Rose Bowl at Pac-10 football media day.
Beginning in 2011, the Rose Bowl will undergo a three-part, three-year renovation project that will run concurrently with the venue's many events, including UCLA football games.
Frankly, the 87-year-old stadium is showing its age. The roses are wilting a bit.
Some of the planned renovations, like repairing concrete decks and waterproofing, are safety-related. Others, like the remodeling of restrooms and upgrades to the video and score boards, are catered to fans.
The media isn't being left out. A new foundation for the press box will be laid out in 2011, with renovations to the center section and wings continuing through 2013. An escalator tower will be installed on the south end to make the post-game trek back to the box easier on reporters. Unfortunately, that phase will not begin construction until 2012.
Also in 2012: new field lounges, new field level entrances and exits, a restoration to the field wall, installation of new advertising panels, sideline seating replacements and new restrooms.
Here's to shorter restroom lines.