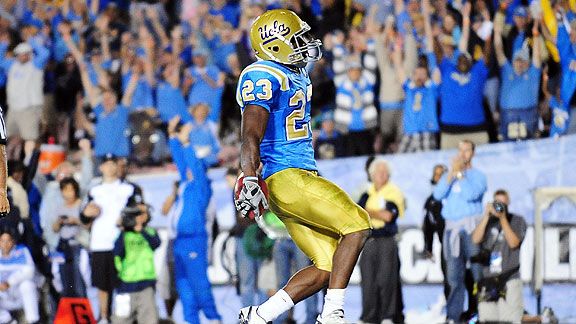 Gary A. Vasquez/US Presswire
Johnathan Frankin said he had his "best" game as Bruin against Houston on Saturday night.
PASADENA -- Johnathan Franklin doesn't just want to be UCLA's feature tailback, he feels as if he needs to be.
It's far from a selfish gesture. He was actually content when good friend Derrick Coleman made the start in last week's embarrassing loss to Stanford. But with Coleman sidelined indefinitely because of a concussion and neck strain, Franklin knew he had to be the difference.
"We need an alpha dog, a head honcho," Franklin said.
On Saturday night, he was.
The redshirt sophomore scored a career-high three touchdowns behind a career-high 158 yards rushing, pacing a suddenly rejuvenated UCLA team to a 31-13 win over No. 23 Houston. The Bruins rushed for 266 yards -- the most by the team in nearly three years.
It began, and ended, with Franklin as the centerpiece of the offense.
Franklin put the Bruins (1-2) up for good with an 11-yard touchdown run in the first quarter, and added scores of one yard in the second and 12 yards in the third.
"That's what he did at Dorsey," said Rahim Moore, who played with Franklin in high school. "You give him the ball, he's going to give you that performance every night."
Franklin got the ball plenty last season, but fumbling issues were a cause for concern for UCLA coaches. The concern turned into hesitation, and the bulk of the carries were again up for grabs in the Bruins' first two games.
"He had some really big runs for us a year ago, he just had some trouble hanging on to the rock," coach Rick Neuheisel said. "He worked hard in the offseason. And maybe more so the reason why I'm proud of Johnathan Franklin, he's really taken a leadership role."
After UCLA's 35-0 loss last week, the Bruins needed a leader or two. Franklin summoned his teammates the day after the defeat and encouraged them to arrive at the weight room 15 minutes early.
"Johnathan Franklin made sure they were there," Neuheisel said. "That's the kind of leadership you need out of your tailback."
Better yet? Members of the offensive line, who Franklin refers to as his "brothers," love blocking for him.
"It's fun with him," right guard Eddie Williams said. "It's great when you have a back that's quick with great vision. He's awesome."
And unlike Coleman and true freshman Malcom Jones -- who fumbled twice in the red zone Saturday -- Franklin will beat you with his feet. One blink and he's gone. One misjudgment and you're toast. He averaged more than six yards per carry against an exhausted Cougars defensive front.
"He's certainly a gifted guy," Neuheisel said. "I think he's got a lot more big runs in him before it's all said and done."
UCLA fans sure hope so.
Franklin called Saturday's performance his "best" as a Bruin, and says he believes it's just the start of something special. He's confident, yet humble. Loud, but quiet.
"This team needs a spark, needs somebody to set the tone," Franklin said. "I did that."