PASADENA -- The decision came Friday afternoon, when coach Rick Neuheisel settled on a healthy Richard Brehaut over a battered Kevin Prince.
The initial clue came some two hours before Saturday's game against Washington State, when Brehaut was the first UCLA player to emerge from the Rose Bowl tunnel for warm-ups. His moment of truth came some four hours later, with the Bruins trailing the lowly Cougars, 28-26, after a Derrick Coleman touchdown run near the end of the third quarter.
The Bruins needed a two-point conversion to knot things up. Tailback Johnathan Franklin lined up behind Brehaut, but left him alone in the backfield once he went in motion.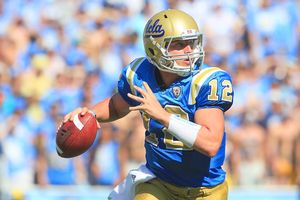 Jeff Gross/Getty Images
Thrust into action for the injured Kevin Prince, quarterback Richard Brehaut played admirably completing 12 passes for 128 yards.
It was all up to the sophomore quarterback making his first-career start.
"When moments like that happen, you can't blink," Brehaut said. "You've got to respond."
And he did, finding Taylor Embree with a fade pass to the corner of the end zone for the equalizer. UCLA went on to add two more scores for the 42-28 victory, its third in as many weeks.
"I looked out and saw one-on-one coverage," Brehaut said. "Taylor's one of our best receivers, so I knew I was going to get him the ball and he was going to make the play."
Brehaut added a one-yard touchdown run minutes later to put UCLA in front for good, proving he can make the correct option reads in the Bruins' pistol formation. He finished with 128 yards on 12 for 23 passing, though one pass stood out above the rest.
"The situation couldn't have happened better," Embree said. "It was definitely a pressure situation for him, a must-get two-point conversion. He threw a perfect pass."
UCLA, which ran all over Houston and Texas in previous weeks, tried to catch Washington State off guard by throwing the ball early. Brehaut dropped back on the first three plays and set the offense up at midfield with three completions.
The plan was evident: Get Brehaut in a rhythm with short, simple throws.
"Anybody can make those," offensive coordinator Norm Chow said. "I was hoping they would press us and we could get some deep balls, but they wouldn't do it."
A majority of Brehaut's work was done in short-yardage situations -- his longest completion went for 19 yards -- but it wasn't like the Bruins needed his arm. UCLA rushed for 437 yards.
No, the Bruins needed his leadership.
"It goes back to competition," Franklin said. "Everyday, Prince is pushing Brehaut. Everyday, Brehaut is pushing Prince. We can rely on any guy if one gets hurt because there's competition. It was no surprise Brehaut did the things he did."
Neuheisel also liked what he saw.
"There were a couple things that need to be fixed, a couple throws that he wishes he had back," Neuheisel said. "But he was pretty darn good for a first start."