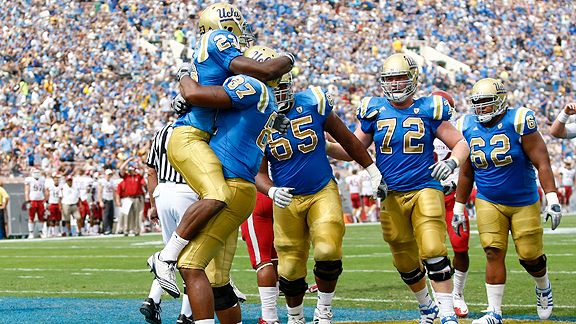 Craig Bennett/Icon SMI
UCLA offensive linemen, who embrace the nickname the "Filthy Five" enjoy the reward of helping a running back reach the end zone.
When UCLA took the ball at its 1-yard line in the fourth quarter with the score tied Saturday against Washington State, the Bruins had only one thing on their minds.
"Time to get filthy," guard Eddie Williams said.
It worked. UCLA went on a 99-yard scoring drive, keyed in large part by the play of UCLA's ragtag bunch of offensive linemen, who have been dubbed "The Filthy Five" by the Bruins coaches.
It's a collection of former castoff linemen suddenly thrust into starting roles who have become the most consistent performers in what has been a wildly inconsistent Bruins team.
"This isn't the most talented group that I've ever coached in my career, but they work as hard as any group I've ever coached," said Bruins veteran offensive line coach Bob Palcic. "They work for each other. There's no selfishness in the group. They've bought into what we're doing and it's showing up on the field."
There are actually six of them -- Williams, Sean Sheller, Ryan Taylor, Darius Savage, Micah Kia and Mike Harris -- but the name applies to whichever five are on the field at the time.
On Saturday, all six were blasting open holes for a UCLA running game that piled up 437 yards rushing—the most by a Bruins team since 1979. Johnathan Franklin had a career-high 216 yards rushing and Derrick Coleman set his career high with 185.
It was the first time in school history that two backs had rushed for 180 yards in a game, and it was no fluke. The offensive line has allowed Franklin to eclipse the 100-yard mark in three consecutive games—the first Bruins back to do that since Maurice Jones-Drew in 2004.
UCLA has rushed for 250 yards or more in its last three games, the longest such streak since 1994.
"The O-line, those guys have been my player of the game the last three weeks," free safety Rahim Moore said. "Without those guys, we wouldn't have three wins in a row, I'll tell you that right now."
That the Bruins have had this kind of success running the ball with this group of linemen has been the biggest surprise of this season. The Bruins are using a new offensive scheme, the Pistol, so everyone had to start fresh.
And, of the starting five, only Harris was slated to be a starter this season. Injuries and other extenuating circumstances opened starting spots for everyone else before the season began even though each of them has a spotty history of experience. Broken bones, torn ligaments, twisted ankles and surgeries decorate their medical histories.
Kia, Harris and Savage were part of the 2008 UCLA offensive line that drew a large amount of the blame for a running attack that ranked 116th out of 119 Football Bowl Subdivision teams. Sheller, a fifth-year senior, had never played a snap on the offensive line before this season.
Yet here they are, a group of veteran players — all but Harris are fifth-year seniors — who before this season seemed destined to finish their time at UCLA as career backups, leading an offense that ranks 10th in the nation with 262.4 yards rushing a game.
"One of the biggest things that bonds us together is that we've all been here for each other through the ups and downs so we know we have each other's backs," Sheller said. "We've sat around and remained patient. We didn't transfer. We didn't go anywhere. We've been true to the program and that gives us a sense of pride when we play."
The "Filthy Five" moniker is a spinoff from "The Dirty Dozen," a 1967 film about 12 convicts who band together to complete a World War II mission.
"Just a bunch of rejects that no one thought would ever be successful and together they ended up being a pretty efficient group," Palcic said.
And these guys love the monkier. The equipment room staff had "Filthy Five" shirts printed up and each player proudly wears one as a reminder of what can be accomplished though dedication and hard work.
"Oh yeah, we love the name," Savage said. "It suits us perfectly. We've made some lifelong bonds and we want to play for each other. I love these guys."
The T-shirts includes a picture of a fist, which has become the official emblem of the Filthy Five. It symbolizes the five fingers on a hand.
"Individually those fingers are weak," Palcic said. "They can be broken. But together, they come together as a fist and there's a lot of damage you can do with that."
Yeah, like a 99-yard fourth-quarter drive with the scored tied.