The UCLA student body will pay tribute to John Wooden today when they throw a party for him on the day he would have turned 100.
Wooden passed away on June 4, but the tribute is a reminder of just how much the legendary former basketball coach will always be felt on the campus where he won 10 national basketball championships.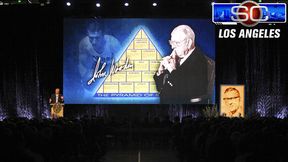 Getty Images
UCLA takes time to celebrate John Wooden today. A legend who not only influenced the sporting world, but society as a whole.
"It's a celebration of his life," said Tyler Trapani, a junior on the UCLA basketball team who is Wooden's great grandson. "Having him being able to turn 100 would have been a great thing. It's unfortunate that he didn't make it, but he still lives on with us."
UCLA students, including Trapani, will visit UCLA Community School and University High School this afternoon to talk about Wooden's life and legacy. At 5 p.m., an on-campus reception at the John Wooden Center will feature an exhibit of Wooden memorabilia and the unveiling of a portrait of Wooden by artist Tom Pinch.
The day-long event will come to a close with a program in the Wooden Center, featuring speeches by former NBA star Keith Erickson and UCLA Athletic Director Dan Guerrero.
"I don't really know too much about John Wooden, but he still had an influence on my decision to come here," said UCLA freshman Tyler Lamb. "That's how much of an impact he has on UCLA basketball. He set the standard for a lot of history and tradition here and it's an honor to wear the jersey that he made famous."
Even the football team will be remembering Wooden on this special day, Coach Rick Neuheisel said.
"We miss Coach Wooden," Neuheisel said. "But if there's ever been somebody who is alive after, it's Coach Wooden. His spirit permeates throughout this campus and through the athletic department."
Especially in Pauley Pavilion, where Wooden won eight of his 10 national titles.
When the UCLA basketball team opens its home schedule early next month, Bruins fans are sure to pack the seats there--all of the seats but one, that is.
Section 103B, Row 2, Seat 1 has been retired. That is the seat behind the Bruins bench where Wooden used to sit for home games and it will remain empty as a tribute.
"His seat will always be there in Pauley Pavilion," Coach Ben Howland said. "It's absolutely the right thing to do."