TARZANA, Calif. -- It's officially referred to as "Table No. 2" by the waitresses at Vip's Café in Tarzana, Calif. but for as long as they can remember it served as the morning home of their No. 1 customer, John Wooden.
I first saw Wooden sitting at his signature table a decade ago when my parents moved into a fifth floor office unit above the café. I simply thought Wooden, who lived in nearby Encino, was in the mood for some bacon and eggs. Then I saw him the next day and the next day and the next and it became clear Wooden, who was always greeted with a thunderous "Coach!" from the patrons when he walked through the double glass doors, was a regular.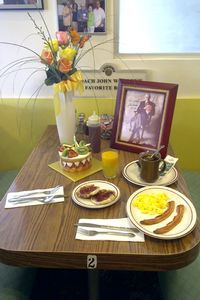 Arash Markazi
Today at Vip's in Tarzana, family and friends celebrated what would have been John Wooden's 100th birthday by setting a table at Coach's favorite eatery.
I was always slightly nervous to go up to him. I've never been one to interrupt someone during a meal for a picture or an autograph or simply to shake their hand and seeing a living legend like Wooden every morning was always beyond surreal. I'd usually be sitting at a nearby booth and say, "Good morning, Coach," when he walked in and "See you tomorrow, Coach" on my way out. A couple of years ago, however, when he was in the hospital after falling down in his apartment, I decided to finally expand the conversation a bit. I knew I'd always regret it if I never actually talked to him and got to know him.
Since I would always mix things up during breakfast and he almost always ordered the same thing, I asked him what he liked.
"I like the No. 1 which is two eggs, two hotcakes and two slices of bacon or sausage," Wooden told me without having to look at the menu. "They also have the No. 2 which is two eggs, two slices of bacon or sausage with a choice of toast or biscuit and gravy. I usually get one of those two."
Wooden would always sit in his booth and read the morning newspapers while talking to the regulars sitting at the counter next to him about current events. Many of them knew next to nothing about sports and I always thought Wooden loved that. They would talk about politics, religion and upcoming elections and almost never about last night's games. While Wooden would often get hassled for autographs and pictures when he went to Pauley Pavilion, he was relatively left alone at Vip's aside from the waitresses who would give him a kiss on the cheek before he left.
"It's great. Some of the people I've known for about a dozen years and I see them every day," Wooden told me after his 98th birthday two years ago. "It's the only place I see them. We've become very friendly and close to each other and it's just like home. It has a homey atmosphere and I like that. I've been going there for a dozen years, seven days a week."
When Paul Ma bought the café in 1998 with his wife Lucy he had no idea who Wooden was. He figured he was a kind elderly patron who would always order the same thing – two eggs scrambled, two slices of bacon extra brittle and English muffin with a small orange juice and decaffeinated tea.
"One day someone told me I had a very famous customer in Coach Wooden and I said, 'Yeah, I know him,' and he said, 'No, you don't understand, he's the greatest coach. You need to ask him for a picture,'" Ma said. "So I asked Coach for a picture and he autographed it and I put it up."
After Ma read Wooden's books he would soon turn the walls of his diner into a mini shrine in honor of Wooden with pictures, paintings and newspaper clippings of Wooden framed throughout his restaurant.
"After I read his book I realized he's not just a coach of basketball, he's a coach of life," Ma said. "I really fell in love with his philosophy on life."
I hadn't been back to Vip's since Wooden passed away in June. My parents moved out of their office unit above the restaurant and it was just too hard to go back and look at Table No. 2 and not see him there. But after being there for Wooden's last two birthdays, I went back there Thursday morning for what would have been Wooden's 100th birthday to see my old friends and pay respect to "Coach."
In the back of the restaurant many of Wooden's friends and family, including his son, Jim, and daughter, Nan, and former player Mike Warren, shared stories about him over breakfast and cake while in the front of the diner Ma had decorated Table No. 2 with Wooden's picture, a bouquet of flowers, cake and the same breakfast Wooden would always order.
"We do that in the Chinese tradition," Ma said. "In China when you lose someone you love, you always cook the food they loved on their special day like their birthday. I think even in the food there is soul and Coach will always be a part of us."