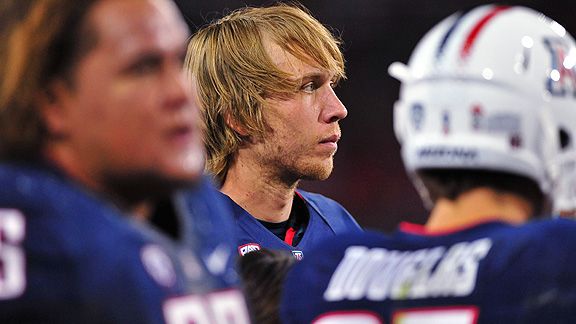 Chris Morrison/US Presswire
Arizona quarterback Nick Foles sat out last week's game against Washington because of a knee injury.
Arizona will bring the most prolific passing game in the Pac-10 when the Wildcats visit the Rose Bowl Saturday for a 12:30 p.m. game against UCLA, though it's unclear who will be directing the offense.

But with the way Arizona plays defense, it might not matter.
Arizona quarterback Nick Foles, who has 1,600 yards and nine touchdowns passing, is questionable to play because of a knee injury that kept him out last week, but backup Matt Scott filled in admirably last Saturday against Washington.
Scott, who began last season as the starter before losing the job to Foles, passed for 233 yards and two touchdowns and ran for 65 yards in only seven carries as he led the Arizona to a 44-14 rout over the Huskies.
"He's more of a running threat," UCLA coach Rick Neuheisel said of Scott. "Nick Foles is a very, very good player. A sure NFL prospect and I don't know if he'll be back or not, but the Scott kid is certainly very athletic and very accurate."
No matter who is playing quarterback for Arizona, which uses an up-tempo spread offense to average a Pac-10 best 298 yards passing per game, the calling card for this team is defense.
The Wildcats rank No. 7 in the nation against the run, giving up only 90.86 yards rushing per game, and has given up only 13.43 points per game — also seventh in the nation. Four Wildcats opponents have failed to score in double digits and the Wildcats have given up only nine second-half points over their last four games.
"Defensively, they pose a great challenge," Neuheisel said. "We have our work cut out for us."
The rushing defense stats, however, might be a bit misleading. The Citadel and California are the only Arizona opponents who rank among the top 40 in the nation in rushing and both had success on the ground against Arizona.
Citadel had 178 yards rushing and Cal had 146 yards against the Wildcats, which should bode well for a Bruins running attack that ranks No. 22 in the nation in rushing with 209.86 yards per game.
Still, the Arizona defense creates problems. Defensive end Ricky Elmore, with seven sacks, leads a Wildcats squad that is second in the nation with 25 sacks. Arizona is also seventh in the nation with 56 tackles for a loss.
"They've got a great defensive front that creates lots of pressure," Neuheisel said. "It will take a great effort on the part of our offensive line for us to move the ball on the ground and to protect the quarterback. And those will be keys to any kind of success we'll have this weekend."