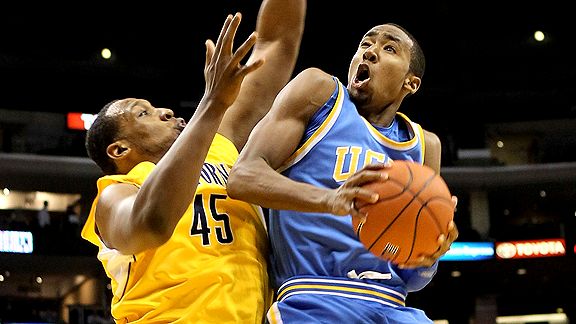 Stephen Dunn/Getty Images
UCLA's Malcolm Lee is one of three returning starters for the Bruins this season.
The start of the UCLA basketball season sneaked up quickly on coach Ben Howland and his Bruins, and that is just fine by them.
The sooner the season starts, the sooner the Bruins can forget about last season.
UCLA went 14-18 last season, only the third losing season for the Bruins since 1947-48, so even though the Bruins' exhibition game against Westmont College on Thursday night at Pauley Pavilion has come a little faster than they would have liked, it's a welcome game.
"It's very painful to lose and it's a very difficult process to go through," Howland said. "It was difficult for coaches, players and our fans, but that's all behind us now. We're looking forward to his season."
Here's a quick rundown of exactly what the Bruins are looking at this season:
The roster: The Bruins return three starters from last season in guard Malcolm Lee and forwards Tyler Honeycutt and Reeves Nelson, giving them a core of experience, but they have no seniors.
Lee is junior and Honeycutt and Nelson are sophomores. True freshman Joshua Smith is expected to start at center and while highly touted, he's still a freshman.
The point guard spot will be either junior college transfer Lazeric Jones, a junior, or junior Jerime Anderson — a part-time starter last season.
Tyler Lamb and Matt Carlino are other true freshman expected to get plenty of minutes, so Howland expects to have his patience tested.
"We're going to have a lot of mistakes early as we move forward just learning," Howland said. "There are a lot of new faces and a lot of guys without experience. But it's exciting. Guys are working hard. There's enthusiasm."
The offense: Lee is the leading returning scorer after averaging 12.1 points last season, but look for a different style of Bruins attack this season than the one that averaged 66.8 points last season.
Howland, known throughout his career for running a grinding and deliberate offense, is pushing this team to open things up. With athletic wing players such as Honeycutt, Nelson and Lee, it makes perfect sense and the players are not complaining.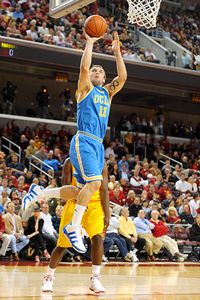 Kirby Lee/Image of Sport/US Presswire
Reeves Nelson hopes to use his athleticism to be successful in UCLA's up-tempo style.
"We've all wanted to play like that and people have criticized us that we're too slow and all that," Honeycutt said. "I doubt that they'll have anything to say about us being too slow. If anything, they'll say we're too fast now."
In a recent 20-minute scrimmage with referees and clock stoppages, the final score was 65-58. Howland said he's hoping the transition game will help create easy baskets.
"We're a little more athletic and one through four we can dribble the ball and shoot the ball," Jones said. "So it really fits our game."
The defense: Howland is a stickler for defense, so it's no surprise to hear him say he's not happy with where the Bruins are defensively as they prepare to play games.
"I just don't think we're very good at it," Howland said. "We haven't been very good in half-court defense. There's a million areas. It's not just one specific, it's all of them."
Newcomers Jones and Lamb have been impressive on the defensive end, Howland said, but others are still a work in progress. Because of personnel issues last year, UCLA played a zone defense for much of last season, but Howland wants to play man-to-man.
He said part of the problem is that many of the players picked up bad habits while playing zone.
"The habits defensively that some of our freshman that are now sophomores should have had, they don't because we played two and a half months of zone last year, which puts them behind," Howland said.
And while the scrimmage results point to an increase in offense, it also showed the defensive liabilities. Howland said the teams shot a combined 64% in that scrimmage.
"He wants us to play hard-nosed, man-to-man defense," Lamb said. "Box out hard, everything. Get in the passing lanes so we can execute a fast break. When we get tired we tend to just back off and not really pressure our man. That's what we need to work on."
The point: Jones and Anderson have waged a camp-long battle for the starting point guard spot and Howland said it's still undecided.
Jones is a better defender, Anderson a better shooter, so it could be a situational rotation. Howland also said they might be on the floor at the same time.
Howland did mention that Jones did not have a turnover in either of UCLA's two intrasquad scrimmages, so that could be an indicator of who has the edge in the position battle.
Inconsistent play at the point guard position was one of UCLA's problems last season, when the Bruins averaged 14.4 turnovers per game to rank ninth in the Pac-10. Anderson started the season at that spot, but Lee took over halfway through.
The addition of Jones, a rare junior college recruit for Howland, should stabilize things there and let Lee play his more natural shooting guard spot.
Camp surprise: Smith's conditioning has really opened some eyes. He's listed at 6 feet 10, 305 pounds and said he has lost 50 pounds since arriving on campus. He'll need that conditioning to run the up-tempo style and said he's ready to go.
"It's a lot easier to dunk now, that's for sure," he said.
He's also able to block shots easier and won't be as worn down when opponents try to run him around and play defense outside the lane.
But Smith isn't the only one who is in better shape. The entire team has made significant strides in conditioning. Reeves and Honeycutt, in particular, look more toned and athletic.
"Our conditioning was a lot harder than it was last year," Honeycutt said.
The outlook: The Bruins should be a much-improved team.
Smith is a big-time talent who can make an immediate impact as a freshman. He has the size and strength to play with anyone in the country down low and his presence alone is enough to help turn the tide for UCLA.
Lee and Honeycutt have worked hard to extend their shooting range and that improvement and the addition of freshman sharpshooter Carlino should help the Bruins improve upon a .325 three-point shooting from last season.
Depth is a bit of an issue with only 10 scholarship players eligible this season, so staying healthy will be of utmost importance, but, despite the youth, the Bruins have the talent to win 20 games, finish at least third in the Pac-10 and get into the NCAA tournament.