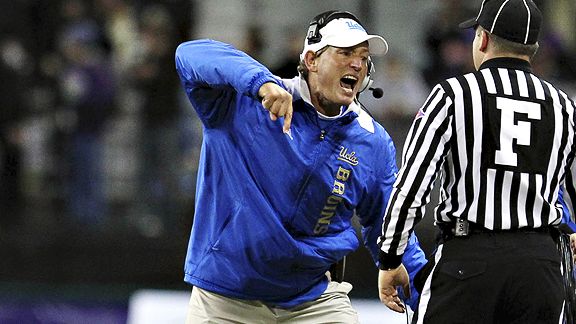 Mike Nelson/US Presswire
UCLA coach Rick Neuheisel says his players need to become introspective about solving the team's ongoing problems.
Games like this were supposed to be a thing of the past for UCLA.
At least that's what the Bruins made you believe after a respectable showing against Arizona and then a victory over Oregon State.
But Thursday's 24-7 loss at Washington last Thursday showed once and for all that the only thing consistent about UCLA's football team is its wild inconsistency.
The Bruins continued their Jekyll-and-Hyde ways, looking like an efficient offensive machine during their 92-yard scoring drive in the first quarter, but showed an anemic attack in gaining only 71 total yards the rest of the game.
It's an all too familiar theme for UCLA, which at times this season has shown signs of great potential and at others has looked as if it would struggle to get out of a paper bag.
And the biggest problem is trying to find the formula for becoming a consistent team.
"We've got to look at all facets of what we do to become that," coach Rick Neuheisel said. "There are a number of things we can do and everybody has got to be introspective about that."
Introspection wasn't a problem after the loss to Washington. The locker room had an aura of despondence, with a sharp silence permeating the air and tears of frustration flowing from some players.
They spoke of mental mistakes and the inability to execute at crucial times. They vowed to get those things fixed. It sounded a lot like it did after every loss this season.
"They're disappointed they didn't win and they internalize it and start thinking about things they could have done better," Neuheisel said. "The truth is every football game is mental mistakes and things that didn't go right. But when you're unsuccessful, those things become magnified."
What became magnified Thursday was UCLA's inability to move the ball on offense, especially after quarterback Richard Brehaut left because of a concussion early in the third quarter.
Backups Darius Bell and Clayton Tunney relieved Brehaut, each making their Division I college debuts, and completed only one of 11 passes for 13 yards and two interceptions. UCLA gained only 35 total yards with Bell and Tunney running the offense.
"We still had confidence that we could win the game, we just couldn't make plays after that," running back Johnathan Franklin said. "It was just inconsistency. Mental mistakes, missed reads, missed blocks, dropped balls. The same things that have hurt us in every loss."
The latest loss means the Bruins must now win their final two games to become bowl eligible — a feat that seems a long shot given the state of the team's play in recent weeks. Still, if the theme of inconsistent play offers anything, it's the glimmer of hope that UCLA might actually pull off those two victories.
"There's going to be a lot of naysayers after this ball game," Neuheisel said. "But to do something uncommon … you need uncommon effort and uncommon people and that's what we're going to try to become."