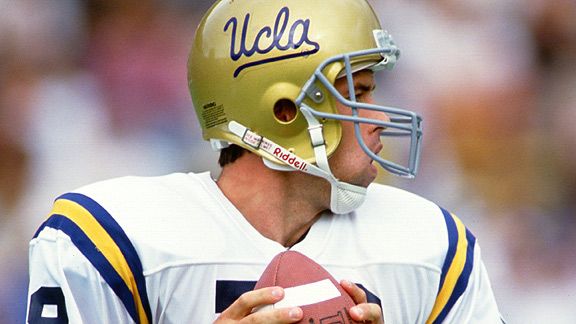 Getty Images
John Barnes cemented his legacy in UCLA lore with an amazing fourth-quarter performance against USC in 1992.
When John Barnes first approached Terry Donahue about walking on to the Bruins football team in 1992, he wore a suit.
Donahue asked why and Barnes replied, "Because first impressions are lasting impressions."
Little did Barnes know, his final impression would far outlast that first one.

Barnes authored one of the most improbable moments in the history of the UCLA-USC rivalry, directing a 21-point fourth quarter rally in the 1992 game that gave the Bruins a 38-37 victory.
UCLA trailed, 31-17, entering the fourth quarter, but Barnes, who began that season as the fifth-string quarterback, hit J.J. Stokes on a 29-yard touchdown that brought UCLA to within seven at 31-24 with 12:49 to play and later connected with Stokes on a 59-yard pass to set up a tying touchdown with 7:06 to play.
The Bruins defense held, forced a punt and gave Barnes the ball at the Bruins four-yard line. Two running plays set up a third and four from the 10, and what happened next cemented Barnes' spot in UCLA lore.
"I remember [then quarterbacks coach] Rick Neuheisel coming up to me on the sidelines and telling me they had picked up on our hand signals," Barnes said. "He said next time they come up in a press, nod instead of tapping your helmet for a streak."
When Barnes got to the line, he saw USC in a press. He nodded to Stokes. After the snap, Stokes took off. Barnes floated a pass. Stokes caught it about 30 yards downfield, then zigged and zagged across the field before crossing the goal line with a Trojans player on his back for a 90-yard touchdown and a 38-31 Bruins lead with 3:08 to play.
"I remember dropping back, letting the ball go and I remember it feeling pretty good," Barnes said. "Then I got tackled and by the time I got up J.J. was dragging someone across the end zone and I couldn't believe it happened like that."
It wasn't over. USC drove and scored with 41 seconds to play, but missed on a two-point conversion when linebacker Nkosi Littleton knocked away a pass attempt, solidifying Barnes' role as hero.
Barnes finished with 385 yards passing and three touchdowns. He had 204 and two touchdowns in the fourth quarter. This from a walk-on who had made only three previous starts. He began the season buried on the depth chart, carrying backs and holding tackling dummies during practice.
He'd played at three schools in three years before that, moving from Saddleback Community College to NAIA Western Oregon to Division III UC Santa Barbara before donning the suit and asking Donahue for a chance.
To this day, he said, talking about it puts a big smile on his face.
"There's times where I've had a crappy day or a crappy week and I'll put in the tape and watch and it brings back all the good feelings," he said. "It was the culmination of all the hard work that I put in in high school and all the teams that it didn't work out for. And then to get out there and finish my last game on a high note is in some ways a miracle."
A lasting impression, indeed.