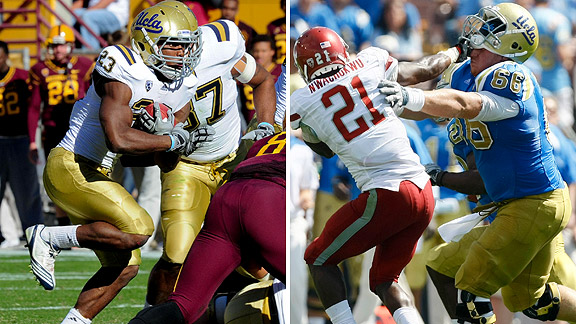 US Presswire/Icon SMI
Talk about highs and lows. Running back Johnathan Franklin impressed all season, yet the young UCLA defense struggled with basics -- tackling and wrapping up -- at times.
LOS ANGELES--Looking back, you could say that UCLA's season took a turn for the worse before it even began.
Key injuries to defensive lineman Datone Jones and quarterback Kevin Prince cropped up early in Fall camp, followed soon by another to center Kai Maiava and word that offensive tackle Jeff Baca would miss the season because of academic ineligibility.
The Bruins seemingly never recovered. Forced to patch together a makeshift offensive line and thrust inexperienced players into pivotal roles, the Bruins became an inconsistent band that could never really march in time for an extended period.
There were signs of hope throughout the season, but those hopes seemed to always be short lived. So as UCLA (4-7) enters its season finale Saturday night against USC at the Rose Bowl with no shot at making a bowl game and fighting only for bragging rights against its crosstown rival, here is a look at one thing that went right and a couple of things that went wrong:
One up: The running attack
Neuheisel brought in the Pistol offense to revamp a running attack that remained ineffective throughout his first two seasons at UCLA, and there is no question that it worked.
Johnathan Franklin became the Bruins' first 1,000-yard rusher since 2006 and the Bruins enter the USC game No. 33 in the nation with 179.91 yards rushing per game. That's almost 100 yards more per game than the 82.75 they averaged in 2008, when they ranked 116th out of 119 teams in the nation.
"The running game improved so much compared to how we've been doing the past two years," said Derrick Coleman, second on the team with 462 yards rushing. "When you have a running game that went from almost last to the top 30, you have to say it was a success."
When it was going well, it was a thing of beauty. UCLA rushed for 266, 264 and 437 yards during their three-game win streak against Houston, Texas and Washington State and Franklin became the first UCLA running back since Maurice Drew in 2004 to rush for 100 yards or more in three consecutive games.
"When we were playing together and had that rhythm, we were unstoppable," Franklin said.
But this silver lining has a cloud.
It took the Bruins nearly all season to find any kind of passing attack. Opening-day starting quarterback Kevin Prince struggled with injuries before finally undergoing season-ending knee surgery in October.
Richard Brehaut was forced into on-the job training and UCLA didn't top 150 yards passing until the seventh game of the season. The Bruins currently rank 116th in the nation in passing offense with 133 yards per game.
"If you had told me I'd have a 1,000 yard rusher right now, I would say it was a huge success because we weren't close to that in years one and two," Neuheisel said. "What I would never have imagined in a million years is the demise of a throwing game that came with it."
One down: Tackling
The poor tackling began in Week 1, when Kansas State ran roughshod through the Bruins defense and never really got better. Even during UCLA's three-game win streak, the defense was giving up big plays only to save itself by creating turnovers.
The Bruins are 103rd in the nation in rushing defense, giving up 199.5 yards per game. They have allowed eight opponents to go over 200 yards and twice have given up more than 300 yards on the ground.
In three of their last five games, UCLA has given up 582 yards or more in total offense—a far cry from the teams of past years that used defensive toughness as their identities.
"The way we performed wasn't always up to the standard of a UCLA defense," linebacker Akeem Ayers said. "So it's a disappointment so far."
An inexperienced front seven was more of a hindrance than the Bruins could have imagined. Among those players, only Ayers had started a game on defense before this season began. The UCLA defense has only one senior starter in tackle David Carter.
Meanwhile three freshmen, Cassius Marsh, Owamagbe Odighizuwa and Jordan Zumwalt, have all been starting in recent weeks. That inexperience has led to some confusion on the field and players often missed assignments.
But even when they were in position to make plays, the Bruins all too often simply let runners get past. Opposing running backs, quarterbacks and receivers all had big games against the Bruins this season and as a result, UCLA gave up 30.5 points a game.
"The difficulty of the inexperience in our defensive front seven was something we didn't calculate well enough," Neuheisel said. "That and the loss of our passing game were two things I don't think we could have imagined."
Of course, the aforementioned passing game was just as much of a disappointment as the tackling issues and is equally as responsible for the Bruins lack of success this season.
"It took everyone by surprise," receiver Taylor Embree said of UCLA's inability to pass this season. "I know at the beginning of the season we were real excited about it and we thought we were going to have to rely on it during a bunch of games so it's definitely disappointing the way it turned out."