A local product figures to be the best player on the floor when UCLA and Washington State start Pac-10 play Wednesday night.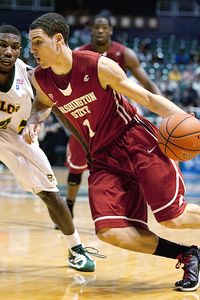 AP Photo/Eugene Tanner
Klay Thompson, above, played at Santa Margarita High with former UCLA player James Keefe.
The thing is, Klay Thompson (Santa Margarita, Calif./Santa Margarita Catholic) plays for the Cougars.
Thompson, a junior guard, leads upstart Wazzu (10-2) with averages of 22.3 points and 4.3 assists per game. He is shooting a blistering 42 percent from three-point range and is listed at No. 25 in Chad Ford's latest NBA Draft Top 100.
UCLA coach Ben Howland saw Thompson plenty in high school (Thompson and former Bruin forward James Keefe were teammates). But Howland noted that early commitments from guards Malcolm Lee and Jerime Anderson -- along with the long courting of Jrue Holiday -- made it impossible to add Thompson to UCLA's touted 2008 recruiting class. The now-gone duo of Drew Gordon (New Mexico) and J'mison Morgan (Baylor) were part of the same group.
"Believe me, I kick myself in the head any time I think about it," Howland said.