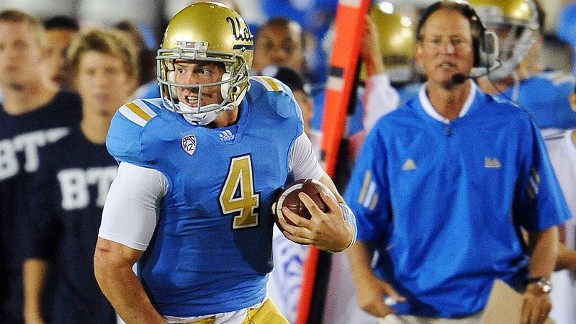 Jayne Kamin-Oncea/US Presswire
"Now the challenge is to be able to put two wins together," quarterback Kevin Prince said after the Cal game.
The pattern is so painfully obvious that it doesn't take Sherlock Holmes to crack the code: UCLA will lose this weekend. At least that's what the past results would indicate.
The Bruins so far this season have followed each loss with a victory and each victory with a loss. They are coming off a victory over California, and UCLA, which is 4-4, has yet to put together a streak, winning or losing.
The yo-yo season is partially rooted in scheduling, with the Bruins seemingly playing a top-25 team one week and a struggling team the next. But it's also one rooted in attitude. The Bruins have figured out how to bounce back, but haven't figured out how to build upon past success.
It's a pattern that has grown tiresome for many at UCLA, and one they hope to end when they face Arizona State on Saturday at the Rose Bowl.
"It's frustrating," cornerback Andrew Abbott said. "We've shown we can overcome a loss, but not that we can handle success. We have to come back out and work hard to improve instead of strutting around like we're the best thing and the Rose Bowl is going to be filled this weekend just because we won last week. We can't let stuff get to our head, we just have to come back out and grind."
There is every reason to believe that the Bruins have, indeed, changed their attitude about winning. Inside the UCLA locker room following the 31-14 victory over California last week, the players and coaches all delivered the message that they could not be satisfied.
They celebrated the victory and took pride in their best played game of the season, but almost immediately began to focus on playing consecutive good games.
"Now the challenge is to be able to put two wins together," quarterback Kevin Prince said while sitting in front of his locker after the Cal game. "We haven't done that this year. For the most part we haven't been able to do that for my career here. So we just have to be more mature and handle this win better."
It's a message coach Rick Neuheisel has also been preaching almost since the moment the California game ended.
"We've lost four times this year and we've responded each time," Neuheisel said. "We've won three times prior to this and we've come back and not done the job the next week. So what's going to be different about this week is our effort and our attitude. We've got to stay focused on the task at hand, which is Arizona State."
The attitude shift can be traced to a dismal performance at Arizona on Oct. 20. The Bruins were shellacked in Tucson, 48-12, and were embarrassed in just about every facet imaginable. It was a loss that you would assume the team would want to put as far in the rear view mirror as possible, but it's actually quite the opposite.
The Bruins want to remember rock bottom and what it felt like to be humiliated. They were able to rally around that and hope to carry the same feeling into this week.
"I think everybody knew that Arizona loss was embarrassing," Abbott said. "I think everybody took it serious and it really resonated with everyone and it stuck. And everyone took the approach after that that it can't ever happen again."
Things appear to be headed in the right direction. The Bruins hit the practice field this week with a renewed enthusiasm. They are confident coming off of a victory, but bent on making sure they don't rest on their laurels.
"There is a different mentality going into this week coming off of a win," receiver Taylor Embree said. "I felt like in weeks past when we've come off of a win -- it's not that we haven't worked hard, but there wasn't the same energy. I think maybe it took a butt whipping from Arizona to realize that we need that every week."
Another subtle change is that people aren't talking about the potential ramifications of the game. If UCLA wins, the Bruins will be tied with Arizona State for first place in the Pac-12 South. A couple of weeks ago, UCLA went to Tucson needing a win to get into first place and openly discussed the conference title race and that didn't turn out so well.
And just because the Bruins played their best game of the season last week doesn't mean they feel as though they've arrived. Too many of them were around last year when UCLA had that big victory at Texas, then proceeded to lose six of the next eight games.
Or two years ago when the Bruins won their first three, then lost five in a row. Or in 2008, when they followed a victory over Tennessee with a 59-0 loss at Brigham Young.
"We have a history of having a big win and then the next week losing, getting blown out," running back Johnathan Franklin said. "We've just got to change it. Guys in this program have to be hungry to turn this thing around. We can't be satisfied. Even if we win this week, we still can't be satisfied. We've got to be hungry each and every week."
And the only way the Bruins can stop the lose-win, lose-win pattern is to keep trying to build off of their last victory instead of being content about a game well played.
"We now know what we're capable of," Neuheisel said. "To accept anything less than that would be absolutely ridiculous on every one of our parts so coach and player alike."