Former UCLA soccer players Carlos Bocanegra, Jonathan Bornstein and Benny Feilhaber were selected to the preliminary 30-man U.S. World Cup roster on Tuesday.
U.S. men's national team head coach Bob Bradley -- whose daughter is a student manager on the UCLA women's soccer team -- has until June 1 to trim his final roster to 23. Training camp begins Saturday in Princeton, N.J.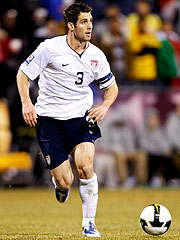 Jamie Sabau/Getty Images
Carlos Bocanegra looks to wear the captain's armband in South Africa next month.
Bocanegra is all but a lock. A defender who starred at UCLA from 1997-99, Bocanegra was the U.S. captain during qualifiers last year and played in the 2006 World Cup in Germany, making two starts at left back.
Bornstein, a defender who played the 2004 season at UCLA after transferring from Cal Poly Pomona, made six starts during qualifiers last year. He plays for Chivas USA, a team he won MLS Rookie of the Year honors for in 2006. Feilhaber is a midfielder who was born in Brazil and walked on at UCLA in 2003. He did not play in the last World Cup, but he has international experience after competing at the 2008 Olympics in Beijing.
The U.S. will play two warmup matches -- May 25 against Czech Republic and May 29 against Turkey -- before heading to South Africa.