The Los Angeles Galaxy has not missed superstar David Beckham early in the MLS season, leading the league with 16 points on five wins and a draw. Striker Edson Buddle has scored a league-best nine goals, Landon Donovan has recorded a league-best five assists and Donovan Ricketts has allowed just two scores through six matches. Rookie Michael Stephens, a former UCLA standout who's penciled into Beckham's midfield spot, has been another major player. Last year's first-round selection has played in all six games (making three starts) and was credited with two assists in Saturday night's 3-1 win at the Home Depot Center.
"He's a good player," Galaxy coach Bruce Arena said afterward. "His work rate is outstanding and I think it compliments our other players in the midfield. He's been a real plus. Hopefully he can continue to grow as a player."
I briefly caught up with Stephens to talk about UCLA coach Jorge Salcedo, what it was like to take the field against four-year UCLA teammate and fellow MLS rookie Kyle Nakazawa and his thoughts about staying in Los Angeles.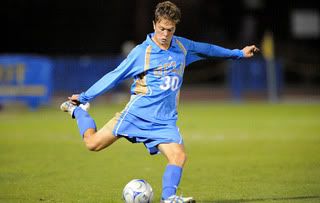 Daily Bruin
Michael Stephens has handled his transition to the MLS well.
How different is collegiate soccer from the MLS?
Stephens: UCLA did a great job preparing me for this level. Jorge is a guy who played at this level for a long time and a guy I still keep touch with almost before every game, actually. He's a guy that gives me good insight. He knows the game very well.
It must have been weird to have to play against Kyle Nakazawa, someone you shared the midfield with for four years at UCLA.
Stephens: It was -- definitely when I saw him come in. It was cool, though. Obviously we've both moved on and Amobi [Okugo] as well. It's a good testament to us and UCLA for producing players that are stepping up in the league.
How would you assess your first few weeks in the MLS?
Stephens: I think I've done well. Obviously I've only been here for six games, but I believe I've improved. I want to continue to do so.
When we spoke on the phone on draft day, you were relieved to find out that you'd be staying in Los Angeles. Has it lived up to what you expected?
Stephens: It's pretty similar. I'm lucky that I got to stay in L.A. I'm real comfortable with the area and I can still go see my friends whenever I need to. It's been an easy transition, especially because the guys on the team have made it so easy.