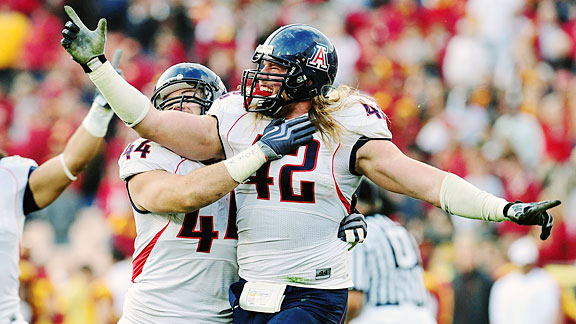 Gary A. Vasquez/US Presswire
Arizona defensive ends Brooks Reed (42) and Ricky Elmore (44) like to create backfield havoc.
Arizona has put together the top-ranked defense in the Pac-10 and one of the top defenses in the nation and it all begins with the ends.
Defensive ends Ricky Elmore and Brooks Reed are a menacing combination, using an uncanny blend of speed and strength to create havoc on opposing offenses.
Elmore and Reed have combined for 11.5 sacks—nearly half of the 25 Arizona has to rank second in the nation. They have 55 total tackles between them and are key factors in a Wildcats defense that has given up only 90.86 yards rushing per game, which is seventh best in the nation.
"They're the best defensive ends we've played all year," UCLA Coach Rick Neuheisel said. "They're a load, no question about it. We have to do what we can do. It's imperative to our success that we have some measure of success against them."
Not many teams have had much success against them. Elmore, a 6-foot-5, 260-pound senior out of Grace Brethren High in Simi Valley, is 10th in the nation with seven sacks and has had at least one sack in five of the last six games.
His high energy and quick first step enabled him to finish second in the Pac-10 with 10.5 sacks last year and he's also a force against the run.
And Reed, a 6-3, 262-pound senior, is projected as an early-round NFL draft pick because of his versatility as a pass rusher and run stopper. He has excellent speed, a nose for the ball and rarely misses a tackle when he gets near it.
In large part because of Reed and Elmore, Arizona is giving up only 13.43 points a game and leads the Pac-10 in six major defensive categories, including scoring defense, rushing defense and total defense.
"Both of them are great athletes," said UCLA offensive tackle Micah Kia, who will have to deal with stopping Elmore and Reed Saturday at the Rose Bowl. To stop guys like that, I'm going to have to have flawless technique."
The most difficult part, Kia said, is that you can't play one way against either of them. If you try to overpower them, they can beat you with their speed. If you try to lock them up, they have the strength to get off blocks.
"Most speed rushers, people assume you can manhandle them as soon as you get your hands on them," Kia said. "That's not the case with these guys. Both of them are very physical and have great speed."
One thing UCLA has going for it is that the Pistol offense is designed to take advantage of aggressive defensive ends. Texas boasts a formidable pair of ends in Sam Acho and Eddie Jones, but UCLA ran for 264 yards in a 34-12 victory over the Longhorns on Sept. 25.
"All the different options we have going on in the backfield is going to help me, so yeah, that's comforting," Kia said. "But we're still going to have our hands full with these two guys."
Three others to watch:
Nic Grigsby, RB, Sr.--His 55.71 rushing average won't make anyone lose sleep, but Arizona is a pass-first offense and Grigsby splits carries with Keola Antolin. He's averaging 5.1 yards per carry after averaging 7.2 last year.
Juron Criner, WR, Jr.--At 6-4, 210, he makes for a difficult size matchup and his speed makes him a big-play threat. He's averaging 16.1 yards per catch and has three 100-yard receiving games.
Trevin Wade, DB, Jr.--A shutdown cornerback, Wade has 10 career interceptions in only 20 games started. He only has one interception this year as teams shy away from him, but he returned that one 85 yards for a touchdown.