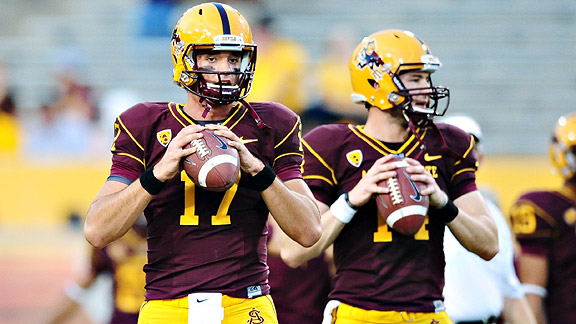 Mark J. Rebilas/US Presswire
There is a little quarterback controversy brewing in Tempe between Brock Osweiler and Steven Threet.
Arizona State coach Dennis Erickson didn't pause.
UCLA defensive coordinator Chuck Bullough didn't care.
And UCLA coach Rick Neuheisel just kind of shrugged and laughed.
There may or may not be a quarterback controversy at Arizona State heading into Friday's game against UCLA in Tempe.
Which would qualify as a fairly large story line in most games, but both UCLA (4-6) and the Sun Devils (4-6) have much larger issues to concern themselves with than whether junior Steven Threet or sophomore Brock Osweiler starts at quarterback for Arizona State.
Larger issues like having to win out to salvage 6-6 seasons and have a shot at playing in a bowl game.
"We're at about the same place with our programs," Erickson said on his weekly conference call. "We both have an opportunity to compete in our last two football games.
"We're both playing with a lot of young players. We've both lost close games, so yeah, we're very, very similar."
With their seasons on the line, a little quarterback controversy barely moves the dial.
"It'll be what it'll be. I know Dennis well enough to know he'll have his best player playing," Neuheisel said. "They're both like 6-foot-9, right? Battlestar Gallactica, right?"
Bullough seemed even less concerned by reports out of Tempe that the 6-foot-8 Osweiler has been taking more snaps with the first-team offense than the 6-foot-5 Threet, a Michigan transfer.
"Yeah, I've heard those reports," Bullough said. "From what I've seen on film they both can throw and they both can move. They're kind of the same guy."
Despite the visual evidence in practice, Erickson insists there is no controversy.
Osweiler has simply taken more reps with the first-team offense lately and may see more reps this week, he says. How many more reps he sees depends on what Threet does when he's in the game.
"There was never an indecision with our quarterback," Erickson said. "I don't know where that came out -- I guess because (Osweiler) was practicing a little bit with the first group. Steven Threet will be our starting quarterback."
"He's been starting all year and played well for us most of the time. Obviously, he's made a mistake or two as you grow into what we're doing. But he hasn't done anything to lose (the spot)."
A mistake or two is Erickson's nice way of characterizing Threet's 16 interceptions this season, tied for most among Football Bowl Subdivision quarterbacks.
Though he has completed 62.2 percent of his passes for 2,580 yards and 18 touchdowns, those turnovers have been costly.
Earlier in the year, Arizona State had a chance to upset then-No. 5 Oregon, but Threet had four interceptions in the red zone and the Sun Devils lost 42-31 despite outgaining Oregon in just about every offensive category.
That loss came a week after ASU's heartbreaking 20-19 loss at then-No. 11 Wisconsin on Sept. 18. The Sun Devils had an extra point attempt blocked with 4:09 remaining in that game.
Arizona State has also lost by four to No. 6 Stanford, by three to Oregon State and by one to USC.
Any one of those games could have gone the Sun Devils' way. The problem is that in each of those losses, Arizona State's wounds have been self-inflicted. Interceptions, blocked extra points, missed assignments, bad penalties.
Which might be the real story behind Osweiler taking extra snaps with the first-team lately.
There may or may not be a quarterback controversy at Arizona State.
But Erickson is definitely trying to prove a point to his team.