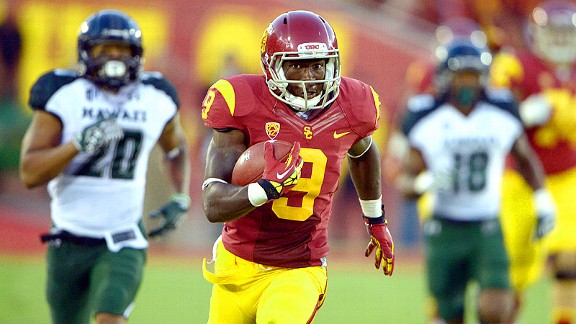 Kirby Lee/Image of Sport/US Presswire
Lane Kiffin said it and he meant it. He's actually said it several times now. We just weren't ready to hear him.
Or hear this:
"I think he'll be the best one ever when it's all said and done," Kiffin said Saturday night of USC sophomore wide receiver Marqise Lee. "I've been saying that for a year now."
That's right, Marqise Lee. Not his more highly touted high school teammates Robert Woods and George Farmer. Not USC receiving legends like Keyshawn Johnson or Curtis Conway.
Marqise Lee. A sophomore most colleges projected as a defensive back out of high school or recruited mainly to get closer to Woods and Farmer.
The first time Kiffin said it on a conference call last November following Lee's unbelievable 13-catch, 224-yard night against UCLA, you sort of smiled.
Yeah, the kid had a great freshman year with 73 catches for 1,143 yards and 11 TDs. But a lot of people have good freshman years. Not all of them go on to careers like Keyshawn Johnson. (See: Williams, Mike, or Jarrett, Dwayne).
Kiffin used to say a lot of things for effect when he was the head coach at Tennessee. It was his way of getting the program noticed and bringing back some swagger. But since he's come back to USC he's been fairly dull. His statements are as dry as his wit. Hyperbole is left for coaches with teams that need the hype to get noticed, not programs like USC that have the kind of talent you can't help but notice.
But in this case Kiffin meant what he said. Every word of it. Only he wasn't saying it so the national media would start noticing Lee. That was going to happen regardless of what anyone said. Kiffin said it so Lee would realize just how good he could become.
"Honestly, the first time I heard that he said that I was like, 'Excuse me?'" Lee said. "I was a freshman and I knew I had a long ways to go. I knew I had to get better still.
"But it was a great statement. It motivates me that my coach feels that way. It's going to push me into working harder than I've ever worked."
The statement had two effects, both of which might make you think Kiffin is a little smarter than people give him credit for.
By praising Lee he was essentially challenging Woods to prove him wrong. The two stars from Serra High in nearby Gardena, Calif., were already intensely competitive with each other. But Woods, who is a year older, had always been regarded as the better player.
Woods had lived up to that billing in his first two years at USC. As a sophomore he broke Johnson's school and conference single-season receptions record with 111 catches for 1,292 yards and 15 touchdowns.
But when you've done that much, that early in your career, sometimes it can be hard to set the bar much higher. With one statement, Kiffin nipped that worry in the bud.
"It's always going to be like that between me and him," Woods said of his competitive relationship with Lee.
The other effect Kiffin's statement had was to clue Lee in on just how talented he really was. For years he'd lived in Woods' shadow. For years he'd measured himself against his more celebrated teammate.
This was a new challenge: Be perfect. Not just good. Not just great. Perfect.
Which is why Lee wasn't kidding when he said he would remember the two drops he had in Saturday's 49-10 win over Hawaii more than the 297 yards of total offense he threw together.
"Honestly, I think with the team we have and what I think we can do, it's the mindset we need to have," Lee said. "When you do a play numerous times in practice and you always catch it, you expect to do it in the game."
It is Trojans' wide receiver coach Tee Martin's responsibility to manage Lee's own expectations for himself now, to help him push himself without pushing himself too hard.
"That's the tough thing as a coach to manage," Martin said. "It's almost like a basketball player missing free throws. Are you going to keep talking about missing more free throws?
"No. You kind of have to say, 'What'd you do wrong? In this situation, he was trying to run before he caught it. So when he came off the field talking about dropping the ball, I tried to redirect his attention."
In other words, focus on the why not the what. Why you dropped the ball, not simply that you dropped it. That gives someone as talented as Lee something specific to focus on and address, not a larger issue (not living up to expectations) to dwell on.
And if Martin's message doesn't get through, Matt Barkley's will. The preseason Heisman favorite and the wide receiver who might just start stealing votes from him if he keeps this up barked at each other on two separate occasions Saturday.
Their way of pushing each other when an opponent can't.
"You expect perfection. He knows what I'm expecting from him," Barkley said of Lee. "And if I don't put a ball where it should be, I expect him to get on me as well because it should be perfect."
That's the level USC is aiming these days. As good as they can possibly be, not just as good as they need to be on any given week.
It's how elite players like Lee and Woods and Barkley will continue to grow. It's the way this season can end with as much hope as it began with.