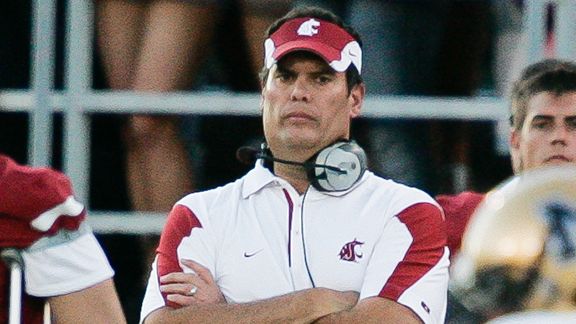 Steve Conner/Icon SMI
Washington State coach Paul Wulff is 4-24 since taking over the program.
It's almost impossible to believe that Washington State won 10 games in three straight seasons and played in a Rose Bowl earlier this decade.
The Cougars (1-2), otherwise known as the last in a string of easy targets USC faces to start the season, are awful. Some have speculated they might be the worst team in Pac-10 history. Since coach Paul Wulff got the job in 2008, this team has gone 4-24. The only victory this season came by a single point at home against Montana State, a team the Cougars trailed by 15 entering the fourth quarter. The average score of its games last year was 38-12.

As bad as USC's second units have looked, it could probably play them for an entire game and win handily. But enough beating up on the poor Cougars. Let's look hard -- OK, really hard -- for some things they do well:
Throw the ball: It takes a while before you find a Pac-10 category that the Cougars aren't last or next-to-last in. Here's one: passing offense. They rank fourth with 233.3 yards per game, considerably better than USC's numbers, in fact.
Last week, sophomore quarterback Jeff Tuel -- who made his college debut in last season's 27-6 loss to USC -- completed 18 of 33 passes for 284 yards and two touchdowns at Southern Methodist. Freshman receiver Marquess Wilson had six catches for 134 yards and a TD.
In truth, it wasn't the toughest road venue. The Mustangs had just 18,000 fans at their stadium and were looking for their first win over a BCS conference team in 18 games. But why quibble?
Punt: Sure, they get a lot of practice, but they're also pretty good at it. The Cougars have punted 21 times already, tied for Washington for tops in the conference. Punter Reid Forrest is good. He has been the starter for the past three years and his combined punts -- according to the Seattle Times -- have traveled nearly five miles, easily good enough to reach Idaho from campus.
Forrest is the best player, at his position, on the team. Is that a good thing or a bad thing?
Show up on third down: Cougars opponents have had 38 third downs this season and converted on just 13 of them. That's a 34.2 percent success rate and good enough to rank the Cougs fourth in the conference at stopping third-down plays.
Get pressure: The Cougs have actually sacked the quarterback more frequently than the Trojans have, but bear in mind that USC's Tampa 2 defense usually relies on its front four to provide all the pressure. The Cougars have eight sacks in three games, tying them with Cal in third place in the category. Look for the Cougars to try some funky blitzes and stunts to make Matt Barkley uncomfortable. Forcing him to make mistakes is their best path to a shocking upset.
Stay disciplined: OK, they're not really all that good at avoiding penalties. Last week, penalties kind of killed their chances of a road upset and they've been flagged 18 times for 171 yards. But we mention it only in comparison. Anyone looks good compared to USC. The Trojans still lead the nation, having piled up 321 penalty yards, an average of 107 penalty yards per game.