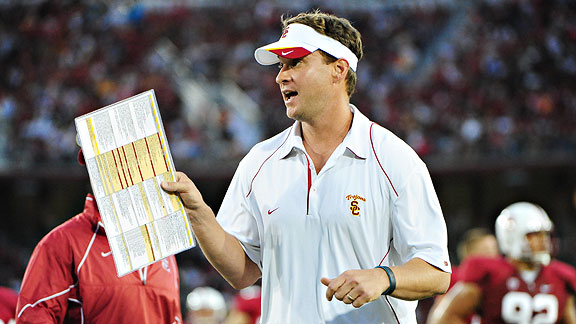 Kyle Terada/US Presswire
USC head coach Lane Kiffin argues with a referee during halftime against Stanford on Saturday.
PALO ALTO, Calif. – It certainly won't be remembered as one of the great games in USC history but Lane Kiffin remembers it as a turning point for a team still learning how to win.
During his first season at USC in 2001, Kiffin, then a 26-year-old assistant, was coaching a team in the midst of a 2-5 start. Its record, however, wasn't indicative of the progress the team was making each week. It was the first time USC had ever lost five games by five points or less and the first season it lost twice in the final 12 seconds.
Their fourth loss came on the road to No. 11 Washington on a 32-yard field goal as time expired. After the game then-USC coach Pete Carroll ran up to then-Washington coach Rick Neuheisel, shook his hand, looked him straight in the eyes and said, "We'll be back."
It wasn't as memorable as Carroll and Jim Harbaugh's "What's your deal?" exchange last season after Stanford beat USC 55-21 in the Coliseum but it was just as unforgettable to Kiffin. Despite the loss, that was the moment USC coaches knew their team was on the right track. The Trojans would go on to win 53 of their next 58 games.
Kiffin wouldn't go as far as to say he had the same feeling after USC lost its second straight game on a chip shot field goal as time expired but he did draw comparisons to the two teams and the two games.
"We went up to Washington that year and they made the kick but we started 2-5 that first year and now we're 4-2," Kiffin said. "We're playing better and we're close to being good. It's just a few plays here and there."
The biggest difference between Kiffin's first year as head coach and Carroll's first year at USC is Carroll was following Paul Hackett, who was coming off a 5-7 season and the school's first ever last-place finish in the conference. Expectations weren't just low; they were nonexistent. Kiffin is obviously trying to fill bigger shoes while also trying to motivate a team banned from postseason competition this season and next.
If you compare this team with the one Carroll last coached, the one that lost three of its last six games and two of its last three at the Coliseum, including 27-point and 34-point losses to Oregon and Stanford respectively, this team has improved drastically. It's understandable to want to compare this team with Carroll's squads that won the conference and went to a BCS bowl for seven straight years, but that's simply not the team Carroll left Kiffin with and certainly not the one Kiffin will be fielding for the next four years while the program is on probation for infractions that took place on Carroll's watch.
So USC lost to Washington on a last second field goal last week. The same thing happened last year with Carroll coaching a team that was ranked third in the country at the time.
So USC lost to Stanford on a last second field goal this week. It's certainly an improvement over last season's 55-21 debacle -- the most points ever scored against USC.
The common perception is a program like USC shouldn't be happy with moral victories, but frankly, with nothing to play for the next two years, that's about all USC has. And after having 14 wins and a couple of championships wiped away from the record books for not exactly winning morally, maybe that's not such a bad thing.
"This was a week where every time [the players] picked up an article it was about how the USC dynasty is over and it's going to take 10 years to come back," Kiffin said. "We lost a game on a last-second field goal last week and we come up here as 10-point underdogs, and to see the way our guys fought today was good."
One of the stats Carroll was most proud of when he was at USC was only losing one game (an 11-point loss to Notre Dame his first year) by more than a touchdown in his first 110 games at USC before getting blown out by Oregon and Stanford last season. When he was an assistant coach under Bud Grant with the Minnesota Vikings, Grant would always say, "All you want to do is give your team a chance to win on the last play of the game."
Through his first six games at USC Kiffin has certainly done that but has come up short twice in the final seconds. Those losses will be what most remember even if those losses, more than any of their previous four lackluster wins, shows how much USC has improved since the end of last season.
"You have to be careful about getting on kids too much on a game like that where if one play goes another way you guys are all sitting here saying 'Oh, wow, what an unbelievable job, they came here as a 10-point underdog against Stanford who beat them by 34 last year and won the game,'" Kiffin said. "We just have to do a better job of closing it out."