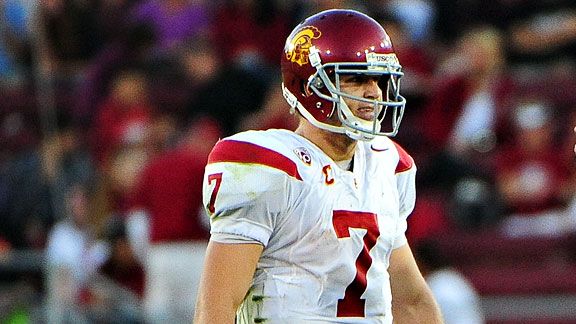 Kyle Terada/US Presswire
"I really thought we were going to stop them," Matt Barkley said after the Stanford game.
The Trojans' official Web site posted a video with quarterback Matt Barkley that was filmed in the minutes after he'd cooled off from Saturday night's frenetic 37-35 loss at Stanford.
Barkley is wearing a sweat-soaked gray T-shirt, sitting in a silent USC locker room. The interviewer, Jordan Moore, asks him if he was worried when Stanford's Andrew Luck got the ball back with more than a minute left, his team trailing by a point.
Those final 62 seconds, of course, would prove fatal to USC's hopes, as kicker Nate Whitaker banged through a 30-yard field goal with time expiring.
"I really thought we were going to stop them," Barkley said.
But how much longer can these Trojans keep the faith? How much longer can their fans believe that this is a team building a foundation for future greatness, even as the defense continues to show scant signs of progress? Barkley's comments echoed those of coach Lane Kiffin, summing up the state of the team's psyche after two last-second losses in a row.
"We're just inches away from being great," Barkley said.
Here's an outside perspective: It might be more like yards, even if it sometimes looks like miles -- at least, when the other team has the ball. On the other hand, it doesn't look like it's a distance that can never be closed.
One of the questions that has cropped up in recent weeks is whether this young group of defenders has had time to soak in the intricacies of Monte Kiffin's Tampa 2 defense, hatched in the NFL, where grown men are studying film with the hours USC players devote to sociology or history.
It's a valid worry. A bigger question involves the tendons, muscles and bones of these players. They entered the 2010 season delicately thin on talent and it has been snapped in places. Defensive end Wes Horton, who was coming on strong, didn't play Saturday as he continued to rest his aching back. Fellow defensive end Nick Perry was limited by his lingering bad ankle, making just two tackles.
Add linebacker Malcolm Smith to the trainer's report. He hurt his knee early in the game and now remains questionable for Saturday's game against Cal. People wonder if there are scheme changes coming. They can forget about personnel changes, at least those not forced by injuries.
"There are not a lot of answers, personnel-wise, to go to," Lane Kiffin said. "We're banged up there."
The rest of this season becomes a trial of patience for USC's fan base. Between now and Dec. 4, it finds out how far Barkley can take a burgeoning offense and whether this staggering defense can begin building for 2011.
It could be a test of faith.