Mike Mohamed has gotten tired of walking off the field after a Cal loss to USC.
The Golden Bears' inside linebacker and defensive captain has been starting since his redshirt freshman season in 2007, and it's been a familiar story each time. Mohamed grew up in a small town in the Imperial Valley and never got a whiff of recruiting interest from the Trojans.
"In my four-and-a-half years here we haven't been able to beat them," Mohamed said. "We've been close a few times, but yeah, that sure would be nice."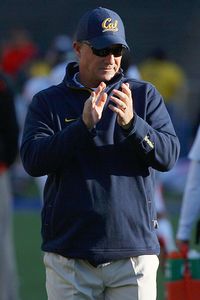 Jed Jacobsohn/Getty Images
Cal is known for Jeff Tedford's offensive attack, but it's the defense that's starting to turn some heads.
If you've followed Cal under coach Jeff Tedford, you might find it surprising that the 2010 team is being led by its defense. Tedford has a reputation as a quarterback guru, gleaned from his work with players like Trent Dilfer, David Carr, Akili Smith and Aaron Rodgers.
When things have gone well for the Bears this year, it's been largely because of a stifling defense. New defensive coordinator Clancy Pendergast, who brought an NFL style into Berkeley from his days with the Kansas City Chiefs and Arizona Cardinals, is getting a lot of the credit.
When things haven't gone well for the Cal defense this year, Mohamed wasn't on the field.
The Bears were blown out at Nevada in the only game Mohamed has missed due to injury in his career. In the four games Mohamed has played, the Bears have given up a total of 26 points. They dismantled UCLA's offense in a 35-7 win at Berkeley last weekend.
USC coach Lane Kiffin said it's not Mohamed's play that stands out, but the confusing looks the Cal defense gives an offense.
"They really cause you a lot of problems," Kiffin said. "All of a sudden, they're inside, then they're outside. They have a four-man front, then they rush really wide. They do cause a lot of issues."
But Mohamed is the steadying veteran who has always relied more on his grasp and feel for the game than his athleticism. He's not the player on Cal's defense most coveted by NFL teams, but he's the guy everyone else looks to for answers. He's a three-time Pac-10 All Academic selection. He's also Cal's active career leader in tackles and interceptions.
"I generally try to make sure guys do the right thing. I try to be the voice of the defense," Mohamed said. "Just keep everyone together and keep going on a straight line."
Saturday's game at the Coliseum will pit strength against strength, weakness against weakness. The USC offense has shown signs of hitting its stride while the defense is among the worst in the nation statistically. Cal's offense has been hit-or-miss, particularly in the passing game.
"They're pretty well put-together on offense," Mohamed said. "[Matt] Barkley can make all the reads, get away from pressure, run around on boots. He's going to be the best quarterback we've faced yet and it's a good QB conference."
Mohamed said he isn't holding any grudges because USC never recruited him. He grew up in Brawley, a small desert town just north of Mexicali, Mexico. The only reason Cal's coaches got onto him is because a family friend sent video to a former college teammate who was an assistant coach with the Bears.
That doesn't mean he isn't excited for the opportunity to play within 200 miles of his hometown.
"Any time you get to go play closer to home it's pretty exciting," Mohamed said.
Plus, it's his last chance.