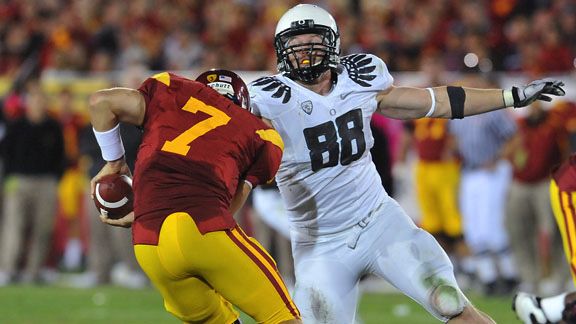 Jayne Oncea/US Presswire
USC quarterback Matt Barkley was blitzed more than 80 percent of the time by Oregon, according to coach Trojans Lane Kiffin.
If you play sports, you're going to have bad days. Babe Ruth swallowed his share of 0-for-4s.
The idea is to avoid clunkers in the big moments.
USC quarterback Matt Barkley wasn't able to do that against top-ranked Oregon, which grabbed the top spot in the latest BCS standings by defeating USC, 53-32, Saturday night.
Barkley knew entering the game that USC's offense would have to play nearly flawlessly to have a chance. It didn't come close, in large part due to his struggles. Barkley looked out of rhythm, harried by Oregon pass rushers and out of sync with his receivers. He completed just 26 of his 49 passes, had two of them intercepted and threw for only one touchdown.
The Trojans' sophomore was on a roll coming into the game, his numbers improving and his name getting increasingly bandied about in Heisman chatter. Barkley was the No. 7-rated passer in the nation before Saturday, his 20-to-4 touchdown-to-interception ratio a huge improvement off last year's 15-to-14 ratio.
Then came Saturday in front of a national TV audience in a game many of USC players, including Barkley, had compared to a bowl game.
"Matt didn't play very well," coach Lane Kiffin said in his Sunday night conference call.
If USC fans are lucky, Saturday will become a lesson that makes Barkley better. Evidence suggests it might. We've seen how far he came from his freshman season to now. Oregon blitzed more than 80 percent of the time, according to Kiffin, putting him under near-constant duress. He was sacked twice out of the first six times he dropped back to throw.
That pressure seemed to affect Barkley's accuracy. Oregon's defense -- often ignored by commentators -- led the nation in turnovers before Saturday.
"He hasn't seen pressure like ours, a defense like ours," Oregon linebacker Casey Matthews said after the game. "Getting pressure on the quarterback, we felt like we could disrupt his rhythm and that's what happened."
Other factors combined to make Saturday a down night for Barkley and the Trojans' offense. Every USC tailback was limited by some kind of injury, including starter Marc Tyler, who grimaced at times from the pain in his lower back. The receivers looked tired and beaten-up by the end of the game.
Kiffin also faulted his play calling, which was overly ambitious at times -- going for too many deep shots -- and absurdly conservative at others (calling for run plays on third-and-long or short passes on fourth-and-long).
"I should have helped him out with some easier completions," Kiffin said. "I think at points in the game I fell into that feeling that we had to press because of their offense."
The main reason many USC fans remain hopeful about next season is Barkley, who could be among the frontrunners for the 2011 Heisman. There's no reason to lose faith now. His progress in the final five games will dictate how optimistic the Trojans are about 2011. The season beyond that, when USC can finally play in the post-season again, is shrouded in mystery since Barkley might be playing in the NFL by then.
Until that day, nobody's going to be as important for laying the foundation for this program's recovery.