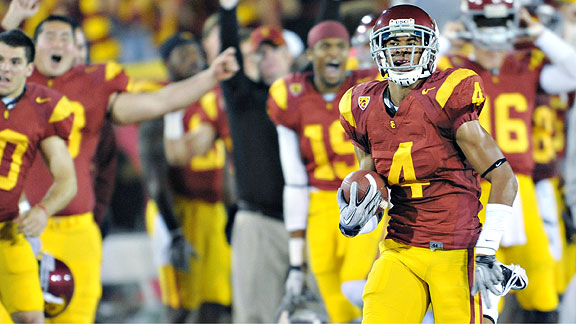 Jayne Kamin-Oncea/US Presswire
USC cornerback Torin Harris runs back a blocked extra point for two points in the fourth quarter at the Coliseum.
LOS ANGELES -- The team that can't attempt enough two-point conversions won by converting the unlikeliest scenario -- a blocked extra point returned 97 yards for a score.
The team whose kicker makes field goals with the same accuracy Shaquille O'Neal makes free throws won because its opponent's kicker couldn't connect on a 42-yard game winner.
The USC Trojans, who had lost two games this season on last-second field goals, finally found a way to squeak out a 34-33 win against Arizona State. It was a win that would have made the 6-3 Trojans bowl eligible if, well, you know.
After the game, as USC kicker Joe Houston left the post game news conference, Lane Kiffin smiled as he looked at his kicker, who went 1-for-3 before making a 29-yarder with 3:53 that proved to be the game-winner.
"I see times have changed around here," Kiffin said. "Joe goes 1-for-3 on field goals with a 29-yard field goal and he gets to come up here in front of everybody."
Yes, times have certainly changed around here, and it's time Kiffin and USC fans to get used to it.
The days of USC grading its wins by style points are long gone. Any time USC can leave the Coliseum these days as a winner and not watch an opponent celebrate a last-second field goal or three-touchdown blowout should be considered a massive success.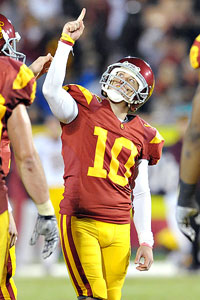 Jayne Kamin-Oncea/US Presswire
Kicker Joe Houston celebrates a field goal in the fourth quarter that helped USC edge Arizona State, 34-33.
The problem is many USC fans still judge these Trojans against the teams that went to seven straight BCS bowl games. They don't want to watch a young team tough out a one-point win. They want to be entertained by a high-scoring game reminiscent of the days when Carson Palmer, Mike Williams, Matt Leinart and some guy who has since been erased from the record books would go up and down the field with ease.
How else do you explain the thousands of fans at the Coliseum who left at the half when USC led 22-7? How about the thousands of empty seats, which had been filled in the first half, during the final five minutes of the game as USC trailed 33-31?
The 68,744 in attendance was the smallest turnout at the Coliseum for a USC game since 2003 but certainly larger than many expected for a matchup between two unranked teams. Yet when USC needed its home crowd, many fans were already long gone.
Remember when everyone groaned and moaned after USC's season opening 49-36 win at Hawaii? Do you realize three months later that win will likely be this team's signature win of the season?
Hawaii is currently 7-3 and will likely finish 10-3. Outside of Cal, which is 5-4 and will likely finish 6-6, USC's "unimpressive" win over Hawaii is its lone win over a team with a winning record. Virginia (4-5), Minnesota (1-9), Washington State (1-9) and Arizona State (4-5) are all below .500. And as much as you can excuse losses to Oregon (9-0) and Stanford (8-1), let's not forget USC lost to a 3-6 Washington team at the Coliseum.
Yes, there is something to be said for rivalry wins but the state of UCLA (4-5) and Notre Dame (4-5) makes USC's current predicament almost enviable. And as much bad luck as USC has had in Corvallis in recent years, it should be able to beat a 4-4 Oregon State, which just lost to UCLA.
The only real potential signature win USC has left on its schedule is next week's game against 7-2 Arizona, which was ranked in the top 15 before losing to Stanford on Saturday. A win in Tucson might do for this team what it did for the Trojans in 2001, Pete Carroll's first year at USC as well as Kiffin's first as an assistant coach.
"Hopefully it's one of those games that brings you closer together as a team," Kiffin said. "Maybe there's some similarities to our first year the last time we were here, when we were 2-5 and we went down to Arizona and that game went back and forth, we almost lost that, scored on an interception return just like today and went on to finish the regular season really strong, so hopefully that can happen."
Many on the USC coaching staff that year point to that win in Tucson as the turning point in the program. USC won the last four games of the season and that 2-5 team went on to qualify for its first bowl in three years.
USC obviously won't be able to parlay a late-season run into a bowl berth but considering the 2001 season ended with a 10-6 loss to Utah in the Las Vegas Bowl in front of 22,385 fans, maybe it's a good thing the comparisons end there.
Arash Markazi is a columnist and writer for ESPNLosAngeles.com. Follow him on Twitter.