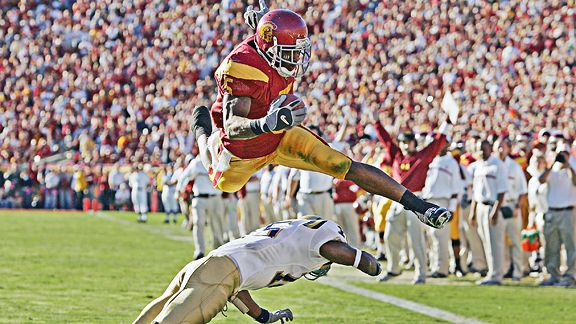 AP Photo/Chris Carlson
Reggie Bush leaps over UCLA's Marcus Cassel as he rushes 13 yards for a touchdown at the Coliseum on Dec. 3, 2005.
Every day this week, we'll spotlight a major moment for the Trojans in the rivalry with UCLA.
In the 81-year-old rivalry with UCLA, few games have been less competitive and, in a way, less memorable. A good chunk of the 92,000 fans had to be on the freeway by the end of the third quarter. The Trojans led 52-6 by then, UCLA defenders grasping at Reggie Bush as if he were a phantom.
But it was an important moment in one regard: In the century or so of college football in Southern California, perhaps never had a team played at such a high level. USC's 66-19 victory in 2005 -- over a UCLA team that entered the game ranked 11th in the nation -- looks, in retrospect, like the pinnacle of the Pete Carroll era.
In their next game, the Trojans would lose a memorable BCS title game at the Rose Bowl against Texas and quarterback Vince Young, snapping a 34-game winning streak. In that game, USC would become the first team ever to field a team with two Heisman Trophy winners.
One of them, Matt Leinart, wasn't quite as relevant as the other, Bush, in that Dec. 3 UCLA game. The Trojans exploited UCLA's weakness -- it had the 114th-ranked run defense coming in -- by getting the ball in Bush's hands whenever possible. Bush ran for 260 yards and two touchdowns, a performance that helped set him up as the No. 2 overall pick in the next spring's draft.
Of course, looking back, those events never officially happened. The Trojans had to vacate that victory, along with 13 others, as part of the NCAA sanctions stemming from its findings during an investigation into Bush's alleged acceptance of extra benefits from prospective agents.
The NCAA can't erase peoples' memories, of course. The fans who were there saw one of the most remorseless machines college football had ever produced. That offense, which scored at least 50 points seven times that year, set a bar no USC offense has come close to reaching ever since.
"We were just on fire," Bush said that day. "We knew we can do whatever we wanted against these guys as long as we execute."
Lane Kiffin, the Trojans head coach, was then a 30-year-old offensive coordinator in his first season calling plays. He must have felt like his dad had handed him the keys to a Ferrari when Carroll anointed him as Norm Chow's replacement before that season. The Trojans had gone 13-0, pounding Oklahoma in the Orange Bowl, the year before and most of the key contributors had returned.
Kiffin had his choice between thunder and lightning, Bush and LenDale White. He had three future NFL receivers, Dwayne Jarrett, Steve Smith and tight end Dominique Byrd. Four members of that offensive line are now NFL starters. It was an embarrassment of riches.
"We had done a great job of recruiting," Kiffin said. "You start listing that starting lineup there, you've got some great college players. It was neat to see them all come together and play really well. That's our goal, to be back there some day."