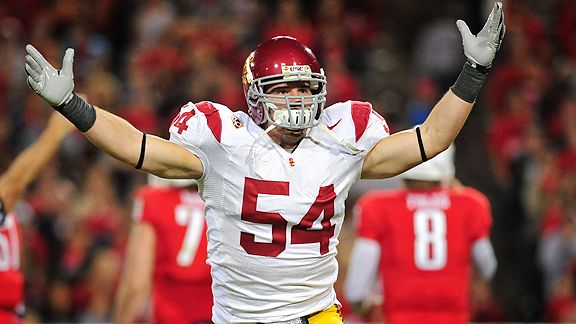 Chris Morrison/US Presswire
Chris Galippo could end up starting at any of three positions on the linebacking corps.
There are two Mondays left until spring practice officially kicks off for USC on March 22. On each of those Mondays, we'll preview one-sixth of the Trojans' depth chart and eye potential risers and fallers during the monthlong springtime. We began four weeks ago with quarterbacks and running backs and continued three weeks ago with receivers and tight ends, two weeks ago with offensive linemen and last week with defensive linemen. This week, we look at both linebackers and defensive backs as we begin to close up shop, keeping in mind that all freshman who can't practice until the fall are automatically at the bottom of the depth chart:
Strongside linebacker
1. Chris Galippo, redshirt senior
2. Ross Cumming, senior
3. Lamar Dawson, freshman (won't enroll until fall)
4. Charles Burks, freshman (won't enroll until fall)
Galippo could, honest to goodness, end up starting at any of three positions on the linebacking corps -- or all three, too. But the strongside is probably the most likely place he'll start off at at, simply because he's better built for the position than any of the Trojans' other linebacking options aside from Devon Kennard.
Cumming's a very valuable backup and perhaps the best special-teams player on the roster. Burks is a sure bet to redshirt; Dawson is not at all and could very well end up playing significant snaps in 2011 as a first-year freshman.
Middle linebacker
1. Devon Kennard, junior
2. Dallas Kelley, junior
3. Will Andrew, redshirt sophomore
4. Anthony Sarao, freshman (won't enroll until fall)
Kennard playing middle linebacker in 2010 wasn't exactly the hit the Trojans' coaching staff envisioned it being, but it makes a lot of sense at this point to stick with it and allow one of the team's smartest players to mentally adjust to playing one position and one position only.
This is not a done deal, though. He could play strongside too, and he could also drop down and play some defensive end at times. Neither of those would surprise me. Kelley, although undersized, was a nice get as a junior college player because of his physical development. Unlike Sarao and even Andrew, a walk-on, Kelley could presumably hold his own in a pinch in a game in the fall.
Weakside linebacker
1. Shane Horton, redshirt senior
2. Marquis Simmons, redshirt sophomore
3. Hayes Pullard, redshirt freshman
4. Tre Madden, freshman (won't enroll until fall)
Horton's one of the least-talked about seniors on this roster, a guy who Lane Kiffin openly -- and memorably -- called out for poor play in 2009 but went on to earn significant praise over the course of the year as a spot starter and valuable reserve. He won't be a world-beater if he ends up starting, but he screams serviceable piece who makes a lot of a sense as a stop-gap measure while Madden and Dawson ready for prime time.
Simmons and Pullard are both very inexperienced; Madden could redshirt but is not a guarantee.
Left cornerback
1. Nickell Robey, sophomore
2. T.J. Bryant, redshirt junior
3. Patrick Hall, redshirt freshman
4. Ryan Henderson, freshman (won't enroll until fall)
Robey's a surefire starter, an undersized player who took a chance the coaches gave him in fall camp last year and ran with it all the way to December, starting every one of the Trojans' 13 games and performing fairly well overall. He had his bad moments and bad games, but Robey showed shades of early ballhawk-ness and consistently impressed as a tackler.
Bryant had a disappointing year and is nearing full-on bust status in Troy. He needs a big-time season in 2011, probably as either a nickel or dime back, to save himself in the coaches' eyes. Hall has a lot of work to do to get to a point where he could see legitimate defensive snaps.
Henderson will likely redshirt.
Strong safety
1. Drew McAllister, redshirt junior
2. Jawanza Starling, junior
3. Dion Bailey, redshirt freshman
McAllister missed all of last season with a hip injury and was able to redshirt the year after he underwent surgery in October. He was one of the players who seemed forgotten in some circles last year but was really a sorely missed piece on the Trojans' defensive unit. He is, for all intents and purposes, their best playmaking defensive back, and it'll be interesting to see if he retains that specific skill after his return from injury.
Starling started until the Oregon game before losing his spot to Marshall Jones, but he could still play an important role this season. His main issue last year involved mistaken routes to tackle ballcarriers, and it troubled him often in most of USC's games. Fix that, and he could easily start.
Bailey's interesting, as he is also playing some strongside linebacker in winter workouts and sounds set on finding his way into the lineup this season at that spot, not on safety. But he's still small for the linebacker spot, and he's probably a better fit at safety in the long term.
Free safety
1. T.J. McDonald, junior
2. Marshall Jones, redshirt senior
3. Demetrius Wright, redshirt freshman
4. Tony Burnett, junior
McDonald is probably the best player on the entire defensive unit, a junior to-be who will enter the season as a top underclassman. He has everything NFL scouts like to see in a young player, including the smarts for the position, and he still retains some ability to grow into his lanky frame. He'll be the cornerstone of the defensive backfield.
Jones is another solid backup but also a guy who will be jonesing for starting snaps. He didn't do badly in his opportunities last year, but, with McAllister back in the fold, there isn't really an obvious spot for him to play in 2011.
Same for Wright and Burnett, two players who looked good in their limited opportunities last season -- Wright in practice and Burnett in the Notre Dame and UCLA games.
Right cornerback
1. Torin Harris, redshirt sophomore
2. Brian Baucham, redshirt junior
3. Anthony Brown, redshirt freshman
4. Isiah Wiley, junior (won't enroll until fall)
This is probably the most unsettled spot on the defense, with Harris maybe the leading candidate to start on opening day but also a leading candidate to frustrate Kiffin and the coaches again and again with his inconsistent play.
Baucham has yet to put it all together in what will now be his fourth year at USC, but he has the size and athletic ability to start -- as does Brown, who has impressed in winter workouts but is still very inexperienced. Wiley will come in as a junior but will assuredly be hurt by the fact that he wasn't able to qualify for spring enrollment.
Any of these four guys could end up starting come September.
That's it for today. We'll be back next week, just one day before the official start of spring practice, for a quick, concluding look at the special-teams units.