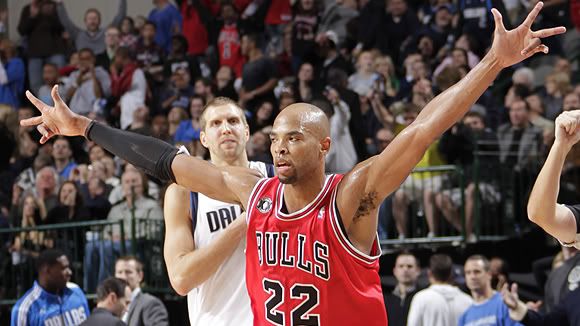 Getty Images
Former USC forward Taj Gibson, drafted in the first round of the 2009 NBA Draft by the Chicago Bulls, has found a niche in the league as an above-average rebounder and offensive threat off the bench.
The final game of Taj Gibson's USC career might have his been his worst.
In the Trojans' second-round loss to Michigan State in the 2009 NCAA Tournament, Gibson, then a 23-year-old junior, recorded only three points, no rebounds and five fouls in 23 minutes. That curiously followed up perhaps the best game of his career -- 24 points on 10-for-10 shooting in the first-round opener against Boston College. It also led directly into a crucial summer for the Trojans, one in which three of USC's five starters ended up declaring for the draft and the school lost four committed recruits because of Tim Floyd's resignation and subsequent replacement with Kevin O'Neill.
But that's behind us now, and behind Gibson, certainly. And, in what will now be a weekly feature on the USC Report each Tuesday until fall camp begins for football in August, we're taking a look at where exactly Gibson is now, with a quick glance at his college career, his pro career until this point and where it could lead in the future:
College
At nearly 21 and a half years of age, Gibson was one of the oldest freshmen in the country by the time he made his USC debut in N0vember 2006. He showed his age throughout that debut season, in a good way, finishing the year with impressive first-year averages of 12.2 points and 8.7 rebounds on a USC squad that made it to the Sweet 16 of the NCAA tourney before falling to No. 1 seed North Carolina. Gibson had a memorable tournament then, scoring 17 points in a dominant second-round victory over Kevin Durant and Texas and worrying Floyd that he had broken his jaw.
But he was just fine, returning to action the next weekend to lead USC to a near-upset over the Tar Heels with a team-high 16 points and 12 rebounds. He also memorably held North Carolina's Tyler Hansbrough to five points and four rebounds in 29 minutes.
Gibson's sophomore season didn't feature the improvement some expected from him; his numbers stayed pretty much the same, leading to speculation he could declare after that year as a 22-year-old sophomore and cut his losses. But the Brooklyn native stayed for that third year and got a second chance at postseason competition, dramatically leading the Trojans to a Pac-10 tourney win and then the first-round win over Boston College.
Pro
It was considered more than a mild surprise that Gibson was selected in the first round of the 2009 NBA draft. Most predraft prognosticators had him pegged for somewhere in the middle of the second round. But the Bulls saw in the USC product a polished forward who could come in right away and play in the NBA, and they got exactly what they wanted.
Gibson didn't sit out a game all season and started 70 of them, playing double-digit minutes for Chicago in 81 of 82 games and creeping his points-per-game average up to double-figures by March as well. He finished his rookie season with a spot on the NBA's All-Rookie First Team and per-game numbers of nine points and 7.5 rebounds and produced similar numbers in the Bulls' first-round series loss to Cleveland.
He was relegated to more of a bench role when the Bulls signed Carlos Boozer in the offseason -- after missing out on the LeBron James sweepstakes, of course -- but Gibson was called upon to start the first dozen-plus games of the year when Boozer was still limited with a broken hand. His overall averages have went down a bit this season as his minutes have been reduced, but his per-minute numbers hover around the same areas, and Gibson has gotten noticeably better at staying out of foul trouble as a second-year player.
He struggled with that at USC, too.
Future
Gibson, represented by Priority Sports agent Aaron Mintz, has two more years left on his rookie deal with Bulls -- both of which are technically team options for the franchise worth just short of a combined $3.5 million. Chicago has his rights for the 2013-2014 season as well, and it's likely that the rising Bulls will keep him under contract for as long as possible, especially at such a bargain-basement rate.
He plays like a veteran but is compensated more like a rookie.
As far as Chicago is concerned, the Bulls and NBA MVP Derrick Rose are currently engrossed in a tight second-round series with the Atlanta Hawks, which is tied at the moment, 2-2. Game 5 tips off in Chicago tonight at 5 p.m. PST.
Gibson averaged 20 minutes and 11 points off the bench in the two previous games in Atlanta, which the teams split. He had a key double-double in support of Rose's 44-point performance in Game 3.
If the Bulls do complete the series win over Atlanta, they face a likely Eastern Conference Semifinals matchup with Miami, where Gibson would be called upon to provide defensive help against Heat forward Chris Bosh and try to exploit matchups with Udonis Haslem and Joel Anthony.
That promises to be interesting.