Catcher Robert Stock, drafted in the second round of the 2009 draft by the St. Lois Cardinals out of USC, went 2-for-3 with a double last week in a start at Busch Stadium.
No, he hasn't been promoted that quickly -- Stock's Low-A Quad Cities River Bandits were simply getting a special treat in playing in front of 1,600 fans last Thursday at Busch Stadium, the normal home of the Cardinals. Stock did excel in the game, for what it's worth, both at the plate and behind it, catching Cardinals phenom right-hander Carlos Martinez for five strong innings.
But it's been a rough road for Stock up until this point. The 21-year-old Agoura Hills native passed up a surefire first-round selection in the 2007 MLB draft to enroll a year early at USC and set himself up for draft eligibility as a 19-year-old in 2009. That all went according to plan, but Stock's numbers never reached the levels expected of him as a Trojan.
The Cardinals took a chance on him anyway, and Stock showed flashes right after signing in the summer of 2009. But, in the year and a half since, his batting statistics have regressed back to those of his college days.
Could last weekend at Busch springboard Stock into the type of year many still believe him capable of? In a weekly USC Report feature, we take a look at Stock's collegiate career, his pro resume thus far and what's still to come from the young catcher:
College
Stock was the talk of the town when he first arrived at USC in August 2006, a 16-year-old wunderkind who graduated high school a year early and enrolled in the school's Resident Honors Program, the first known collegiate athlete to do so in USC history.
His first year was somewhat promising. He recorded respectable numbers both while catching and pitching (as the team's sometimes closer). His sophomore season saw both areas of his game improve slightly, the batting average approaching .300 and the ERA dropping below 4. But Stock still was rarely dominant.
His hitting only got worse his junior season, dropping to an all-time low of .226 -- although his power numbers stayed up. Midseason, USC coach Chad Kreuter made the decision to switch Stock to his starting rotation, and it was there he generated by far the most buzz of his college career, finishing the year with a 5-4 record 2.90 ERA.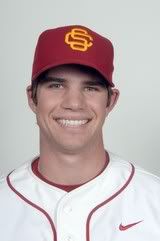 Courtesy USC
Robert Stock was drafted in
the second round of the
2009 MLB Draft by the
St. Louis Cardinals.
Pro
But Stock made his preferences known to MLB organizations: despite his success as a pitcher and comparative lack of success as a catcher, he wanted to be drafted as the latter.
St. Louis obliged, taking him 67th overall in 2009, higher than many expected and higher than is typically warranted for a catcher with a .263 career college batting average. But Stock made them look smart right away, lighting up rookie-league ball that summer to the tune of a .322/.386/.550 line in 149 at-bats.
By the start of the next spring, he was in most experts' Top 10 prospect lists for the Cardinals. From there, Stock's stock went down. In 85 games with Quad Cities he hit just one home run for a miserable .277 slugging percentage and a batting average of .213 to boot.
He hasn't gotten many chances to start in 2011 for the Davenport, Iowa-based squad, playing in only nine of the Bandits' first 51 games as a result of spending some time at extended spring training. North Carolina Wilmington product Cody Stanley, drafted a year after him in the fourth round, has taken over the starting catcher spot for Quad Cities.
Future
Since the Busch Stadium game, Stock has started one game and pinch-hit in another, collecting RBIs both times and also hitting his first homer of the season.
Things aren't too bleak for him just yet. By virtue of his decision to enroll at USC early, he has managed to make himself still a potential-filled player in the eyes of many scouts, who see in Stock a player who would just now be finishing up college in many cases.
There's also the pitching route. Another year or two of at-the-plate mediocrity could put Stock on the mound, and the Cardinals have surely thought of that possibility with Stock now approaching two years in their system.
Rick Ankiel, part two?