I have an extra point for Lane Kiffin. Well, actually two points since he apparently doesn't believe in extra points. …
Last season, in Division 1-A college football, 5,163 extra points were attempted and 4,975 were converted for a success rate of 96.4 percent. Conversely, 220 two-point conversions were attempted and 88 were converted for a success rate of 40.0 percent. Now, I'm no mathematician but I'm guessing most logical, level-minded people would take those extra point odds, especially in the first quarter of scoreless game. But, then again, we're talking about Lane Kiffin here. …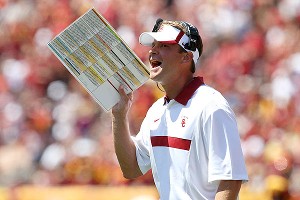 Stephen Dunn/Getty Images
Lane Kiffin's insistence to go for two was tough to watch.
After USC's first two touchdowns of the game, Kiffin decided to go for two two-point conversions instead of kicking the extra points. Both attempts failed. USC fans rewarded Kiffin and his players with a standing ovation after Andre Heidari finally kicked an extra point on USC's third touchdown in the second quarter. In hindsight it was probably a good thing the fans stood up and stretched considering it was USC's last score of the game. …
"It's a special teams situation where they line up in a certain look and we try to take advantage and go up 8-0 at that point if it's there," Kiffin said when I asked him about missing the two-point conversions. "All those times where we're shifting out we're looking at certain things and if they give it to us, we take it. Obviously not making that, then you have to go for it again the next time." …
But why even bother with all the moving and shifting? We're talking about an extra point here. It's a play so automatic, with a success rate of nearly 100 percent; most fans simply count it up before it's attempted. So why roll the dice with 40 percent odds when you don't have to? …
"I know, I agree," said Kiffin, who apparently loves USC so much he must hold up the victory sign after touchdowns. "It's just an advantage. Last year we were 50 percent and the league was actually 53 percent. If you get a certain look and if you have an advantage, it's worth it at that time to go up two. You'd like think at SC, with our players, we'd be able to design some plays that if go for it twice, we'd be able to get at least one of them and get to 14." …
You'd also like to think at a prestigious university like USC, the head football coach would realize simply going for an extra point after two touchdowns would also net you 14 points. The Trojans may have converted on half of their two-point tries last season but they also converted all 43 of their extra-point attempts. Again, I'm far from a math major, but I'll always take 100 percent odds compared to anything around 50 percent. …
USC failed to score a single point in the second half and were actually in position to lose the game when Minnesota had the ball, down 19-17 with over two minutes left in the game. USC cornerback Torin Harrissaved Kiffin and the Trojans from suffering an embarrassing season-opening loss when he intercepted a Max Shortellpass near the sideline with 53 seconds remaining. After the game, Kiffin said, "They made you stay for the fourth quarter, huh?" If by "they" he meant his two failed two point attempts, yes, "they" did. …
Robert Woods broke USC's single-game reception record with 17, finishing with 177 yards and three touchdowns. Johnnie Morton held the previous record with 15 in a 49-7 win against Houston on Sept. 4, 1993. …
Just in case you were thinking about it, don't buy that new Pac-12 hat just yet. …
Before the paint even dried on the cardinal and gold Pac-12 logos painted on the field at the Coliseum and a week before the conference's first game between USC and Utah, multiple media outlets reported Oklahoma, Oklahoma State, Texas and Texas Tech could be joining the conference to form a Pac-16 super conference next year. …
So basically just as soon as you finally stop saying Pac-10 when talking about the Pac-12, you might have to do the same song and dance all over again. …
Despite a fairly lackluster game, Woods, Matt Barkleyand Kiffin were all trending topics nationwide on Twitter. The talk surrounding Woods and Barkley centered on their three touchdown connections. The talk surrounding Kiffin's game-calling? Well, we'll let you look those up yourself. #inappropriate. …
The Coliseum finally introduced its new $6 million high-definition video board on the west end of the stadium Saturday. Considering all the other improvements the 90-yeard-old stadium needs, it was the equivalent of putting a new sound system into an aging car that was in desperate need of a tune-up instead. …
The scoreboard is the second largest in college football, behind only Texas. It is 40-feet high and 150-feet wide (the width of a football field) and has more resolution pixels (792) than an HD TV (720). If you wanted to buy it at an electronics store, you'd have to ask for a 1,863-inch flat screen or buy 1,686 37-inch flat panel TVs. Either way, whether you were watching the game the Coliseum's big screen or on a smaller one at home, you would have seen the same number of USC scoring plays in the second half.