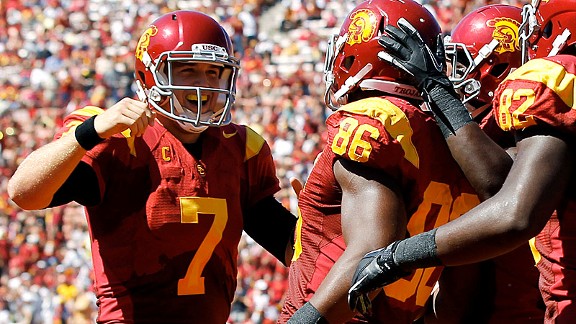 AP Photo/Danny Moloshok
Matt Barkley, left, celebrates after throwing a touchdown to tight end Xavier Grimble.
LOS ANGELES -- By the time the rest of the country gets wind of what Matt Barkley and these receivers are doing, they might not be doing it any more.
If you don't think the USC football coaches are worried about the clouds building toward January, when juniors can declare for the draft, why did coach Lane Kiffin walk out of his postgame news conference Saturday afternoon, gesture to Barkley and junior safety T.J. McDonald and say, "T.J. and Matt have an announcement to make to you guys, by the way. They'll be back next year"?
If only Kiffin weren't joking.
This quarterback and receiver Robert Woods already have taken a magic marker to USC's records books -- old, dusty books, filled with famous names.
Woods set a school record for receptions against Minnesota and he finished five yards short of the school record for receiving yards Saturday in a 48-41 win over Arizona. He broke a couple of tackles near the line of scrimmage and raced 82 yards for a touchdown the second time he touched the ball. He finished with 255 yards.
Barkley outdid his childhood hero, Carson Palmer, by passing for a school record 468 yards Saturday, not to mention four more touchdowns. He's not perfect. He misses on some deep balls and has turned the ball over a few times lately, but he's running this offense so efficiently it looks like a bullet train at times. Most of his throws have the precision that NFL offensive coordinators spend years chasing.
And here's what Woods had to say about comparisons with his high-school teammate, the freshman receiver who is fast becoming a dangerous second option for this offense, Marqise Lee: "He's better, he's faster, he's stronger."
It's scary how explosive this USC passing attack could become, but if Barkley takes his act to the NFL next season, who really cares? By the time the 2012 season begins and USC is eligible for something, Barkley might be in a training camp somewhere. USC will be starting from scratch, with a quarterback who might have never taken a college snap.
The Barkley Experience is really all this team has going for it at the moment. USC is a laser light show, not a great football team. The defense was trampled for 554 yards and 29 second-half points by Nick Foles and Arizona on Saturday, a week after getting picked apart by Arizona State in the first half and fourth quarter.
Considering his dad, Monte Kiffin, runs things on that side of the ball, it's a sensitive topic for Lane Kiffin, but after Saturday's game, he said of this defense, "It's just not coming together, exactly."
That leaves USC fans with this to cling to in tough times: When Barkley finds Woods, big things happen. When he finds Lee, balletic things happen. Woods plays the position like a football player. He makes tough catches in traffic, he blows through arm tackles and he finds seams. Lee plays it like an elite basketball player, which he was, leaping high to take balls away from defenders. Imagine what life must have been like for defensive backs playing against their Serra High team two years ago.
It must have felt like chasing two gusts of wind.
"They're obviously special athletes," said Arizona safety Marquis Flowers.
When you have one brilliant receiver, it opens up so many possibilities. It can make a pedestrian offense dynamic, a good offense electric. And two? Earlier this week, Kiffin raised some eyebrows when he said Lee has the potential to be among the best receivers USC has ever had. There have been a few good ones here, you might recall.
On Saturday, the Arizona safeties started setting up on Woods' side of the field. Once, when Woods lined up in the backfield, Barkley heard the defense yelling, "Woods! Woods! Woods!" At times, Lee was left wide open, streaking his way down the middle of the field.
"He's just that player that you have to keep an eye on," Barkley said.
It's not as easy as chucking him the ball and seeing what he does with it. USC fans should remind themselves to enjoy Barkley while he's here, because they just might miss him when he's gone. He had three turnovers last week -- maybe even cost them that game -- and he did throw one interception Saturday, but it took an acrobatic play from cornerback Shaquille Richardson.
Barkley, who has thrown at least two touchdowns in 15 of his 29 starts, clearly is in the discussion with the other quarterbacks in the Mt. Rushmore of recent USC history: Palmer, Matt Leinart and Mark Sanchez. Funny, you could draw a seven-mile circle around where all of those guys grew up in Orange County. Unlike his predecessors and neighbors, Barkley is operating in a relative media vacuum, USC both under sanction and losing games.
Kiffin said he plays a game with Barkley on Friday nights at the team hotel. He tells him the formation of his scripted plays and lets Barkley fill in the rest, seeing if the junior quarterback can think a step ahead. Barkley aces it every time.
"That's very rare to find a quarterback like that, and the ones there are make a lot of money," Kiffin said.
There's time enough for that.