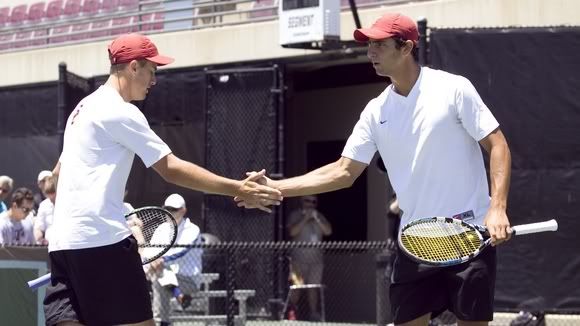 Courtesy USCTrojans.com
Former USC doubles partners Robert Farah and Steve Johnson have qualified for next week's U.S. Open. They face tough second-round matchups in Robin Soderling and Rafael Nadal.
Former USC doubles teammates Steve Johnson and Robert Farah, members of two straight NCAA title-winning teams while Trojans, will take part in the U.S. Open at Flushing Meadows next week for the first time in each of their careers.
Johnson and Farah memorably won the 2010 NCAA doubles title before Farah graduated and moved back to his native Colombia to begin his pro-circuit play.
Johnson, who will face fellow American Alex Bogomolov Jr. in the first round, earned a wild-card entry into the draw by virtue of his 2011 NCAA singles title in May. The winner of the match would likely face No. 6 seed Robin Soderling, who has been a quarterfinalist the past two years at the US Open. Johnson still plans to return to USC in the spring to go for the rare fourth-consecutive NCAA championship and thus playing in the tournament as an amateur.
Farah, who made it through three rounds of qualifying to get into the main draw, will play Frenchman Nicholas Mahut in the first round. He earned victories over Germany's Dominik Meffert and Andre Begemann and Brazil's Julio Silva in qualifying. His potential second-round opponent is none other than Spain's Rafael Nadal.
First-round play begins Monday.