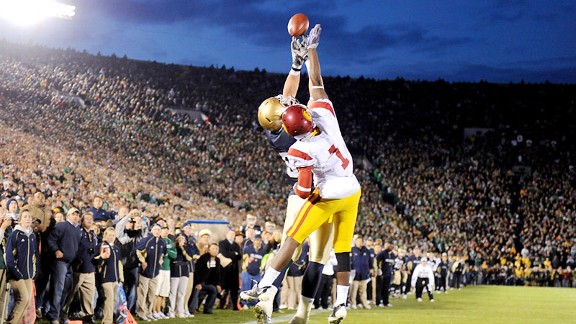 Kirby Lee/US Presswire
USC cornerback T.J. Bryant saved a tying touchdown in the Trojans' 2009 matchup against Notre Dame when he jumped up to knock the ball out of Fighting Irish tight end Kyle Rudolph's hands.
There were nine seconds left in the USC-Notre Dame game on Oct. 17, 2009, and the Fighting Irish were down a touchdown.
They had the ball at the USC four-yard line, just 12 feet away from pulling off a miraculous 20-point comeback in the final quarter at Notre Dame Stadium. But what happened next was one of the most memorable plays of the last few years of USC football.
Quarterback Jimmy Clausen collected the snap, stepped back and delivered an on-target fade route off his back foot to 6-foot-6 tight end Kyle Rudolph. And Rudolph, now playing for the NFL's Minnesota Vikings, appeared ready to corral the ball in perfect position for the touchdown -- except that USC cornerback, T.J. Bryant, all 6 feet of him, jumped up just in time and knocked the ball out of his hands.
Rudolph ended up diving to catch the deflection alongside USC safety Will Harris and did secure the ball but was ruled out of bounds. The Irish had two more chances to score from the four before time expired, but that turned out to their best one, and USC won 34-27.
"I just remembering them motioning out and I knew they were trying about to throw a fade," Bryant recalled Wednesday. "So instead of trying to go for the pick, knowing that they were throwing the fade and knowing he was 6-6 or 6-7, I knew I had to time it up perfectly and just knock the ball down."
Bryant, now a redshirting senior, was a sophomore at the time and was viewed by many as USC's future at the cornerback position. But he has since fallen out of favor with the USC coaching staff and hasn't played any significant snaps under Lane Kiffin. The way he talks about that game, you get a sense he's talking about one of the proudest moments of his college football career.
"It was a great atmosphere," he said. "All their fans were as loud as they could be, but when you're in the zone all that's blocked out and you just have tunnel vision. I just remember playing as hard as I could play and at the end of the game the feeling we felt was just wonderful.
"That's where I know everybody would like to be. Everyone would love to be where we were the last time we out there."
USC is down two scholarship corners to injuries this week, but Bryant has continued to take very minimal snaps in practice.
With the Trojans not subject to travelling regulations this week because of the nonconference game, Bryant may make the trip to South Bend as an emergency option for Saturday's game but is not expected to play.