February, 21, 2017
Feb 21
7:54
PM PT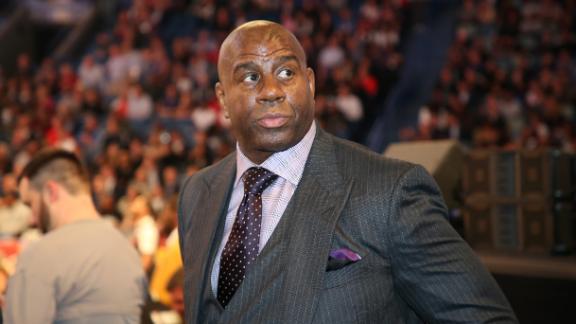 EL SEGUNDO, Calif. -- Magic Johnson strolled into the conference room wearing his trademark smile, television-ready in a trim black suit, light blue shirt and black tie. All along the walls surrounding him were photos of the Los Angeles Lakers' glorious past, from fellow legendary players to snapshots of iconic games and championship parades -- all moments that have felt very distant as the franchise has slipped into dysfunction and irrelevance.
On one wall, a photo of Dr. Jerry Buss peered outward. In the frame, the Lakers' late patriarch, who orchestrated their rise, is celebrating their 1987 championship win over Boston. Dr. Buss is beaming, holding a trophy, the fourth of the Lakers' five titles during their Showtime 1980s era. His hair is soaked in champagne. Johnson was his star point guard, and it was beneath that photo that Johnson sat, at the head of the table, just as he always wanted.
"I wouldn't be sitting here if it was a good situation," Johnson, the Lakers' new president of basketball operations, said Tuesday afternoon at the team's practice facility, speaking to a small group of reporters who cover the team. "I understand what I'm up against, but I'm here, and I'm here for the long haul, and eventually we will turn it around."
Johnson said he had originally planned to meet with longtime general manager Mitch Kupchak and executive vice president of basketball operations Jim Buss on Tuesday. Instead, the team announced those two had been fired and that Johnson had been elevated to his new role.