June, 22, 2017
Jun 22
4:04
PM PT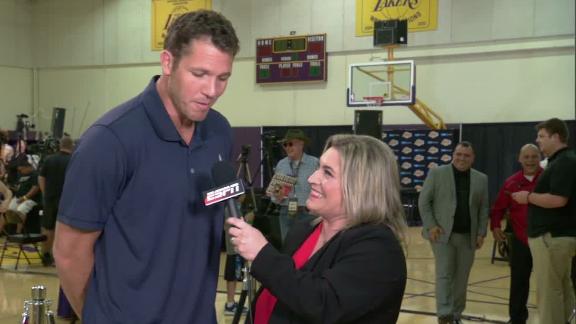 BROOKLYN - Magic Johnson and the Los Angeles Lakers made it official at 7:47 p.m. ET Thursday, when Showtime met 'Zotime with the second pick of the NBA Draft. Lonzo Ball was hired as a point guard by the greatest point guard of all, and wouldn't you know it, he walked onto the stage without his stage dad in tow.
LaVar Ball long ago predicted this blessed night would come. Actually, he long ago predicted his oldest of three boys would be drafted in Markelle Fultz's slot, the No. 1 slot. But who's counting? From Manhattan to Brooklyn, from the Grand Hyatt lobby to the floor of the Barclays Center, LaVar Ball led his oversize entourage on a high-voltage trip around the big city while doing nothing to temper his standing as the most polarizing face and voice in basketball, college or pro.
While doing nothing to lighten the alleged load he's planted squarely on his son's shoulders.
But instead of wasting time and energy hating on LaVar Ball and, by extension, on Lonzo, too, fans should remember that the son is not the father, and that the NBA is always best served when a visionary playmaker such as Lonzo walks through its doors.
"I'm truly blessed to be able to play for my hometown," Ball said, "and I can't wait to get on the court."
Out in Los Angeles, Ball will play a beautiful game for the beautiful people. He will play the game that Magic and Bird played. The game that Jason Kidd and Steve Nash played. The game that LeBron James prefers to play.
June, 22, 2017
Jun 22
6:34
PM PT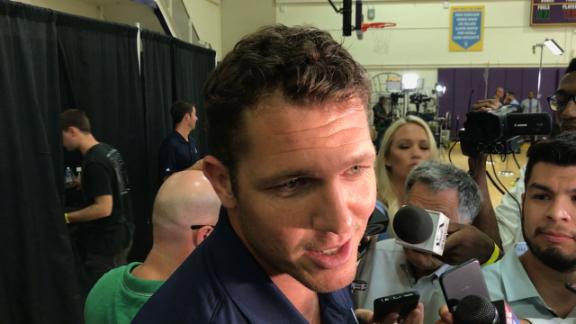 EL SEGUNDO, Calif. -- Moments after the Los Angeles Lakers selected UCLA guard Lonzo Ball with the No. 2 overall pick in Thursday's NBA draft, Ball's outspoken father, LaVar, made a bold proclamation.
"Lonzo Ball is going to take the Lakers to the playoffs in his first year," LaVar told ESPN's Jeff Goodman on national television.
The Lakers have missed the playoffs for four straight seasons -- the longest postseason drought in franchise history -- and posted the league's third-worst record last season at 26-56.
While his son was making the interview rounds in the tunnels of Barclays Center, the passionate and outspoken LaVar excitedly talked about how he had called his son going to the Lakers for a long time.
"Yes! Yes!" the elder Ball told ESPN not far away from where the rest of the Ball family and friends sat where the families and draft picks sat by the stage. "I told you I would speak it into existence. And everybody kept saying what if? What if? I don't live on what if's. If I live on what if's, I will never get to where I am at.
"People always say LaVar, how come you are always right?" he asked. "I say because I never get left."
When asked about LaVar's playoffs prediction, Lakers coach Luke Walton smiled. "I'm a very optimistic person, but I don't look that far into the future," Walton said at the team's practice facility, where a group of season-ticket holders and sponsors gathered for a draft party. "Right now, I'm hoping [Lonzo] leads us to a couple summer league victories, and we'll take it from there."
Walton said he expects LaVar's comments will, at least initially, apply pressure to Lonzo.
June, 22, 2017
Jun 22
5:34
PM PT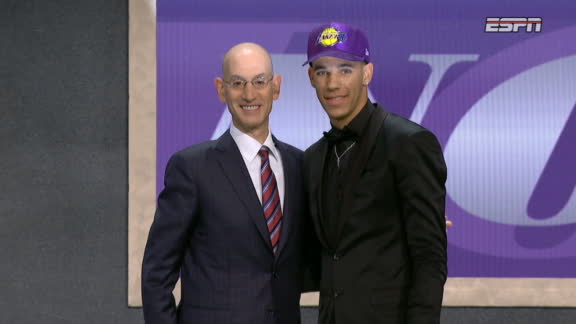 Thursday night's NBA draft turned into an advertisement for the Big Baller Brand.
It started with a subtle black logo on Lonzo Ball's black bow tie, but became more pronounced after Ball was taken No. 2 by the Los Angeles Lakers.
That's when Ball's father, LaVar, who had a "BBB" tie on, pulled out a hat with the Big Baller Brand logo on it in Lakers purple and gold.
Moments later, Lonzo's signature ZO2 shoes were being offered for sale in Lakers colors on the company's website. The price was $495, the same as the first version of the shoes, with the promise of shipping pairs to customers by Feb. 10.
"Big Baller Brand, we about to launch it off now," said LaVar Ball, when stopped while walking through a hallway at Barclays Center in New York. "We are about to do some things."
Not missing a beat, Lonzo changed out of his dress shoes and wore the new shoes he will wear at Staples Center in the fall when he was introduced by commissioner Adam Silver.
"I had them on after Markelle [Fultz] got picked," Lonzo said. "I had a good feeling I was going to be staying home. I'm glad that they picked me because I didn't have any other shoes under the table."
Information from ESPN's Ohm Youngmisuk was used in this report.
June, 22, 2017
Jun 22
5:24
PM PT
It took about as long as one of Lonzo Ball's deft, cross-court passes for NBA players to start licking their chops at the prospect of taking the Ball family down a peg.
Not too long after the Los Angeles Lakers took Ball with the No. 2 overall pick in the NBA draft -- and after his father, LaVar, declared to ESPN's Jeff Goodman that the Lakers would be playoff-bound in 2018 -- Philadelphia 76ers stars Joel Embiid and Ben Simmons subtweeted some thinly veiled shots at the father-son duo:
The NBA's 2017-18 regular-season schedule won't be released until August, but suffice to say, the first Sixers-Lakers matchup between Ball and Philly's No. 1 overall pick Markelle Fultz will be appointment viewing.
-- Brendan C. Hall
June, 16, 2017
Jun 16
2:34
PM PT
ESPN.com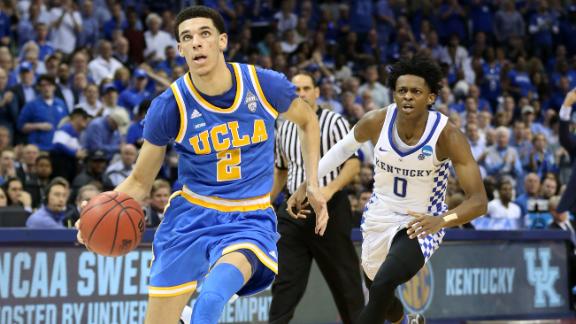 The Los Angeles Lakers selected UCLA guard Lonzo Ball with the No. 2 overall pick of the 2017 NBA draft on Thursday night.
Ford's Big Board ranking -- No. 2: "He's the best passer in the draft. In fact, he might be the best passer to come out of the draft in the last decade. His court vision and ability to anticipate plays before they develop is uncanny. He also has deep range on his jump shot and is a very good finisher at the rim." More (Insider)
Kevin Pelton's stats and scouting ranking -- No. 1: "Part of the challenge in evaluating Ball is how unusual his skill set is, not just for an elite prospect, but overall." More (Insider)
Scouting report -- positives:
Elite passer
Excellent ball handler
Creative with the ball
Unselfish
Scouting report -- negatives:
Needs to add strength
Unorthodox shooting form
June, 22, 2017
Jun 22
4:47
PM PT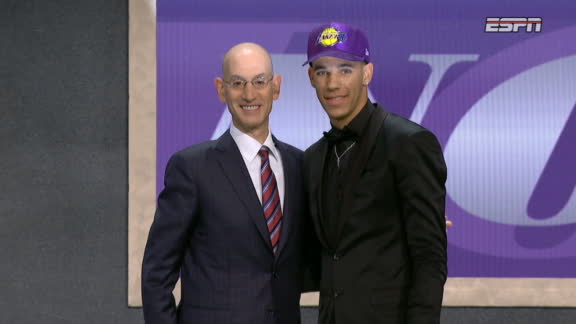 EL SEGUNDO, Calif. -- Since last fall, the Los Angeles Lakers and Lonzo Ball have seemed destined to collide: a storied, star-starved franchise in tatters but bound for the NBA lottery, where a homegrown star who helped resurrect the hallowed UCLA Bruins would be waiting.
Throughout his freshman campaign in Westwood, Ball, a 6-foot-6, 190-pound point guard reared in Chino Hills by his outspoken father, LaVar, delivered the sort of flashy highlights -- no-look passes, moonbeam 3-pointers and sky-walking slams -- that the Lakers have always craved.
On Thursday night, that destiny was realized.
The Lakers selected Ball second overall in the draft, giving the rebuilding team another promising young guard while setting up a season of intrigue about how Ball -- and, by proxy, his father's dominant presence -- will impact the NBA's glamour franchise.
Ball marks the first high-profile draftee under the new regime of Magic Johnson, the Lakers' president of basketball operations (and the player whom Ball patterned his game after), and Rob Pelinka, their general manager.
"It's crazy. I couldn't ask for anything more -- to be able to learn from [Johnson] every day is truly a blessing," Ball said after his selection.
Once the pingpong balls delivered the Lakers the No. 2 pick in the 2017 draft on May 16, fate appeared in control.
"It is a wonderful feeling, but I already knew what was coming to him," LaVar said after his son's selection, making yet another guarantee -- that Lonzo will lead the Lakers back to the playoffs next season.
Meanwhile, Philadelphia 76ers
June, 22, 2017
Jun 22
5:57
AM PT
June, 21, 2017
Jun 21
4:15
PM PT
ESPN.com news services
Kirby Lee-USA TODAY SportsNick Young will be an unrestricted free agent this summer after declining his $5.6 million contract option for next season with the Los Angeles Lakers.
Lakers guard Nick Young will decline his $5.6 million player option for next season with Los Angeles to become an unrestricted free agent.
The Lakers announced Young's decision on Wednesday.
Young, 32, faced a deadline of June 21 to make a decision on his option. The 10-year veteran guard, who averaged 13.2 points in 60 games last season, will hit the open market July 1.
In four tumultuous seasons with the Lakers, Young started 71 of the 220 games he appeared in, averaging 24.5 minutes and 13.1 points per game.
The Los Angeles native realized a childhood dream by joining the Lakers, but Young's tenure has coincided with the worst four-year stretch in the history of the 16-time NBA champions.
After struggling on the court during the 2015-16 season and enduring upheaval in his personal life due to an infamous video scandal with then-rookie D'Angelo Russell, Young enjoyed a career revival last season under new coach Luke Walton.
Young also has had stints with the Washington Wizards, LA Clippers and Philadelphia 76ers throughout his career.
June, 21, 2017
Jun 21
2:32
PM PT
NEW YORK -- After seeing the Los Angeles Lakers trade D'Angelo Russell on Tuesday, Lonzo Ball says he believes Magic Johnson has "a plan."
Whether that includes drafting Ball with the second overall pick in the NBA draft on Thursday night, Ball said he is making no assumptions despite the fact that most believe he will be a Laker.
"You know, the Lakers have a plan," Ball said when asked whether he thought the Russell trade was to make room for him to play point guard. "So whatever that is, we will see whatever that is in the future."
Speaking at media availability for draft prospects, Ball deftly handled every question that came his way with straightforward answers, in stark contrast to his father, LaVar, who has made headlines with many of his eye-catching comments.
Despite the fact that he said he has met with only the Lakers during the pre-draft process, the UCLA point guard stuck to the script that he does not know whether Johnson will make his dream come true of becoming a Los Angeles Laker.
"It will mean a lot to play for my hometown [team] and learn from the best point guard ever," Ball said of Johnson, the team's president of basketball operations. "Yeah that's crazy to me [if it happens]. Magic Johnson is the best point guard ever. ... Words [couldn't] describe that."
Ball said the Lakers told him that they would embrace his outspoken father as well if they pick him.
"They were open-armed and said they loved my dad," Ball said when asked whether the Lakers had any concerns about LaVar Ball. "So I left it at that."
On Tuesday, the Lakers agreed to trade Russell, their second overall pick from the 2015 draft, and Timofey Mozgov