February, 24, 2017
Feb 24
8:51
AM PT
The Lakers can win by continuing to lose -- honestly, of course: The NBA trade deadline passed Thursday with one notably loud and wonderful grinding of gears. The team that took the biggest step forward was the one that threw itself in reverse. The big winners were the Lakers, because they set themselves up to be losers. -- Los Angeles Times
Magic takes in Lakers; begins to leave his mark: Weeks ago now-Lakers President of Basketball Operations Magic Johnson told Coach Luke Walton he was ready to grind. On Thursday morning, Johnson stood on a blue swath of Oklahoma City's court wearing black warmup pants and a black Lakers sweatshirt, reviewing practice with Walton. -- Los Angeles Times
Lakers don't make a big move at NBA trade deadline as Paul George remains with Pacers: As the NBA's trade deadline passed Thursday, president of basketball operations Magic Johnson sat in the Lakers team plane, flying to Oklahoma City, where they'll play Friday. -- Los Angeles Times
Lakers acquire point guard Tyler Ennis from Rockets for Marcelo Huertas as NBA trade deadline passes: Lakers president of basketball operations Magic Johnson has fielded phone calls from numerous executives in his new job. While none of those conversations yielded a blockbuster move, they still resulted in roster changes. The Lakers acquired 22-year-old guard Tyler Ennis from the Houston Rockets for veteran guard Marcelo Huertas on Thursday. -- The Orange County Register
Lakers' Magic Johnson showing patience on all fronts: Magic Johnson is diving headfirst into his new role with the Lakers, starting Thursday on the team plane to Oklahoma, pulling off a minor trade before the midday deadline then grabbing rookie forward Brandon Ingram aside for some one-on-one tutoring during practice. -- The Orange County Register
February, 23, 2017
Feb 23
12:32
PM PT
February, 23, 2017
Feb 23
1:37
PM PT
ESPN.com news services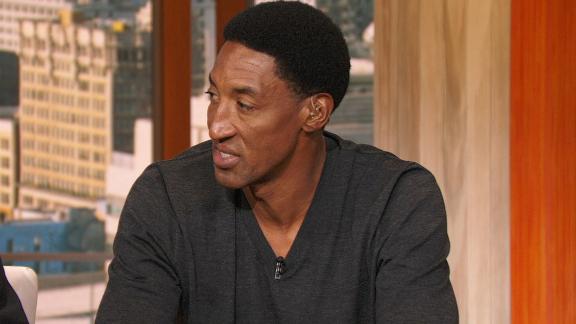 The NBA trade deadline passed Thursday with several big names mentioned in potential deals -- notably All-Stars Paul George, Jimmy Butler and Carmelo Anthony -- staying put.
One source close to the process told ESPN's Marc Stein that Indiana Pacers ownership, in the wake of George's recent comments to ESPN Radio about wanting to play on a team that contends for championships, felt compelled to hear out interested teams this week to see what suitors were prepared to offer.
But the source said Pacers president Larry Bird -- who has made no secret of his desire to persuade George to stay for the long term -- was determined to swat away all interest Thursday, hearing nothing from any team that moved him to seriously consider parting with George.
One of the teams interested was Denver. League sources told ESPN's Chris Haynes and Stein that the Nuggets made an aggressive pitch for George before Thursday's 3 p.m. ET deadline, but the talks never got serious, partly because of George's reluctance to commit to Denver. He can opt out of his current deal after next season.
The Nuggets were not prepared to include star big man Nikola Jokic in any talks, sources said, but Denver had hoped its array of draft picks and young players would appeal to the Pacers.
Speaking to reporters later Thursday, George called the process frustrating.
"I was kind of on the ropes just like you guys were on what was about to happen,'' George said. "It's kind of a dark moment, a lot of uncertainty. That was the frustrating part. You want me to be your guy here -- I thought I'd be in the loop a little more on that.''
Sources told ESPN earlier Thursday that George, at this point, is not prepared to commit his long-term future to any team other than the Pacers or his hometown Los Angeles Lakers
February, 23, 2017
Feb 23
11:42
AM PT
NEW ORLEANS -- The Houston Rockets traded forward K.J. McDaniels to the Brooklyn Nets on Thursday just before the 3 p.m. ET trade deadline in a move, according to a source, to add salary-cap space.
The Rockets also traded Tyler Ennis to the Lakers in exchange for fellow guard Marcelo Huertas. Houston is expected to waive Huertas.
The trades will give the Rockets $3.5 million in cap space, which a source said they will use in an attempt to sign players who have been bought out.
The Nets also waived guard Marcus Thornton, acquired Wednesday in their trade with Washington.
McDaniels, who's 6-foot-6, 205 pounds, just couldn't get into coach Mike D'Antoni's rotation and played 212 minutes in 29 games. At the start of the season, D'Antoni wanted McDaniels to become a wing defender, but he struggled and fell behind Corey Brewer and Sam Dekker at small forward off the bench.
Last month, McDaniels was almost traded to Cleveland for Mike Dunleavy Jr., but the Rockets pulled out of the deal. Instead, Dunleavy was eventually traded to the Atlanta Hawks for Kyle Korver.
February, 23, 2017
Feb 23
8:28
AM PT
Iguodala: Pelinka will help turn around Lakers: Warriors forward Andre Iguodala lost his longtime agent over the All-Star break, when Rob Pelinka agreed to become general manager of the Lakers. Pelinka was instrumental in working with Warriors general manager Bob Myers, also a former agent, to bring Iguodala to Golden State in July 2013. Pelinka now joins forces with Magic Johnson, who will serve as the Lakers' president of basketball operations, and head coach Luke Walton, a former Warriors assistant. -- San Francisco Chronicle
Luke Walton, Lakers players conflicted about front-office changes: The conflicting emotions swirled around Luke Walton's head as he tried to process feeling both a "little sad" and "excited." The Lakers' coach expressed sympathy over Lakers president Jeanie Buss firing former general manager Mitch Kupchak and demoting her brother, former vice president of player personnel Jim Buss. -- The Orange County Register
Rebuilding in today's NBA takes more than Magic: As Magic Johnson grabs the steering wheel, he knows they have several promising players who will go nowhere without a show-stopper. In other sports, it's helpful to have an Alpha Centauri. In the NBA, it is essential. -- The Orange County Register
Lakers' young core comforted by Magic Johnson calling them 'untouchable': While some acknowledged being in awe of Magic Johnson's presence, the young Lakers players were encouraged by his message. The Lakers technically have until Thursday's trade deadline to make any more moves to their roster. -- The Orange County Register
Lakers get back to business on the day after the big day: Magic Johnson's retired jersey hung high on the wall just above the court where the Lakers ran up and down during a scrimmage. A day after a franchise-shaking quake struck the building, the players and coaches tried to return to business as usual. Total normalcy, though, was impossible. -- Los Angeles Times
Former GM Mitch Kupchak disappointed he won't get to help players 'win in the Laker tradition': Former Lakers General Manager Mitch Kupchak regrets most that he won't be able to see this through. In a statement issued Wednesday, Kupchak thanked all those he worked with and expressed faith that the team he assembled will go on to win "in the Laker tradition." -- Los Angeles Times
February, 22, 2017
Feb 22
11:56
PM PT
Associated Press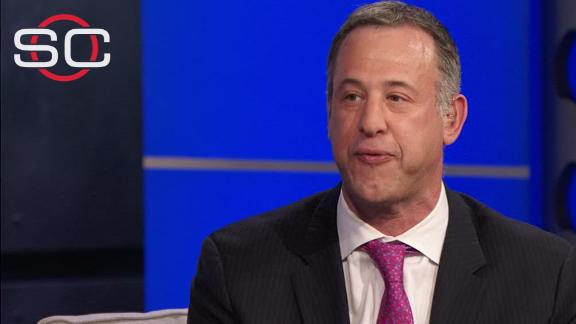 INDIANAPOLIS -- Paul George finished practice Thursday by laughing, joking and slapping hands with the same teammates he's played with all season.
Then he took out his frustration publicly.
After almost a week of speculation about George's future, the Pacers decided to stand pat at the trade deadline. They kept their biggest star, kept their supporting cast intact and apparently kept George out of the loop on the trade talks.
"I was kind of on the ropes just like you guys were on what was about to happen," George told reporters. "It's kind of a dark moment, a lot of uncertainty. That was the frustrating part. You want me to be your guy here, I thought I'd be in the loop a little more on that."
Of course, he wasn't completely out of touch.
While George tried to block out the noise, he acknowledged he was aware of rumors being bandied about on television, radio, social media, internet sites and newspapers.
Larry Bird, Indiana's president of basketball operations, listened to offers and eventually decided not to make the move. He also declined George's advice about adding more "pieces" to the Pacers' roster this season.
Bird did not speak with reporters after watching practice.
It's not the first time George has publicly complained about the front office. He and Bird traded barbs in the summer of 2015 when Bird asked George to play power forward. George started at that spot last season before returning to his more natural position, small forward.
The two seemed to have patched things up, and George said Wednesday that he and Bird were "on the same page."
Now, the Pacers must wait to find out if they'll continue to work for the same team a few more years.
George can opt out of his contract after next season, which complicated the trade talks because some people believe George would head to the Lakers if he becomes a free agent.
February, 22, 2017
Feb 22
7:31
PM PT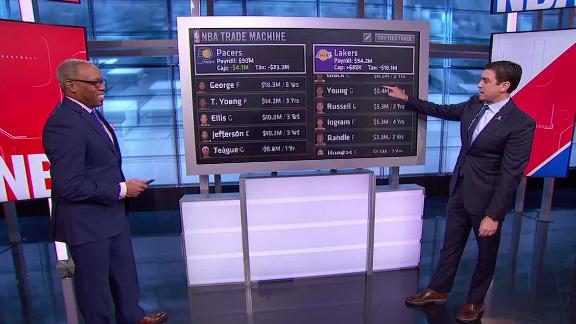 The Los Angeles Lakers are among the teams to have inquired about the availability of Indiana Pacers star forward Paul George in recent days, according to league sources.
While the conversation didn't go beyond an initial expression of interest -- which is common in the NBA in advance of the trade deadline -- it's notable simply for the names involved: New Lakers president of basketball operations Magic Johnson and Pacers president Larry Bird, lifelong rivals and close friends, were on the phone together.
In his first full day in charge, after Tuesday's stunning promotion from an advisory role in the wake of the twin dismissals of longtime Lakers general manager Mitch Kupchak and executive vice president of basketball operations Jim Buss, Johnson arrived at the Lakers' offices early Wednesday to work the trade phones and, yes, throw in a call to Bird.
USA Today reported Wednesday that George recently met with Pacers owner Herb Simon to expound face-to-face on what he told ESPN's Marc Stein last week during All-Star festivities on ESPN Radio: George still longs to lead Indiana to its first NBA championship but wants to know he is part of a title-contending roster before committing to a lucrative contract extension this summer.