October, 24, 2016
Oct 24
4:28
PM PT

By Baxter Holmes
ESPNLosAngeles.com
Archive
EL SEGUNDO, Calif. -- Metta World Peace found himself in the same position for the second straight autumn, fighting for the Los Angeles Lakers' 15th and final roster spot against players close to half his age, hoping he'd make it while potentially facing retirement -- or perhaps the start of a coaching career -- if he didn't.
But, just as he did last October, World Peace, formerly known as Ron Artest, made it. The veteran forward, who will turn 37 next month, will be on the Lakers' roster when they open their 2016-17 regular season Wednesday against the Houston Rockets.
"I definitely had to earn it," World Peace said after practice Monday at the Lakers' training facility. "Some people think it's easy -- [that] spots just somehow magically appear in your favor. But I worked real hard."
World Peace played sparingly a season ago, averaging 5.0 points over 16.9 minutes in 35 appearances, as he accepted a backseat to the Lakers' promising young core. That's a role he'll need to accept again this season. But to World Peace, who will be entering his 17th NBA season, making the team is enough, in a way, as it moves him one step closer toward his goal.
"I've got a personal goal of trying to reach 20 years," he explained, "and in order to reach them goals, I've got to take care of my body."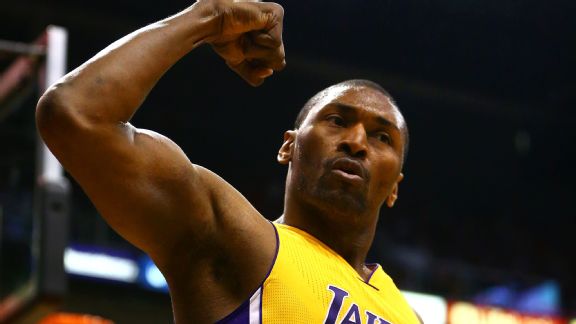 Mark J. Rebilas/USA TODAY SportsMetta World Peace set a mighty ambitious goal for himself, and by making the Lakers in his 17th NBA season, he's strengthened his grasp.
World Peace cited that he has cut down on the partying lifestyle he enjoyed when he was younger and is now much more careful about his diet.
"Obviously, there's such a thing as Father Time, but if you take care of your body and eat [well], you'll have a chance to run with these young guys," World Peace said. "These boys are fast. They're jumping high. In order to compete, you've got to treat your body the right way."
He added, "I think sometimes on my social media, it seems like I'm partying. I do it for fun, but I'm actually not. I'm very aware of, if you're out drinking a little too much, I'm very aware the consequences I'll have to pay. I won't be able to play basketball."
Though World Peace isn't the defensive force or offensive threat he was in his earlier days, the Lakers like his energy, toughness and ability to mentor their young core.
"He's great," said coach Luke Walton. "He comes in every day, stays after. He runs. He does conditioning. He's tough. He talks to the younger guys all the time about his experiences, about what he sees. He's somebody that I trust, that I can talk to about what's going on. Like I said, he gives us an edge and a toughness on our team."
Added Lakers point guard D'Angelo Russell, "I don't know if he's going to play a lot, but he can lead by example when he's in practice or whatever, [and] when he's off the court, in the locker room, on the bus, on the plane, he can really talk with guys and get to pick guys' brains apart and see where guys really are. He's such a positive dude. Anytime somebody's going through not playing or struggling, he's going to be there for him."
Walton also believes that World Peace's varied experiences, which include being at the center of the "Malice at the Palace" brawl in 2004, provide World Peace a rich perspective that he can share with his much younger teammates. "He's been through a lot," Walton said. "He's put in the work. He'll be the first to tell you that he sees a sports psychologist and works on who he is today. And I think because of that, he's been on both sides of it and he can be very helpful for some of these young guys that are trying to figure it out."
World Peace said he'll preach a simple message to his teammates: Pay attention to coach and work hard. "There's nothing else to think about," he said. And in terms of his role, he said it won't change much from last year, either. He still wants to make an impact where possible, though he understands the bigger picture at play.
"I'm going to be the same old Metta," he said. "I'll be the same old Metta."