July, 21, 2017
Jul 21
7:50
AM PT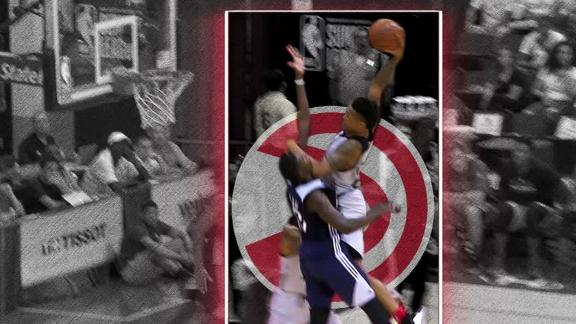 This week's mailbag features your questions on the effectiveness of playing with multiple point guards at the same time, changing NBA position names, the value of spending early in free agency and more.
You can tweet your questions using the hashtag #peltonmailbag or email them to peltonmailbag@gmail.com.
---
"What can summer-league top draft performances indicate about their future stardom? Given Kyle Kuzma's overall game in the summer league, is it fair to say he is the biggest draft steal so far?" - Amir
This year, more than any I can remember, there has been great interest in just what summer league means, with many readers revisiting my 2013 piece on the topic. With the help of RealGM.com's incredible database of summer stats, I figured it was time to revisit the question with a much larger sample than the single summer's worth of data I used then. And it turns out one of my key takeaways was the result of a small sample.
I noted then that performance in summer league during 2012 was much more predictive of 2012-13 NBA performance for rookies than for veteran players, and was able to concoct a plausible explanation in terms of the effort level of the respective groups. But looking at the larger data set, 2012-13 was an outlier.
July, 22, 2017
Jul 22
10:38
PM PT
ESPN.com news services
LaVar Ball pulled his Big Ballers AAU team off the court during a game Saturday after he was whistled for a technical foul for arguing a foul call and uttering a profanity toward a referee.
The incident occurred during a playoff game at the Double Pump Best of Summer Tournament in Anaheim, California. The game was ruled a forfeit, giving the victory to the opposing team.
Ball's team, which includes his youngest son, LaMelo, was winning 69-60 at the time of the forfeit, according to USA Today Sports.
The father of Los Angeles Lakers rookie Lonzo Ball disputed a foul that was called as one of his players went for a steal along the sideline. Immediately after the whistle, Ball repeated, "That's not a foul. That's not a foul. That's not a foul."
Then, in an apparent reference to an official who Ball felt was out of position, he said, "He came way over here to call that bulls---."
After being issued a technical, Ball motioned toward his players on the court and bench and said, "Let's go." Ball and his players proceeded to grab their gear and leave the court.
In a video posted by Overtime, Ball can be heard saying outside the gym afterward, "It's not about the referee. I'm not gonna have my guys playing hard, and they're cheating. I don't play that s---."
Ball has been no stranger to controversy this year. He recently got into a war of words with Philadelphia 76ers center Joel Embiid, who was fined $10,000 by the NBA for directing an obscenity at Ball on social media. Ball quickly fired back at Embiid, saying, "You gotta use cuss words when you don't have no intellect."
July, 21, 2017
Jul 21
9:57
AM PT
By ESPN.com
ESPNLosAngeles.com

Nathaniel S. Butler/NBAE via Getty ImagesIf the Lakers miss out on Derrick Rose, their next free-agent target could be Ian Clark, who has played with Golden State the last two years.
The Los Angeles Lakers still have two open roster spots to fill and management -- Magic Johnson and Rob Pelinka -- are looking to add depth in the backcourt.
On Thursday, Derrick Rose met with the Lakers and according to the Los Angeles Daily News, so did Golden State Warriors free-agent Ian Clark.
Rose is the Lakers' top backcourt target right now and they can offer him all of their $4.32 million "Room" exception. Rose is also drawing a lot of interest from the Cleveland Cavaliers. While the Cavaliers can only offer a veteran minimum contract, Rose would be playing for a team strongly favored to once again make it to the NBA Finals.
Clark, an unrestricted free-agent, has played for the Warriors the last two years, however they don't have room on their roster for him. Also, his salary demands are likely too much for the Warriors to match due to their projected high tax bill in 2018.
Clark would fill a need for the Lakers as he can make long-range shots. In 2016-17, Clark converted 37.4 percent of his attempts from behind the 3-point line.
According to Mark Medina, Clark is also drawing interest from the Milwaukee Bucks, Minnesota Timberwolves and New Orleans Pelicans.
-- Nick Silva
July, 20, 2017
Jul 20
8:30
AM PT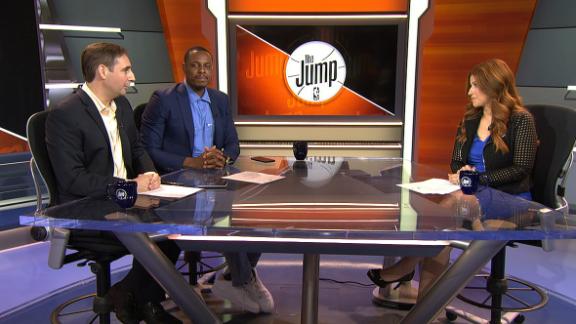 Free-agent point guard Derrick Rose is in serious talks with the Cleveland Cavaliers to join the defending Eastern Conference champions on a one-year contract, sources told ESPN on Thursday.
While those talks continue, Rose also met with the Los Angeles Lakers on Thursday, sources told ESPN's Chris Haynes and Ramona Shelburne. Sources told Haynes the meeting with the Lakers lasted three hours.
The former No. 1 draft pick has met with several teams over the past three weeks, including the Milwaukee Bucks and LA Clippers, but he has gained momentum on a deal with the Cavs in the past several days, sources said.
Rose is expected to have a face-to-face meeting with the Cavaliers in the coming days, league sources told ESPN.
He is not expected to make a decision until next week.
Playing on a contender is important to Rose. If he agrees to a deal in Cleveland, it would also allow him to be closer to family in Chicago.
The Cavs are believed to be offering Rose a minimum contract for $2.1 million for the upcoming season to play with Kyrie Irving in the team's backcourt. Adding Rose in this manner would add $6.4 million to the team's luxury tax bill for next season, which would be a projected $78.2 million.
The Lakers are trying to entice Rose to sign with them, suggesting they can offer more playing time and money in a better environment after Rose's tumultuous 2016-17 season with the New York Knicks, sources said.
Los Angeles thinks Rose, who has been working out at the Lakers' practice facility lately, can help the development of rookie point guard Lonzo Ball
July, 18, 2017
Jul 18
5:55
PM PT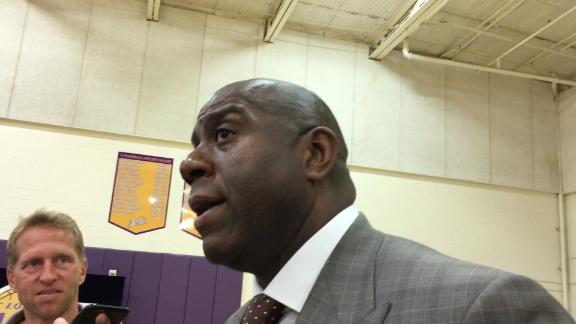 EL SEGUNDO, Calif. -- Magic Johnson believes Lonzo Ball's triple-doubles in summer league were just a preview of more to come.
"You can see that. If he's getting triple-doubles in the summer league, he is going to get triple-doubles in the regular season," Johnson said. "Just like me, when I got here, there was pressure. I was the No. 1 pick [in 1979]. I didn't care about that. I am going to play my game. Lonzo is going to play his game. The great ones do."
Johnson, the Los Angeles Lakers' president of basketball operations, spoke Tuesday after the team introduced free-agent acquisition Kentavious Caldwell-Pope.
Johnson praised the way Ball impacts the game and his teammates as a point guard. Johnson, a Hall of Fame point guard, said he sees some similarities between Ball and himself in how they play.
"Lonzo is special, no question about it, because he makes everyone better," Johnson said. "He does something you can't teach. He gives you a scoring pass. Very few point guards in this league can do that. I am talking about giving you a pass that leads to the score, not just passing it to you.
"I like him because he also is now a great teammate. He has a special effect on people."
"I think it is the same in terms of the basketball IQ," Johnson added, about what he and Ball have in common. "What is lacking in our game is a guy that can create a shot for somebody else. That is why Golden State
July, 18, 2017
Jul 18
7:39
AM PT
Lonzo Ball was the star of summer league, as evidenced by his MVP performance that helped the Los Angeles Lakers win the Las Vegas Summer League title, but he isn't the only purple and gold rookie making headwinds.
There are also rookies Shawn Carter and Ned Stark, both of whom are showing their skills on the court.
What?
We all know that Lakers fans are fiercely loyal, but the Sacramento Kings pulled a fast one on them, asking them what they think about Carter and Stark, who don't exist.
The Kings may have stumped Lakers fans this time, but by the looks of Ball in the summer league, perhaps the Lakers will get the last laugh. In retaliation, maybe the Lakers video department can bring back old footage of the last Sacramento Kings championship.
That one might take a while to find.
- John Silver
July, 17, 2017
Jul 17
11:01
PM PT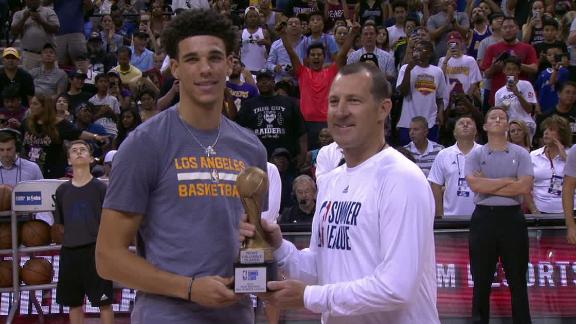 LAS VEGAS -- Jason Kidd has heard the comparisons of Lonzo Ball to himself many times since Ball began to shine at UCLA last season.
Some even think that Ball looks a bit like Kidd when he came out as a highly acclaimed pass-first point guard and the No. 2 overall pick out of Cal in the 1994 draft.
"Yeah, I've heard that a lot," Kidd said last week at the Las Vegas Summer League. "And the more I have been in Vegas, that is all I have heard."
While that's up for debate, some longtime NBA executives and coaches do see Kidd-like traits in Ball's game. From the flashy pinpoint passing, uncanny floor vision and ability to see plays develop in advance to the unflappable demeanor right down to the much-maligned jump shot, Ball reminds some of the current Milwaukee Bucks head coach.
"I thought he was as advertised," said one longtime Eastern Conference talent evaluator, who needed to see Ball only twice to be sold on the Lakers rookie. "Elite facilitator/passer, makes everyone better. If you just do what you're supposed to do, he will get you the ball right on time. He's pretty incredible. No disappointment on my part. ... The guy is special.
"He reminds me of J-Kidd."
ESPN spoke to general managers, head coaches, assistant coaches, scouts/talent evaluators and former players at the Las Vegas Summer League to ask them what they learned about Ball, who was named the Most Valuable Player of summer league play ahead of Monday's championship game. Here's their breakdown of Magic Johnson's point guard protégé, where he excels, where he can improve and what he will face:
---
Pass-first/vision
July, 17, 2017
Jul 17
10:25
PM PT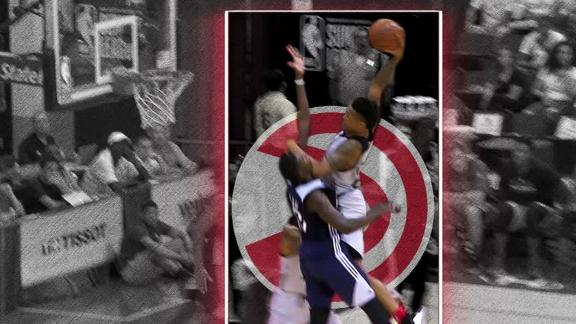 Who stood out the most at NBA summer league this year? What are the biggest takeaways?
Our crew reviews the summer league scene.
---
1. Who was the best rookie you saw at summer league?
Tim MacMahon, ESPN.com: Lonzo Ball, at least once he started wearing shoes from legitimate brands. Sure, his inconsistent, funky jumper caused me to make bad Lonzo Carter-Williams jokes, especially in the wake of his 2-for-15 summer debut.
But, man, what a magical distributor. Precious few players possess the vision that Ball has, and he consistently delivers pinpoint passes, even from 70 feet away.
Honorable mention: Dallas Mavericks highlight machine Dennis Smith Jr.
Chris Herring, FiveThirtyEight/ESPN.com: It's hard to contextualize "best" because these games don't really matter, and so many people got hurt or were forced to rest at times. But I enjoyed watching Smith the most. His athleticism is obviously off the charts, but beyond that, his game is smooth, he has good vision and he's a good finisher around the basket with both hands.
Austin Tedesco, ESPN.com: Smith's pick-and-roll work was masterful -- distributing out of the Bulls' many traps with just one turnover in his first game, then carving up the Suns' switches in the next -- and the best thing about his athleticism is how selectively he unleashes it. You can already see how many aspects of Smith's game will translate to real NBA competition. It's too bad he can't play in the triangle.