January, 17, 2017
Jan 17
6:38
AM PT
Lakers hope added practice time this week can address defensive deficiencies: As he has guided his young team with a reassuring touch and honest feedback, Lakers coach Luke Walton has instructed those players to adopt a consistent routine. That way, developing habits could soon lead toward instinctual behavior. If only Walton could provide the same consistency with the Lakers' practice itinerary. No NBA team ever faces the same amount of off-days and practice time with an 82-game schedule that includes fluctuating travel and games on back-to-back days. -- The Orange County Register
Lakers reluctant to play the 'youth' card as season goes on and losses pile up: What Lou Williams said Sunday night after the Lakers' 30th loss of the season wasn't new to the rhetoric coming from within his team. The veteran guard was asked if the callow Lakers can make the improvements they need to make now, or if a growing-up process must be completed first. "It definitely can improve right now," Williams said. -- Los Angeles Times
January, 16, 2017
Jan 16
8:01
AM PT
Lakers' Ivica Zubac is effective as well as a 'bit tired': Unlike the last two Lakers games in which he played, Ivica Zubac got meaningful minutes with the Lakers on Sunday. That was part of a plan. "We've been talking as a staff to try and find some way to get Zu some minutes," Lakers Coach Luke Walton said. -- Los Angeles Times
Lakers battle to the end but fall to the Pistons, 102-97: Something clicked for D'Angelo Russell offensively Sunday, but as the rest of the starting group struggled to contribute, Russell's impact didn't lead to a win. After two consecutive blowout losses, the Lakers were more competitive. Still, they fell to the Detroit Pistons, 102-97, at Staples Center. -- Los Angeles Times
Lakers show more inconsistency in 102-97 loss to Pistons: The debilitating losses in recent days did not just expose the Lakers' inferiority against the NBA's elite. It also sapped the joy out of a season centered more on if the Lakers' progress than the end result. So the Lakers spent their 102-97 loss to the Detroit Pistons on Sunday at Staples Center offering another trend that has plagued their season. They cannot close games out consistently. They cannot sustain their effort, either. -- The Orange County Register
Lakers' Ivica Zubac absorbing plenty of trash talk from D-League players: With a stoic expression on his face, Lakers rookie center Ivica Zubac sat by his locker. He expressed what his body language suggested he felt. "I'm tired," Zubac said before the Lakers played the Detroit Pistons on Sunday at Staples Center. In an experience he called "exhausting," Zubac appeared for three minutes in the final moments of Saturday's loss to the Clippers before playing that evening for the Lakers' Development League affiliate. -- The Orange County Register
January, 15, 2017
Jan 15
9:05
PM PT
Associated Press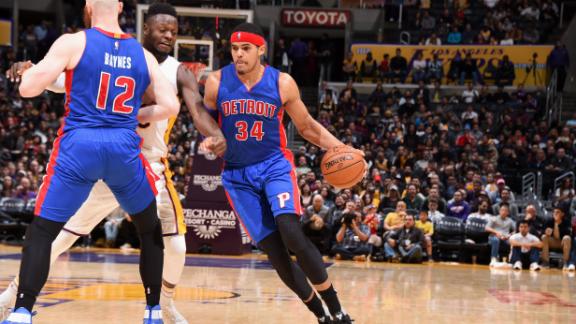 LOS ANGELES -- Tobias Harris scored 23 points and hit a decisive 3-pointer with 30.5 seconds to play, and the Detroit Pistons snapped a three-game losing streak with a 102-97 victory over the Los Angeles Lakers on Sunday night.
Marcus Morris scored 23 points and Andre Drummond had 15 points and 17 rebounds for the Pistons. They wrapped up their longest trip of the season by beating the Lakers at Staples Center for the first time in seven tries since Nov. 14, 2008.
Detroit barely hung on down the stretch of a back-and-forth game with the Lakers, who lost their fourth straight despite 26 points from Lou Williams.
D'Angelo Russell added 20 points for the Lakers. They have lost 20 of 25 since their 10-10 start to coach Luke Walton's first season.
January, 15, 2017
Jan 15
8:03
PM PT
January, 15, 2017
Jan 15
7:17
PM PT
January, 14, 2017
Jan 14
3:42
PM PT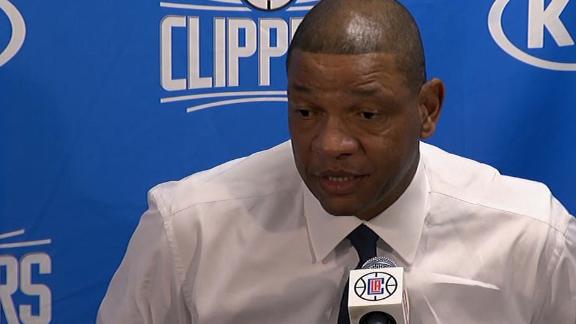 LOS ANGELES -- The Chargers' first public presentation in their new city didn't go over so well Saturday.
During Saturday's game against the Lakers, the Clippers showed the new Los Angeles Chargers logo on the video screen, and the Staples Center crowd promptly booed.
After a few seconds, the screen cut to Chargers tight end Jeff Cumberland, who briefly waved but was also booed.
Chargers CEO and president Dean Spanos announced Thursday that the team would move to Los Angeles after 56 seasons in San Diego. The team will play home games the next two seasons at the 30,000-seat StubHub Center in Carson, California.
Spanos, his wife, Susie, and two sons, John and AG, were in attendance at Saturday's NBA game. Dean Spanos said he had received a warm reception in Los Angeles.
"It really is great to be here," Spanos told Fox Sports Prime Ticket during an in-game interview. "Everybody's been so nice in welcoming me, my family, the Chargers. We're really looking forward to this season."
Following a 113-97 victory over the Lakers, Clippers coach Doc Rivers was asked if he had any advice for the Chargers as they deal with a polarizing reception in Los Angeles, which welcomed back the Rams last year.
January, 14, 2017
Jan 14
2:57
PM PT
Associated Press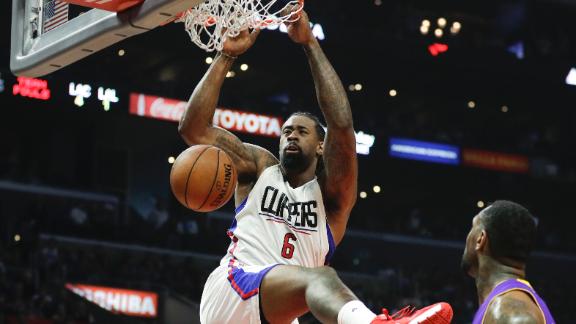 LOS ANGELES -- DeAndre Jordan scored 24 points on 12-of-13 shooting, and the Los Angeles Clippers shot 52 percent to cruise past the Lakers 113-97 on Saturday and improve to 6-0 in 2017.
Jordan had 21 rebounds, and Chris Paul added 20 points and 13 assists for the Clippers, off to their best start since going 7-0 to begin 1974 when the franchise was located in Buffalo. Their streak is the longest active one in the NBA.
The Clippers shot 52 percent and are 15-0 when they do so. Led by Jordan, they had a season-high 56 points in the paint.
Jordan Clarkson scored 21 points for the Lakers, who never led in losing their third in a row and seventh in 10 games.