December, 9, 2016
Dec 9
6:37
PM PT
Associated Press
LOS ANGELES -- A Los Angeles judge on Friday finalized former NBA player Lamar Odom and Khloe Kardashian's divorce, more than three years after Kardashian first sought to end their marriage.
Kardashian filed for divorce in December 2013 after the pair had been married for four years, but she rescinded the filing after Odom was found unconscious at a Nevada brothel last year. She cited Odom's medical condition as one reason to withdraw the divorce.
She refiled for divorce, citing irreconcilable differences, in May. They have no children together.
The couple started a company called Khlomar, the nickname bestowed on their relationship after they started dating in 2009. The company will dissolve now that the divorce is complete, court documents state.
Neither Kardashian nor Odom will receive spousal support, the judgment states. While the judge signed off on it Friday, the pair won't be officially single until Dec. 17.
Odom last played for the Los Angeles Clippers during the 2012-13 season, averaging a career-low 4.0 points and 5.9 rebounds per game. He signed a contract with the New York Knicks in 2014 but was cut by the team before appearing in a game.
Kardashian's first divorce filing came days after Odom pleaded no contest to a misdemeanor drunken driving charge.
The 6-foot-10-inch power forward had his best years with the Los Angeles Lakers between 2004 and 2011. The team won NBA championships in 2010 and 2011, and Odom won the NBA's sixth man award during that second championship run.
In addition to appearing on several reality series chronicling her family, Kardashian helps operate clothing stores and other businesses with her sisters, Kim and Kourtney Kardashian.
December, 9, 2016
Dec 9
7:20
AM PT
Lakers' D'Angelo Russell, Nick Young are getting closer to return: While the rest of their teammates went five on five against their coaches, D'Angelo Russell and Nick Young went through shooting drills on the other end of the Lakers' practice court. The team's starting backcourt is getting closer to its return, but neither player has returned to contact drills yet. They both participated in the non-contact portions of Thursday's practice. -- Los Angeles Times
Boredom nears end for Lakers' D'Angelo Russell with his return to practice: For more than two weeks, D'Angelo Russell's days consisted of light workouts and periodic tests. He attended some Development League games, and sat on the bench when the Lakers played at home. Mostly, though, he waited. Playing in the NBA is glamorous and offers daily excitement. Being injured, however, does not. "I feel like it's very boring," he said Wednesday. -- The Orange County Register
Lakers' D'Angelo Russell, Suns' Devin Booker motivate each other: Just as he started to fall asleep, any hopes D'Angelo Russell had of pleasant dreams quickly evaporated. Russell's close friend woke him up late at night with an urgent message. "Bro, you see this stuff?" Phoenix Suns guard Devin Booker asked Russell. Russell then learned a video he recorded on his phone leaked on social media. The video showed teammate Nick Young admitting to infidelities. -- The Orange County Register
December, 8, 2016
Dec 8
8:01
AM PT
Injury-plagued Lakers are routed by the Rockets, 134-95: The Houston Rockets' dazzling transition game never relented Wednesday night, even as they led by more than 30 points late in the fourth quarter. Early and late, the Rockets' flashy game did in the injury-riddled Lakers, who were routed, 134-95, at Toyota Center. It was the Lakers' fourth consecutive loss and their third loss of the season by 30 or more points. -- Los Angeles Times
Lakers' Nick Young says his right calf strain is feeling better: While Nick Young was initially going to stay home during the Lakers' one-game jaunt to Houston, he made the trip to rehabilitate on the road. "Feeling better," the Lakers starting shooting guard said. -- Los Angeles Times
Luke Walton upset Lakers 'weren't ready to fight' in 134-95 loss to Rockets: The irritated tone in Coach Luke Walton's voice sounded louder with each word he spoke. The Lakers lost to the Houston Rockets, 134-95, on Wednesday night at Toyota Center, one of their worst defensive performances of the season resulting in their fourth consecutive loss. -- The Orange County Register
Luke Walton searching for right combinations to spark Lakers' short-handed roster: When Lakers coach Luke Walton and his staff meet before every game to finalize offensive sets and defensive schemes, they often tackle another question. Who do we start? Finding themselves without D'Angelo Russell (left knee), Nick Young (right leg) and Jose Calderon (right hamstring) in recent weeks, those conversations have become more difficult. -- The Orange County Register
Lakers' Nick Young relied on Mike D'Antoni's support during tough times: Through shooting slumps, diminished roles and public criticisms the previous two years, Lakers guard Nick Young relied on a key person for comfort. After clashing with former Lakers coach Byron Scott and annoying Kobe Bryant, Young turned to someone Scott and Bryant had criticized. -- The Orange County Register
December, 7, 2016
Dec 7
7:33
PM PT
Associated Press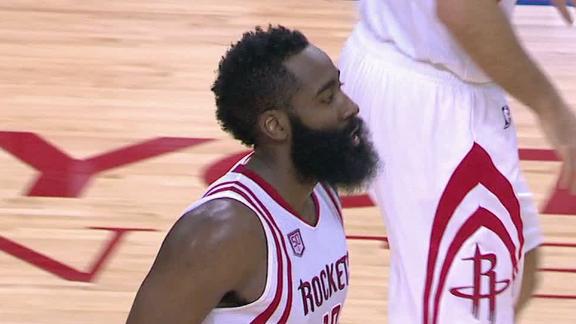 HOUSTON -- Eric Gordon made a career-high eight 3-points and scored 26 points to help the Houston Rockets cruise to a 134-95 victory over the Los Angeles Lakers on Wednesday night.
James Harden added 25 points in three quarters for the Rockets. They scored a season high and extended their winning streak to a season-best four games.
The Rockets were up by 12 in the third quarter, then had a 22-6 run to make it 96-68 and put the game out of reach with about 3 minutes left in the quarter. Houston made four 3-pointers and got a nifty one-handed dunk from Clint Capela in that run to pad the lead.
Gordon already had four 3-pointers seven minutes into the first quarter after making each of his first four attempts. It was his seventh straight game with at least four 3-pointers, which is a franchise record.
Houston's winning streak is its longest since taking five straight in January.
Lou Williams led the Lakers with 24 points. They have lost four in a row, their longest skid of the season.
December, 7, 2016
Dec 7
7:34
AM PT
Lakers assistant Brian Keefe helps school young pros, and Kevin Durant sings his praises: Before each game they worked together on the court, reaching for the same goal. A skinny 6-foot-9 forward — a teenager who was a second overall pick — and a coach tasked with his development. The player was given a schedule to create a routine so he could learn habits that would stay with him throughout his career. That's the story of Lakers assistant Brian Keefe and Brandon Ingram. It's also the story of then-SuperSonics/Thunder assistant Brian Keefe and Kevin Durant. -- Los Angeles Times
D'Angelo Russell will start on-court activities but won't travel to Houston with Lakers: Luke Walton's rotation, which has grown more confusing as the Lakers' injuries have piled up, might be easier to solve when the Lakers face the Houston Rockets on Wednesday. But not because his team is getting healthier. The Lakers will take only 11 players on the one-day trip and forward Larry Nance Jr. remains questionable with a knee contusion. -- Los Angeles Times
Lakers resemble walking wounded on way to Houston: The body count in their training room keeps increasing, and the Lakers received some clarity Tuesday regarding how that group is progressing. Short answer: The Lakers (10-13) will still enter Wednesday's game against the Houston Rockets (14-7) at Toyota Center with a diminished roster. After seeing team doctors Tuesday morning, Lakers starting guard D'Angelo Russell received clearance to participate in on-court drills after nursing a sore left knee for the last two weeks. -- The Orange County Register
December, 6, 2016
Dec 6
7:28
AM PT
Lou Williams' 38 points not enough against Jazz as Lakers fall 107-101: Before facing an opponent that pushed the Lakers around the last time they met, and with the team now essentially down four key players, Metta World Peace addressed his teammates with a message. He told them it didn't matter that so many Lakers were injured, that they could still win games despite their low numbers. They came close Monday night, but lost to the Utah Jazz, 107-101. -- Los Angeles Times
Lakers summon rookie center Ivica Zubac from Development League: Depleted by injuries, the Lakers called up rookie Ivica Zubac, a second-round draft pick, from his Development League assignment Monday. Zubac averaged 17.3 points and 8.5 rebounds in six games with the D-Fenders, getting playing time and experience he wouldn't have had with the Lakers. -- Los Angeles Times
Lou Williams' big night not enough in Lakers' 107-101 loss to Jazz: The day started with the Lakers learning their backcourt depth suffered another serious dent and ended with them losing a key piece to their frontcourt. In between, the Lakers suffered a 107-101 loss to the Utah Jazz on Monday at Staples Center and their third consecutive defeat as they struggled to apply patchwork to a ripped-up quilt. -- The Orange County Register
Lakers aren't using injuries as an excuse, but they're taking a toll: They all say they don't use injuries as a crutch. Luke Walton walked into his postgame locker room Monday night and saw yet another Laker using a crutch for an injury. "I'm pretty sure he won't be playing tomorrow night," Walton said of backup center Tarik Black, who sprained his ankle in the third quarter. -- The Orange County Register
Luke Walton's unconventional Lakers lineup didn't work against Jazz, but it was progressive thinking: When Luke Walton arrived at the arena on Monday night, he had narrowed to two his options for patching together a lineup ravaged by injuries. One choice had him moving Jordan Clarkson into the starting backcourt, but that would have meant breaking up the Lakers NBA-best bench. The second option was less obvious but offered some hope defensively against the Utah Jazz. It called for starting a 37-year-old Metta World Peace along with Luol Deng and Brandon Ingram, along with Julius Randle and Timofey Mozgov. -- The Orange County Register
Lakers' Metta World Peace tells teammates 'not to be entitled': The Lakers' frustration mounted through losses, missed calls and debilitating injuries. Fatigue settled in as the Lakers completed a four-game trip in five days that included two sets of back-to-backs. Mindful those variables factored into their recent struggles, veteran forward Metta World Peace addressed the team at shootaround before Monday's game against Utah at Staples Center. -- The Orange County Register
Thomas Robinson still living his 'dream' while searching for bigger role: Someone was asking Thomas Robinson about the way he helps the young Lakers. Thomas Robinson is 25 years old. "Most people think I'm at least three years older," he said. "Most people think I'm 28 or 30." In NBA mileage, he might be. He was the No. 5 pick in the 2012 NBA draft after three years at Kansas. The Lakers are his sixth place of NBA residence in that time. -- The Orange County Register
December, 5, 2016
Dec 5
10:10
PM PT
Associated Press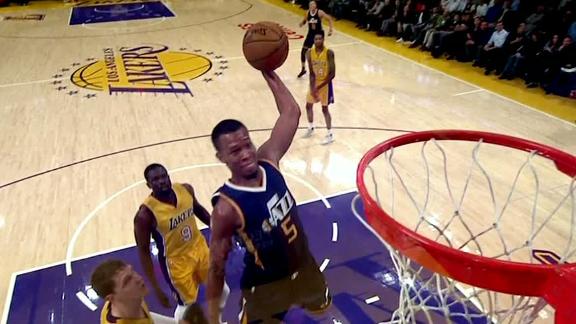 LOS ANGELES -- Gordon Hayward scored 23 points and the Utah Jazz overcame the absence of ill coach Quin Snyder for their sixth victory in seven games, 107-101 over the Los Angeles Lakers on Monday night.
Lou Williams had 38 points, six rebounds and seven assists for the Lakers, who rallied in the fourth quarter and nearly stole a victory despite finishing their eighth loss in 11 games without five injured regulars.
Rodney Hood scored 16 points and hit two difficult shots in the waning minutes to keep the Jazz on track to win their only road game in a nine-game stretch.
Veteran assistant Igor Kokoskov ran the Jazz for Snyder, who fell ill earlier in the day and decided he couldn't coach shortly before game time.
December, 5, 2016
Dec 5
9:34
PM PT
December, 5, 2016
Dec 5
12:11
PM PT
ESPN.com news services
Magic Johnson watches NBA games every day, amazed by the way Russell Westbrook is compiling triple-doubles even faster than he could.
Now Johnson is ready to start talking about it on the air again.
The Hall of Famer is returning to ESPN as analyst to work on the network's NBA Countdown studio show, ESPN announced Monday.
Johnson will debut on the pregame studio show for ABC's Christmas coverage and then join Michael Wilbon, who is also making his return to the show, and Sage Steele on the Saturday night team, beginning Jan. 21.
"I'm so excited to be working with my ESPN family again on NBA Countdown Saturday nights," Johnson said in a statement released by ESPN. "Michael, Sage and I are going to have a lot of fun this season while we cover the greatest sport in the world. Basketball has been so good to me, and I can't wait to once again share my love and passion for the game with the fans and my ESPN colleagues."
Johnson worked for ESPN as a studio analyst from 2008-13 and said getting to work again with Wilbon was one of the reasons for his return, along with the chance to work the limited nine-game Saturday schedule. He was previously doing 60 or more nights, which was too much with his other businesses, he said.
"If it had been a full schedule like I did before, 60-something games, it never would have worked out," Johnson said. "I wouldn't have come back."